iPhone 3GS and iPhone 3G: Ultimate DIY repair guide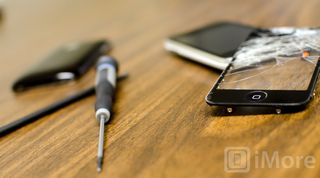 If you've got an iPhone 3G or iPhone 3GS that you're just not ready to part with yet, we've got a tonsof DIY repair guides to help you keep it in the best condition possible. And when you're ready to upgrade, early generation iPhones are great to pass down to kids or other family members.
Whether you've got a cracked screen, blown earpiece, bad battery, or any other problem - we've most likely got the guide you'll need to keep your iPhone in working order. Most repairs don't cost very much and the iPhone 3G & 3GS are some of the most repairable models of iPhones ever released. If you're willing to put in the small amount of time it takes to keep it in good condition, our guides will help you do just that.
Not sure what's causing an issue? Just check below for some information on each repair and match up your symptoms with the appropriate repair.
Note: The following repair guides will work with either an iPhone 3G or an iPhone 3GS. There are very subtle differences internally and any part or procedure that may vary from model to model will be noted within each guide.
How to replace a cracked or shattered screen in an iPhone 3G/3GS
How to replace a cracked or shattered screen in an iPhone 3G/3GS
You probably don't need to know any symptoms or diagnostics for this one. If you dropped it and it broke, we can help you fix it. This repair will fix cracked glass and a non-responsive touch screen.
If the picture on your screen is fine and only the glass is cracked, you'll just need to replace the digitizer and we can walk you through how. Occasionally the LCD can get damaged from a drop as well. While this isn't very common, it does happen from time to time depending on how hard the iPhone was dropped. If that is the case, we can help you replace the LCD as well.
How to replace a cracked or shattered screen in an iPhone 3G/3GS
How to replace the LCD screen in an iPhone 3G/3GS
Whether you dropped your iPhone 3G or 3GS or the LCD has just died, this guide will help you replace it. Symptoms of a defective or busted LCD can include lines through the display, lots of dead pixels, a white screen, black screen, or extremely dim screen. In some instances, you can see discoloration or bleed spots in the display.
If you're experiencing any of these symptoms, you most likely need to install a new LCD.
How to replace the battery in an iPhone 3G/3GS
Considering the iPhone 3G and iPhone 3GS are both a few years old now, many users experience drastic battery loss after so many charge cycles. Whether your iPhone is dying quickly or refuses to hold a charge anymore, a replacement battery can breathe plenty of new life into it.
Symptoms of a dying battery can include short time spans off a charger before dying and in some instances, the iPhone won't boot up at all. If you're experiencing any of these, it's time to replace that battery.
How to replace the proximity sensor (induction flex) in an iPhone 3G/3GS
The induction flex is what controls your auto brightness (ambient light sensor) and proximity sensor. If your phone refuses to dim when auto brightness is activated or the screen doesn't turn off when it's against your face causing you to press buttons unintentionally while on a call, putting a new induction flex in can solve the issue.
How to replace the earpiece speaker in an iPhone 3G/3GS
The earpiece speaker is located inside the top of the display and is what you hear callers out of when on a call. If the earpiece has stopped working or creates bad feedback including high pitched tones, garbled audio, or low volume regardless how high you turn it up, it's probably time to replace it.
The repair isn't too time consuming and will get your iPhone 3G or iPhone 3GS call quality back to where it should be in no time.
How to replace the vibrator assembly in an iPhone 3G/3GS
Vibrator assemblies run on motors and occasionally those motors can burn out over time. Whether your iPhone 3G or iPhone 3GS isn't producing vibration alerts at all anymore or they seem really faint, a new vibrator assembly can get you back to working order.
Other symptoms include unpleasant loud whirring noises when activating the vibrator.
Note: The 3GS in particular is prone to issues with the vibrator switch. This is not the same as the assembly. The switch issue typically is caused by a bad cable in the top left corner. Symptoms of this problem can be unwanted vibrations when pushing in the upper left hand corner of the iPhone. We'll have a guide coming on this in the near future.
How to replace the rear facing camera in an iPhone 3G/3GS
Considering the rear facing camera is the only camera in the iPhone 3G and iPhone 3GS, it's pretty important to many users. If your camera isn't working any longer, a replacement is cheap and the repair is pretty simple to perform.
Symptoms of a defective or broken camera can include the shutter not opening inside the camera app (we recommend a software restore before assuming it's a hardware problem), lines through the screen, blurry image quality (make sure the lens is not scratched on the rear casing), or dark images.
How to replace the dock connector assembly in an iPhone 3G/3GS
The dock connector in the iPhone 3G and iPhone 3GS actually contains or affects several functions and components including the following:
Microphone
Loud speaker
Charge port (30-pin connector)
Wi-Fi antenna
Cellular Antenna
Home button contact
Replacing the dock connector can solve problem issues with any of the above referenced components. Symptoms can range from no cell or Wi-Fi signal, no Home button functionality (the digitizer assembly can also be the culprit in this case), an iPhone that won't charge, no sound when the phone rings or when on speakerphone, or callers can't hear you when on a call.
If you're experiencing any of these issues, the dock connector is a good place to start when it comes to fixing the issue.
More DIY guides & help
Don't have an iPhone 3G or 3GS but looking for help fixing another iPhone, iPad, or iPod touch model? Odds are we've got you covered. Hit the links below for even more guides on everything from other iPhone variants to iPad to iPod touch. And if we don't, we add more and more guides every week so make sure to check our mod page regularly for updated guides on everything DIY.
If you're trying to perform a repair and run into issues or still need help figuring out what's causing a problem, our mod and DIY forums are a great place to start. If you still can't find what you're looking for, feel free to e-mail guide suggestions and questions to me at ally@imore.com.
Master your iPhone in minutes
iMore offers spot-on advice and guidance from our team of experts, with decades of Apple device experience to lean on. Learn more with iMore!
iMore senior editor from 2011 to 2015.