What we want to see from Apple in 2015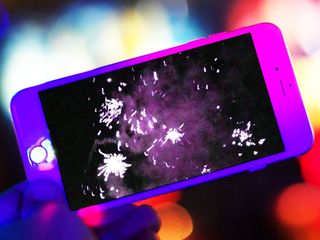 With 2015 right around the corner, there's lots we could wish for. We could wish for the moon—or at the very least, a hoverboard prototype to show up at CES 2015. But as much fun as it is to wildly speculate on pie-in-the-sky ideas, we're going to travel a bit closer to Earth for our 2015 predictions. Here's what the editors of iMore actually want to see from Apple next year — unicorns and 50-inch Gene Munster-branded Apple TVs need not apply.
iPhone
Peter: I'd like to see Apple return to the four-inch form factor with a phone that's just as good as the iPhone 6. Not everyone wants a bigger phone, but I'm sure some people would like the sleeker design and Apple Pay. I expect an iPhone 6 mini would be a welcome addition for many.
Ally: I don't really have any wants hardware wise at this point. I personally like the design of both the iPhone 6 and 6 Plus. It'd be nice if the camera sits flush again but after getting used to it, it's pretty much a non-issue for me. A small part of me would like to see Apple keep a 4 inch variant that's just a year behind spec-wise. Just adapt the styling of the iPhone 6. I doubt we will see it but a lot of people would certainly appreciate it.
Ren: It's time, iPhone, that you and I had a talk about your FaceTime HD camera. We may not all need grand 8-megapixel sensors to snap our selfies and makeup shots, but a teensy-tiny sensor upgrade wouldn't be out of hand for next year's release.
When it comes to the lower-end iPhone, I secretly hope that Apple introduces a 6c variant off the iPhone 6 — the C line may not have sold as well as its big brother, but plastic backs could mean slightly more durable iPhone models for clumsy hands or younger users, and that may well be a market worth investing in.
Rene: If Apple holds to pattern, 2015 will be an S-year for the iPhone. iPhone 6s and iPhone 6s Plus with better cameras, Apple A9 processors, and some new Siri or Touch ID like service or feature to show off during the keynote and in the ads. Shot in the dark — another new color, like product (red).
As to 4-inch iPhones, I think Peter and Ally don't really want smaller screens but smaller casings. The ratio of screen-to-front could stand to improve. Some big changes would have to happen, but technology... it doesn't stand still.
iPad
Peter: I'd be curious to see Apple go big with the iPad like it did with the iPhone 6 Plus. Can an iPad Plus create a new niche for tablets?
Ally: I want the iPad mini 3 to not get the shaft again damnit. Apple, if you're reading this, little shouldn't mean less powerful. Make it happen!
Rene: The iPad is getting pressure from below, thanks to bigger iPhones, and pressure from above, thanks to longer-lasting MacBooks. Is there still room in the middle for a 7.9-inch iPad? Or is there more room now for a 12-inch iPad? When multi-window comes, and drag-and-drop data, will that change anything, and how? Apple's next iteration of the iPad story could be very interesting to say the least.
Ren: I'm with Ally. An iPad mini with the power of the iPad Air 2 would be well-welcomed indeed, even with the iPhone 6 Plus encroaching upon the 7.9-inch space. I'm curious as to Apple's plans for the pro section of the market in 2015; we've heard rumors for awhile about the mythical 12-inch iPad, and I would love to see a tablet that could make use of Continuity to "dock" with a Mac and provide touchscreen controls for various programs, Cintiq-style.
Mac
Peter: A Retina MacBook Air seems like an inevitability, but it's predicated on Intel being able to get its act Broadwell act together. Apple needs a CPU in that thing that has the power-sipping characteristics of Haswell with much better graphics performance. That should happen in the first half of 2015, so let's hope a substantial MBA refresh is in the cards. I'm also waiting for a refresh to the Mac Pro, whose Xeon processor is still working with a pre-Haswell architecture. Late in the year Intel should begin shipping Skylake processors, which paves the way for Thunderbolt 3 in the Mac, finally giving us the bandwidth we need for the fantasized-of 5K Cinema Display.
Ally: I regretted giving up my 15" MacBook Pro for a 13" MacBook Air for a few months but then decided I preferred the weight, battery life, and size of the Air. That being said, I'd really like a Retina model that doesn't skimp on battery. Hopefully 2015 is the year it'll happen. Fingers crossed.
Ren: It's not quite a Mac, but I am hoping we'll see a 5K Apple display in 2015. (And hey, chances are that, like the 5K iMac, the display needs special mechanics inside it to drive a 60Hz screen, so there might well be some primitive form of Macintosh computer living within the housing anyway.)
Rene: The Mac Pro was amazing. The Retina 5K iMac is breathtaking. How does Apple follow up the last two years? Likely with the Retina MacBook Air. It won't be for those who want the power of the MacBook Pro, but it will be for those who want the display. Everything else seems to hinge on Intel's ability to ship Broadwell and Skylake. No better chips, no better Macs.
Apple Watch
Peter: I've yet to see the "killer app" that will make me run out and get an Apple Watch on day one, but I'm staying open to it. As a fitness device I'm left unimpressed. As a communication device, I'm still not sure I need it. Come on, Apple, come on developers, wow me.
Ally: My big problem with fitness bands and fitness apps in general is that while they're great at step counting or monitoring sports, they suck at the gym. If I'm at the gym on the elliptical or doing something else, the tracking has been subpar at best. Sure I can enter some of that in manually, but it still sucks. With all the sensor technology we have nowadays, I'd like to see the Apple Watch make my life a little easier when it comes to tracking stationary workouts. That's really the only thing that would get me to use it regularly.
Ren: I have great hope for the Apple Watch, but a lot depends on how version one operates, how committed developers are to building apps for it, and how easy it'll be to upgrade. It's going to be hard for Apple to convince its customers that a v1 Apple Watch is worth buying without great apps to use it with or an easy way to move forward to version 2. (Especially for those people investing in the ultra-pricey Edition watch.)
Rene: The knock against first generation Apple devices is that the version that follows two or three years later is thinner, lighter, faster, and more capable. It's also two or three years later. I'd have never given up a day with my original iPhone or iPad, much less two or three years. Yes, the future is always better, but we live in the present. And, like Ren, I want the Apple Watch of 2015, so I can enjoy every day with it before the next one arrives. Then, you know, I'll want thinner, lighter, faster, and more capable too...
Apple TV
Peter: Expanding the entertainment options of the Apple TV seems like a no-brainer. You can already stream content to the Apple TV from other iOS devices quite easily, and it's a killer app feature for the box. But I'd like to see that integration get even tighter, so playing games from my iPhone or iPad is a seamless experience on the Apple TV. Right now few games support Apple TV display, and for most it's just a spectating experience. Let's really make Apple TV a central living room experience.
Rene: A new Apple TV has been in the works for a long time. Honestly, I couldn't care less about cable integration. That'll be a hard enough nut to crack for the U.S. alone, never mind international. A new, better considered interface, Universal Spotlight search, a Siri and HomeKit hub, Handoff (or Handback!) for media, and a Game Store, if not App Store, would be much better appreciated, at least by me.
Ren: Gene Munster, it's now 2015 — I highly doubt you'll ever get your 50-inch Apple display TV. And that's okay. Smart TVs are all well and good, but the Apple TV will enter many more homes in its current form factor, or that of the Google Chromecast.
Software-wise, though, Rene's right: the Apple TV has a lot of ground to cover. Though we've gotten new channels off and on, the box hasn't been properly updated in a few years, and there's lots it could tackle: cutting cords, playing games, giving HomeKit devices a place to chatter, and more. It's left the hobby store; time to bring out the big box pizazz.
iOS
Peter: iOS 8 was as much a change under the hood as iOS 7 was a change to the look and feel of Apple's mobile operating system. Now Apple needs to make it seamless. There are some glaring problems with iOS 8 still, so I'd like to see Apple dial back some of the new features in favor of actually getting everyhing to work right.
Ally: I'd like to see Apple focus on ironing out the kinks and bugs that plague iOS 8. And I'd like to see more developers take full advantage of extensions and Continuity. As for iOS 9, I'd really like to see a proper iCloud Drive app. And I think it's safe to say Rene would cry tears of joy if it finally happened.
Rene: Most of the big features that have been missing from iOS have been found. Most of the low-hanging fruit has been plucked. So where does Apple go from here? Round out the features? Add more bells and whistles? Or start figuring out what it is people need to more fully utilize their mobile devices are their primary computing platforms. Not nerds. Regular people. Taking everything from iOS 7 and iOS 8 and making it a more cohesive, more empowering whole could make the iPhone and iPad even more accessible and more capable for more people. It could also be the third big leap forward in as many years.
Oh, and get Apple Pay rolled out internationally already.
Ren: All of the above and then some. As more and more iOS devices hit households, Apple needs stability from its mobile operating system. That may mean slowing down the pace of magical new features and focusing on the stuff that really matters to get right, like iCloud Drive, Photo Library, Maps data (as always), and interface bugs.
Personally, I'd like to see tighter and smarter Siri commands; a better keyboard switcher; a fix for Spotlight's bugginess; and some sort of software UI consideration for the iPad. Multitasking gestures are great, but split-screen mode and a potential alternate home screen could go a long way toward making the iPad experience a better one.
OS X
Peter: Snow Yosemite. I really think Apple should take a step back from piling on new features in OS X to making sure the ones it has are rock-solid. We're also waiting for Photos to replace iPhoto and Aperture, which will happen early in 2015. That transition is bound to cause some discomfort to Mac users who are dependent on iPhoto to manage their photos, but I anticipate it'll be a welcome respite, since iPhoto's cloud integration has always felt grafted-on, rather than truly integrated.
Ally: Pretty much the same as my wants for iOS. I also hope Photos.app makes an appearance sooner rather than later. Not being able to sync albums and iCloud Photo Library natively is super annoying and severely fragments what could be a decent ecosystem.
Ren: Apple needs a media overhaul. Photos.app needs to show up, and soon, so that iCloud Photo Library can be properly implemented. iTunes needs to be less of a behemoth. And Apple should consider connecting iMovie, Final Cut Pro, and its other pro apps to the iPhone and iPad by using Continuity. iMovie projects need to sync to iOS, folks, c'mon. It's (almost) 2015.
Rene: Yosemite looks great and works great. Sure, just like iOS 7, it could stand Apple dialing it back a bit. Overall, however, it could really stand Apple rounding it out. Handoff is great, but it would be greater still with Handoff for media. Touch ID now makes authentication and authorization more convenient on iOS than OS X. And, hey, how much longer can Apple really stand to hear John Siracusa complain about the file system?
Software
Peter: Apple's laid out a lot of new foundational technology in iOS 8 and OS X, but developers have been slow to adopt much of it. Better Continuity support from third parties, more support from game developers and others for Metal in iOS 8 and better support from Apple in technology like iCloud Drive and iCloud Photo Library need to happen.
Ally: Lots more Mac/iOS apps that support Handoff between each other in meaningful ways. No I don't mean give me a web link to what I'm viewing on iOS. I want native apps that are working together in a way that make my life easier.
Ren: Like Ally, I'd like to see more third-party Handoff and Extensibility integration on the Mac. We barely scratched the surface in 2014, and there's lots to do and many cross-platform apps with which to experiment. I'm especially looking forward to creative professional apps and how they might implement Handoff between devices.
Rene: I'd love to see iTunes join iWork in the Cloud. I'd love to see iWork regain it's functionality of old. I'd love to see Final Cut Pro X and Logic Pro X better integrate with iOS and Handoff. I'd love to see Swift Playgrounds for iPad, or something so that development becomes more accessible as well — so that the next generation of killer apps gets even closer.
For indie software, more like Capo, Pixelmator, and Workflow on iOS, please.
Accessories
Peter: I'm still waiting for HomeKit to turn in to something. I've already gotten my hands on some devices that purport to have HomeKit compatibility, like Elgato's Uvea light, but I'm afraid HomeKit will turn into another MFi game controller debacle: A fine idea with little or no momentum to actually effect change.
On a more prosaic note, I'd like to see Apple update the AirPort Express to 802.11ac. Apple's less-expensive mini-router is still stuck at 802.11n speeds. If you already have an up-to-date AirPort Extreme or Time Capsule, you have to drop $199 to extend the network without losing speed — seems like a stiff penalty to pay for networking that's no longer even close to early adoption.
Ally: In a world of selfie sticks, Olloclips, and cases galore, I don't think iPhone and iPad owners have to want for much these days. I do think charging docks could use some love. I'm currently using an Everdock Duo by Fuze and it's my favorite so far. I haven't yet found a decent dock I like for next to my bed. So yeah, that'd be fancy.
Ren: I have just one wish for Apple when it comes to 2015 accessories: Let me use my Lightning to SD Card Camera Reader (opens in new tab) on my iPhone. iCloud Photo Library has given us the power to sync all our images; let me be able to add photos I've shot on a DSLR, too. Believe me: Working in the field, it'd be a lot easier to use that little dongle to offload all my images onto my iPhone, where they're then pushed to my iPad and computer via iCloud Photo Library for viewing, edits, and final proofs.
Rene: What Peter, Ally, and Rene said. But ship some HealthKit and HomeKit accessories and we'll be good.