What we want to see from Apple in 2015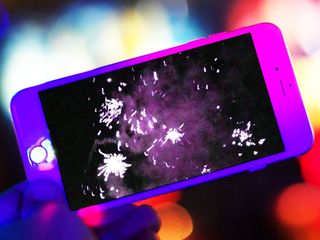 With 2015 right around the corner, there's lots we could wish for. We could wish for the moon—or at the very least, a hoverboard prototype to show up at CES 2015. But as much fun as it is to wildly speculate on pie-in-the-sky ideas, we're going to travel a bit closer to Earth for our 2015 predictions. Here's what the editors of iMore actually want to see from Apple next year — unicorns and 50-inch Gene Munster-branded Apple TVs need not apply.
iPhone
Peter: I'd like to see Apple return to the four-inch form factor with a phone that's just as good as the iPhone 6. Not everyone wants a bigger phone, but I'm sure some people would like the sleeker design and Apple Pay. I expect an iPhone 6 mini would be a welcome addition for many.
Ally: I don't really have any wants hardware wise at this point. I personally like the design of both the iPhone 6 and 6 Plus. It'd be nice if the camera sits flush again but after getting used to it, it's pretty much a non-issue for me. A small part of me would like to see Apple keep a 4 inch variant that's just a year behind spec-wise. Just adapt the styling of the iPhone 6. I doubt we will see it but a lot of people would certainly appreciate it.
Ren: It's time, iPhone, that you and I had a talk about your FaceTime HD camera. We may not all need grand 8-megapixel sensors to snap our selfies and makeup shots, but a teensy-tiny sensor upgrade wouldn't be out of hand for next year's release.
When it comes to the lower-end iPhone, I secretly hope that Apple introduces a 6c variant off the iPhone 6 — the C line may not have sold as well as its big brother, but plastic backs could mean slightly more durable iPhone models for clumsy hands or younger users, and that may well be a market worth investing in.
Rene: If Apple holds to pattern, 2015 will be an S-year for the iPhone. iPhone 6s and iPhone 6s Plus with better cameras, Apple A9 processors, and some new Siri or Touch ID like service or feature to show off during the keynote and in the ads. Shot in the dark — another new color, like product (red).
As to 4-inch iPhones, I think Peter and Ally don't really want smaller screens but smaller casings. The ratio of screen-to-front could stand to improve. Some big changes would have to happen, but technology... it doesn't stand still.
iPad
Peter: I'd be curious to see Apple go big with the iPad like it did with the iPhone 6 Plus. Can an iPad Plus create a new niche for tablets?
Ally: I want the iPad mini 3 to not get the shaft again damnit. Apple, if you're reading this, little shouldn't mean less powerful. Make it happen!
Rene: The iPad is getting pressure from below, thanks to bigger iPhones, and pressure from above, thanks to longer-lasting MacBooks. Is there still room in the middle for a 7.9-inch iPad? Or is there more room now for a 12-inch iPad? When multi-window comes, and drag-and-drop data, will that change anything, and how? Apple's next iteration of the iPad story could be very interesting to say the least.
Ren: I'm with Ally. An iPad mini with the power of the iPad Air 2 would be well-welcomed indeed, even with the iPhone 6 Plus encroaching upon the 7.9-inch space. I'm curious as to Apple's plans for the pro section of the market in 2015; we've heard rumors for awhile about the mythical 12-inch iPad, and I would love to see a tablet that could make use of Continuity to "dock" with a Mac and provide touchscreen controls for various programs, Cintiq-style.
Mac
Peter: A Retina MacBook Air seems like an inevitability, but it's predicated on Intel being able to get its act Broadwell act together. Apple needs a CPU in that thing that has the power-sipping characteristics of Haswell with much better graphics performance. That should happen in the first half of 2015, so let's hope a substantial MBA refresh is in the cards. I'm also waiting for a refresh to the Mac Pro, whose Xeon processor is still working with a pre-Haswell architecture. Late in the year Intel should begin shipping Skylake processors, which paves the way for Thunderbolt 3 in the Mac, finally giving us the bandwidth we need for the fantasized-of 5K Cinema Display.
Ally: I regretted giving up my 15" MacBook Pro for a 13" MacBook Air for a few months but then decided I preferred the weight, battery life, and size of the Air. That being said, I'd really like a Retina model that doesn't skimp on battery. Hopefully 2015 is the year it'll happen. Fingers crossed.
Ren: It's not quite a Mac, but I am hoping we'll see a 5K Apple display in 2015. (And hey, chances are that, like the 5K iMac, the display needs special mechanics inside it to drive a 60Hz screen, so there might well be some primitive form of Macintosh computer living within the housing anyway.)
Rene: The Mac Pro was amazing. The Retina 5K iMac is breathtaking. How does Apple follow up the last two years? Likely with the Retina MacBook Air. It won't be for those who want the power of the MacBook Pro, but it will be for those who want the display. Everything else seems to hinge on Intel's ability to ship Broadwell and Skylake. No better chips, no better Macs.
Apple Watch
Peter: I've yet to see the "killer app" that will make me run out and get an Apple Watch on day one, but I'm staying open to it. As a fitness device I'm left unimpressed. As a communication device, I'm still not sure I need it. Come on, Apple, come on developers, wow me.
Ally: My big problem with fitness bands and fitness apps in general is that while they're great at step counting or monitoring sports, they suck at the gym. If I'm at the gym on the elliptical or doing something else, the tracking has been subpar at best. Sure I can enter some of that in manually, but it still sucks. With all the sensor technology we have nowadays, I'd like to see the Apple Watch make my life a little easier when it comes to tracking stationary workouts. That's really the only thing that would get me to use it regularly.
Ren: I have great hope for the Apple Watch, but a lot depends on how version one operates, how committed developers are to building apps for it, and how easy it'll be to upgrade. It's going to be hard for Apple to convince its customers that a v1 Apple Watch is worth buying without great apps to use it with or an easy way to move forward to version 2. (Especially for those people investing in the ultra-pricey Edition watch.)
Rene: The knock against first generation Apple devices is that the version that follows two or three years later is thinner, lighter, faster, and more capable. It's also two or three years later. I'd have never given up a day with my original iPhone or iPad, much less two or three years. Yes, the future is always better, but we live in the present. And, like Ren, I want the Apple Watch of 2015, so I can enjoy every day with it before the next one arrives. Then, you know, I'll want thinner, lighter, faster, and more capable too...
Apple TV
Peter: Expanding the entertainment options of the Apple TV seems like a no-brainer. You can already stream content to the Apple TV from other iOS devices quite easily, and it's a killer app feature for the box. But I'd like to see that integration get even tighter, so playing games from my iPhone or iPad is a seamless experience on the Apple TV. Right now few games support Apple TV display, and for most it's just a spectating experience. Let's really make Apple TV a central living room experience.
Rene: A new Apple TV has been in the works for a long time. Honestly, I couldn't care less about cable integration. That'll be a hard enough nut to crack for the U.S. alone, never mind international. A new, better considered interface, Universal Spotlight search, a Siri and HomeKit hub, Handoff (or Handback!) for media, and a Game Store, if not App Store, would be much better appreciated, at least by me.
Ren: Gene Munster, it's now 2015 — I highly doubt you'll ever get your 50-inch Apple display TV. And that's okay. Smart TVs are all well and good, but the Apple TV will enter many more homes in its current form factor, or that of the Google Chromecast.
Software-wise, though, Rene's right: the Apple TV has a lot of ground to cover. Though we've gotten new channels off and on, the box hasn't been properly updated in a few years, and there's lots it could tackle: cutting cords, playing games, giving HomeKit devices a place to chatter, and more. It's left the hobby store; time to bring out the big box pizazz.
iOS
Peter: iOS 8 was as much a change under the hood as iOS 7 was a change to the look and feel of Apple's mobile operating system. Now Apple needs to make it seamless. There are some glaring problems with iOS 8 still, so I'd like to see Apple dial back some of the new features in favor of actually getting everyhing to work right.
Ally: I'd like to see Apple focus on ironing out the kinks and bugs that plague iOS 8. And I'd like to see more developers take full advantage of extensions and Continuity. As for iOS 9, I'd really like to see a proper iCloud Drive app. And I think it's safe to say Rene would cry tears of joy if it finally happened.
Rene: Most of the big features that have been missing from iOS have been found. Most of the low-hanging fruit has been plucked. So where does Apple go from here? Round out the features? Add more bells and whistles? Or start figuring out what it is people need to more fully utilize their mobile devices are their primary computing platforms. Not nerds. Regular people. Taking everything from iOS 7 and iOS 8 and making it a more cohesive, more empowering whole could make the iPhone and iPad even more accessible and more capable for more people. It could also be the third big leap forward in as many years.
Oh, and get Apple Pay rolled out internationally already.
Ren: All of the above and then some. As more and more iOS devices hit households, Apple needs stability from its mobile operating system. That may mean slowing down the pace of magical new features and focusing on the stuff that really matters to get right, like iCloud Drive, Photo Library, Maps data (as always), and interface bugs.
Personally, I'd like to see tighter and smarter Siri commands; a better keyboard switcher; a fix for Spotlight's bugginess; and some sort of software UI consideration for the iPad. Multitasking gestures are great, but split-screen mode and a potential alternate home screen could go a long way toward making the iPad experience a better one.
OS X
Peter: Snow Yosemite. I really think Apple should take a step back from piling on new features in OS X to making sure the ones it has are rock-solid. We're also waiting for Photos to replace iPhoto and Aperture, which will happen early in 2015. That transition is bound to cause some discomfort to Mac users who are dependent on iPhoto to manage their photos, but I anticipate it'll be a welcome respite, since iPhoto's cloud integration has always felt grafted-on, rather than truly integrated.
Ally: Pretty much the same as my wants for iOS. I also hope Photos.app makes an appearance sooner rather than later. Not being able to sync albums and iCloud Photo Library natively is super annoying and severely fragments what could be a decent ecosystem.
Ren: Apple needs a media overhaul. Photos.app needs to show up, and soon, so that iCloud Photo Library can be properly implemented. iTunes needs to be less of a behemoth. And Apple should consider connecting iMovie, Final Cut Pro, and its other pro apps to the iPhone and iPad by using Continuity. iMovie projects need to sync to iOS, folks, c'mon. It's (almost) 2015.
Rene: Yosemite looks great and works great. Sure, just like iOS 7, it could stand Apple dialing it back a bit. Overall, however, it could really stand Apple rounding it out. Handoff is great, but it would be greater still with Handoff for media. Touch ID now makes authentication and authorization more convenient on iOS than OS X. And, hey, how much longer can Apple really stand to hear John Siracusa complain about the file system?
Software
Peter: Apple's laid out a lot of new foundational technology in iOS 8 and OS X, but developers have been slow to adopt much of it. Better Continuity support from third parties, more support from game developers and others for Metal in iOS 8 and better support from Apple in technology like iCloud Drive and iCloud Photo Library need to happen.
Ally: Lots more Mac/iOS apps that support Handoff between each other in meaningful ways. No I don't mean give me a web link to what I'm viewing on iOS. I want native apps that are working together in a way that make my life easier.
Ren: Like Ally, I'd like to see more third-party Handoff and Extensibility integration on the Mac. We barely scratched the surface in 2014, and there's lots to do and many cross-platform apps with which to experiment. I'm especially looking forward to creative professional apps and how they might implement Handoff between devices.
Rene: I'd love to see iTunes join iWork in the Cloud. I'd love to see iWork regain it's functionality of old. I'd love to see Final Cut Pro X and Logic Pro X better integrate with iOS and Handoff. I'd love to see Swift Playgrounds for iPad, or something so that development becomes more accessible as well — so that the next generation of killer apps gets even closer.
For indie software, more like Capo, Pixelmator, and Workflow on iOS, please.
Accessories
Peter: I'm still waiting for HomeKit to turn in to something. I've already gotten my hands on some devices that purport to have HomeKit compatibility, like Elgato's Uvea light, but I'm afraid HomeKit will turn into another MFi game controller debacle: A fine idea with little or no momentum to actually effect change.
On a more prosaic note, I'd like to see Apple update the AirPort Express to 802.11ac. Apple's less-expensive mini-router is still stuck at 802.11n speeds. If you already have an up-to-date AirPort Extreme or Time Capsule, you have to drop $199 to extend the network without losing speed — seems like a stiff penalty to pay for networking that's no longer even close to early adoption.
Ally: In a world of selfie sticks, Olloclips, and cases galore, I don't think iPhone and iPad owners have to want for much these days. I do think charging docks could use some love. I'm currently using an Everdock Duo by Fuze and it's my favorite so far. I haven't yet found a decent dock I like for next to my bed. So yeah, that'd be fancy.
Ren: I have just one wish for Apple when it comes to 2015 accessories: Let me use my Lightning to SD Card Camera Reader (opens in new tab) on my iPhone. iCloud Photo Library has given us the power to sync all our images; let me be able to add photos I've shot on a DSLR, too. Believe me: Working in the field, it'd be a lot easier to use that little dongle to offload all my images onto my iPhone, where they're then pushed to my iPad and computer via iCloud Photo Library for viewing, edits, and final proofs.
Rene: What Peter, Ally, and Rene said. But ship some HealthKit and HomeKit accessories and we'll be good.
Get more iMore in your inbox!
Our news, reviews, opinions, and easy to follow guides can turn any iPhone owner into an Apple aficionado
Rene Ritchie is one of the most respected Apple analysts in the business, reaching a combined audience of over 40 million readers a month. His YouTube channel, Vector, has over 90 thousand subscribers and 14 million views and his podcasts, including Debug, have been downloaded over 20 million times. He also regularly co-hosts MacBreak Weekly for the TWiT network and co-hosted CES Live! and Talk Mobile. Based in Montreal, Rene is a former director of product marketing, web developer, and graphic designer. He's authored several books and appeared on numerous television and radio segments to discuss Apple and the technology industry. When not working, he likes to cook, grapple, and spend time with his friends and family.
Less bezels on the iPhone, larger batteries (stop with the race to paper thin) better FFC (it is very overdue)

All great stuff, but one criticism ... Several of you (Rene) are perpetuating this "iPhone 6 plus is making the iPad mini redundant," kind of angle and it's just pure nonsense. The larger iPhones only replace the smaller iPads if you are just using them casually for movies and games. The iPhone 6 plus in particular CANNOT replace the iPad mini in any way when it comes to actual work. Proof? Open Pages on the iPhone 6 plus and start to create a serious document. You can't do it. You either get a tiny "window" to a document that is several times larger than the screen, so you can pan around to see what you are doing, or you zoom out to get the whole document, which is now so tiny that it's ridiculous to try and work on it. If you cannot comfortably work with basic documents in a simple word processor, you cannot really say that the iPhone (of any size), "replaces" or obviates the need for a small iPad. To get rid of the iPad mini from their lineup would be equivalent to Apple saying, "We don't think iPads are really for serious work any more."

Spot on. I have an iPhone 6 Plus and an iPad Air 2. I can be using my iPhone but if I need to use iWork I go to the iPad. Not wishing to criticise the iPhone at all, it's a great device. But for me when it come to productivity the iPad beats the iPhone hands down. The 6 Plus is a wonderful consumption device. iPad still very much has a place in my life. Sent from the iMore App

Absolutely. To say that iphone 6 Plus is replacing the Mini for many is merely saying the ipad is nothing more than a big iphone. Gone are the arguments for ipad specific apps, what can be done only on an ipad, the difference between 16:9 and 4:3 apps, etc. Of course, if Apple ignores the Mini with updates, this overlap will happen.

The most important product I want to see from Apple in 2015 is improved software for iOS. Apple has great hardware but it's operating systems for iOS sucks. Bugs everywhere. ! its getting to be a habit.

To be fair iOS 8 is pretty stable now. One or two minor bugs still persist but overall it's ok, for me at least. However I know where you're coming from. iOS 8 shipped nowhere near ready. It had so many bugs it made me regret updating, and thinking I would no longer buy the latest iPhone at launch as it would mean having the latest iOS. That may well be what I do next autumn. For iOS 9 I just want Apple to make iOS bullet proof. Sent from the iMore App

iPhone: Pretty satisfied with my hardware. Better battery life, even if (gasp) it means a modest increase in thickness. Developer access to NFC iPad: Never use mine anymore, though I'd have to pry my mother's from her cold, dead fingers. Mac: Again, pretty satisfied with hardware. Have some WiFi/BT issues, but those seem more software than hardware issues Apple Watch: A single compelling (to me) reason to buy one. Apple TV: Hardware: a stick form factor. Software: streaming is very problematic, so fixes. App Store - I want Amazon Video directly on my ATV; AirPlay does not count. I don't know if its omission is Apple's fault or Amazon's fault, and I don't care. I use both Amazon Video and Netflix frequently, far more than iTunes for videos, so the device that has both is the one I will use. iOS: Stability, stability, stability. I *love* most of the changes in iOS8, but implementations have been fraught with problems. *USER SELECTABLE DEFAULT APPS*. Developer access to Siri. OSX: Peter put it perfectly - Snow Yosemite. Software: Better, more clearer App Store rules. This is not quite a nonsequitur, because it directly impacts the Continuity functions iMore writers are demanding. While iOS developers have no other choice, one of the reasons we have not seen more continuity/handoff uptake is that a fair number of goofy/creative OSX developers are shying away from the Mac App Store. Yes, handoff APIs can be used in apps distributed outside the app store, but they have to be signed by that registered developer, so it still puts you squarely in Apple's sights. There is a (small, but increasing) undercurrent of distrust of Apple in the dev community. It is not that Apple's underlying tech is not cool - it is that there are some risks to creating something innovative enough to get on Apple's radar, and a lot of developers have more productive things to do than to bother with that risk. Until that changes, you are not going to see as much Continuity as you would like. Accessories: Car fixes. No, not CarPlay, but other cars, e.g. BMW had pretty solid pre-Lightning integration with iPhones, and it has never gotten back to that level.

For the love of God. Fix Reader View on iPhone 6 Plus. It was one of my favorite features on past iPhones, and on the 6 Plus it was clearly ported over from iPad iOS and cuts out 1/3 of the screen.

"The Mac Pro was amazing. The Retina 5K iMac is breathtaking. How does Apple follow up the last two years?" With a 21.5" Retina iMac "Most of the big features that have been missing from iOS have been found. Most of the low-hanging fruit has been plucked. So where does Apple go from here?" Simple. It works on refining. Think Snow Leopard

I'd like to see a new iPad with a 4K display. I wouldn't even mind it being thicker to accommodate the extra battery I assume it would require. For me I think Apple can maybe put aside the need to get thinner and thinner for a while. Sent from the iMore App

Yes, Agree on that. Sent from the iMore App

Better Apple Pay Support for prepaid debit cards Sent from the iMore App

One thought...".Less is more"...iOS8 is a battle field of bugs which i attribute to the loads of additional stuff :)

Re: OSX - further to Peter's comment, "...making sure the ones it has are rock-solid..." Yes please. Start with Wi-Fi, which has been a big bugaboo for Yosemite users since the Beta stage and - despite a patch (sorry, Macoyltes...an 'update') - still hasn't been entirely resolved, if just about any Forum you care to mention is to be relied on. In my case, my Wi-Fi has gone from being steady, reliable and just about as fast as a hard-wired connection would be (if that was a built-in option on my Mac Air) to, more consistently, half the speed. Apple might like to blame the internet provider, the modem or my Wi-Fi router for the problem, but as both my 'old' iPhone 4 and a Nexus 7 can get consistently stable, fast readings from the same source, its not that. And not all the postings on this can be from people with the exact same configurations and ISPs. I'm tired of 'holding it wrong' Apple. Fix what ya got first.

I don't know what categories these thoughts would fit into, but here they are. More consistent and well defined App review. For the first time in a while I'm glancing at Android hardware. The back and forth reject then approve junk that the App review team is doing is ridiculous. iOS has added these great new extensions; let the developers use them as long as it doesn't hurt the end user. Fix the bugs. This iOS release cycle, while exciting with new features, has been painful at times. It's time to get away from tying the major release cycles to the yearly hardware product cycle and ship things when they actually are stable. Things seem too rushed (trying to fit in all these new features between WWDC in June and a September hardware release). iTunes needs to die in a fire (or get a major overhaul). I'm still running on a 2011 MBP, and iTunes is just resource hog. Also, the new interface is more confusing to me than previous iterations. Really don't like the change. iCloud and other online resources need attention. I still have issues with any app or feature that uses iCloud (the backend data portion; I haven't used the Drive portion enough to comment). I can't get my keyboard shortcuts to sync reliably, the Safari bookmarks and keychain suffers from delays, etc. Just need to make it more robust and reliable. The "workaround" for iCloud issues shouldn't be to wait 20 minutes for things to sync and try again. I'd like to see notification profiles of some variety in iOS. Example: I'm working and want to get work email notifications and not home email notifications. In the evenings, I don't want notifications for work email. I would like to see an easy way to switch between notification "sets" without having to individually switch apps/accounts on and off. iMessage being more reliable and also cross platform. I can dream, can't I?

Try running iTunes 12 with a library of 70,000 tracks on a 2008 iMac that is limited to 4GB of RAM. It's Beach Ball City! I haven't replaced it because iTunes is pretty much the only thing it is used for.

I'll pass on that exercise in frustration. Before this MBP, I had an old (8+ year old) desktop PC that was used pretty much only for my iTunes library. That was truly painful on a few levels.

I predict an apple event in the spring announcing the apple watch. Broad well based macs especially the air. Pay in the uk maybe. Then in June we will see new software and maybe some new macs like the pro. Probably also a new Apple TV. With skylake in the fall we will see new MacBook pros and a new retina iMac. Of course the iPad and iPhone will also come in the fall. Sent from the iMore App

Love the Product (Red) colour idea for iOS devices. Sent from the iMore App

I'll bet a dollar that the iPhone 6S / 6S Plus will *not* have a protruding rear camera lens. For me that was the only hardware fail on the 6 / 6 Plus. And I think '15 will be the year for HomeKit to start gaining mindshare and marketshare. (Which will probably mean that the Apple TV will be upgraded to act as the "hub" of the smart home with HomeKit and maybe Siri.)

Don't care what's on the 6S since I'm a 2 yr guy and just got the 6 a month ago. Would be nice to see a Retina MBA with similar battery life to the current models, though he 12" screen size they keep mentioning in rumor sites isn't my cuppa (13" is my minimum), but what I really want is a return of the 17" MBP. I'd buy that in a heartbeat. Also wish Apple acquired Parallels or VMware and gave us the virtualization software for free, that way I wouldn't have to pay $50 to upgrade yearly. Oh, and they really need to give the App Store some spring cleaning. Too many useless apps that haven't been updated in more than a year. Lastly, fix the issues with iOS OTA updates, Apple! I'm sick of the iTunes method.

iPad Plus with an integrated virtual iPhone screen Sent from the iMore App

For iPhone, I'd like them to trim the top and bottom bezels. For iOS in general, let's finally have he ability to arrange apps in the home screens wherever we want them. There's no reason they need to auto align to the top left, especially on the iPhone 6 Plus. Home screen widgets would be nice too, but that's probably going too far for them. Sent from the iMore App

Yes. I like that it's arranged in rows and not anywhere but we should be able to arrange the rows bottom up. Especially for the plus. Sent from the iMore App

What I want to see from Apple in 2015: Please fix the mess that is called iTunes 12 so that I can sync my phone without fear of that dang 40GB of "other" storage popping up! Oh, and can you PLEASE allow us the option to BULK DELETE our email on our iPhones already? 'Kay....thanks! Bye. And HAPPY (AND SAFE) NEW YEAR EVERYONE!!

The high end users of MacPro are having serious temperature issues with its graphics cards and so. Maybe it'll need a redesign. On the other hand, I wonder how it'll look the Apple's version of Oculus

Iam tired of the same old icons their boring,how about live tiles

Iam so tired of apples interface I would like to be able to hide the icons so I can enjoy my wallpapers floating icons would be nice

An Ipad that runs OSX ... *Drops Mic*

How about wireless charging? If you've ever used it, you know how nice it is to just set your phone down on the pad to charge it with having touch a wire or plug it in. Same with picking it up, you don't have to unplug anything. Oh, and don't release an operating system with major bugs. While making otherwise excellent products, I find it inexcusable that Apple, with complete control over all aspects of the design and building of the hardware as well as the design and writing of the software, can release a seriously faulty update (example: broken WiFi). Happy New Year everyone!

I'd like to see more apps take advantage of the 6 Plus landscape mode. I'd also love a new home screen. Something more personal, interactive and changeable. HNY

Try Android Sent from the iMore App

I personally love the iphone 5/5s style. The chamferred straight cut edge feel much more classy and better for holding. But definitely needs less bezels and larger intro storage. 16gb is not for tech nerds and photo enthusiast. 6 plus need a stylus.
Ios need to have native flow geture typing option with its own keyboard. The third party keyboards are glitchy and doesnt open on every app. Dial screen search like the android. Start typing the name ir numbers and options should start popping up.

I have a somewhat counterintuitive request for the iPad platform - support for a mouse or trackpad. Now before folks line up to tell me how use my finger on a touchscreen, let me explain that as BYOD collides with security concerns, many companies are opting for virtual desktops (VMware and Citrix) to allow their users the ability to access corporate systems remotely. So, when I am using VDI on my iPad, I am attempting to operate in a Windows 7 environment without a mouse. A less than stellar experience. If Apple supported a bluetooth mouse/trackpad, it wouldn't be a big win for traditional iOs applications but it would help with corporate BYOD situations. Otherwise, the Microsoft Surface and similar devices may dominate that space.

Would love for Apple to change the way the apple apps are on the phone. Because of the beautiful wallpapers wish we could hide all apps until we need them. And have live apps the apps we have now are so boring

I'd love to see an apple TV running full iOS, similar to Chromeboxes. It should have at least 16gb ram and have full Bluetooth support to allow a keyboard and trackpad to be used. There are plenty of android devices out there that do this, let's have one from Apple please. Posted via the iMore App for Android

I would like to see more customization. Something like hiding icons or even new icons, changing the awful "dock" and being able to put the weather on the lock screen or at least a icon or two.

Back to a 4 inch iPhone? Come on people we have to go forward not backwards. And a 12 inch iPad?, Hell Yes! Sent from the iMore App

Thunderbolt display. Yes it looks great, but is getting outdated. At $1000.00, might as well save up, and get the iMac. With everything out there using UBS 3.0, its 2.0 is slower. Time for some type of update.

Another vote for iOS: home screen/icon flexibility and customization, releasing stable updates, a "My Documents" like file system with folders for Documents, Pictures, etc. (that can sync with the same OS X Finder folders or iCloud Drive equivalent for Windows), sharing extents and capabilities like that available in Android, and a native email app that can handle all attachment types for new and "reply to" emails. Integration with and support for iCloud Drive via a native app is another suggestion I like.

I want Apple to update the iPod touch! Have touch ID & the dual led true color flash, and of course camera improvements as well!

Return to the size of iPhone 5s. We are using phone, not pad or note!