25 iPhone Cases that Make Beyond Perfect Mother's Day Gifts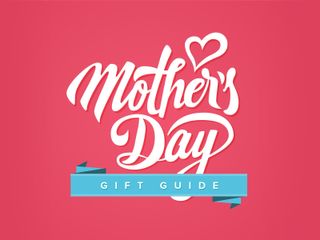 Mother's Day is right around the corner, and nothing makes for a better gift that an iPhone case!
They're practical, pretty, and are a great way to show your mom how much you love her.
Here are 25 iPhone Cases That Make Beyond Perfect Mother's Day Gifts!
BAM. STRAIGHT TO THE POINT.
Show your mom how much you love her with this $36 baby-pink case and awesome blocky letters from Society6!
2. If your mom lays down the law, check dis out
The mom, the myth, the legend. Oh, and the best part? You can customize it and add in her name at the top to show off that she's a true bad MF.
Oh! And this $62 case is also super durable.
If your mommy is a true nomasaurus rex, then check out this amazing $36 Mother's Day gift option.
Big fan of keeping things simple while still showing your mom how awesome she is? Then tell her how much you love her with this $10 case!
5. Na na na na na na na na na na na na na na na na, Wonder Mom! Wait… I don't think I got that right...
If your mom is a true superhero and you want the world to know if, check out this $36 iPhone case from Society6.
An angry mama bear! (But this case is far from scary: it's super cute $15 case for your mom).
Sure, it's not in permanent ink on your bicep, but this traditional-style mother tattoo iPhone case should be almost enough to show your mom how much you love her.
Especially when it costs a fraction of the cost of an actual tattoo at $36.
Uhm, hello? Are you the best mom ever?
Sorry, I didn't know: your children didn't pick up this super sweet $42 iPhone case from Zazzle, so it was hard to tell.
Connect with your true Mother Earth spirit with this adorable $36 cartoon case that screams 'Mom' from Society6.
10. Cut the BS and tell your mom how it really is (JK your mom is awesome and she can totally take a joke)
Okayest? Okayest?!
Yeah, well, you're not wrong ¯_(ツ)_/¯
Especially for $36...
That's good humor. Good, clean, mom-approved humor (plus how adorable are the little cartoon mummy and toilet paper?!)
You can get this case for $36.
If your mom is a proud feminist who isn't afraid to speak her mind and talk sexism, politics, and current events, then pick up this radical $40 case from Zazzle!
13. I didn't choose the #momlife, the #momlife chose me
Sometimes the #momlife hussle is hard, but mom's just keep momin', you know? #deep #ThisCaseWillCostYou$36
14. The mom. The myth. The legend. The caretaker. The sympathizer. The most wonderful human in the world.
If you're someone who truly knows how legendary your mom is, the check out this case from RedBubble for $25.
15. Give us 6 words that would describe how incredible your mom is!
Amazing? Lovely? Intelligent? Happy? Beautiful? Marvelous?
Check, check, check, check, check, and check!
This case will cost you $36.
16. Just add lipstick
"I have always loved lipstick. For women, that love comes from our mothers and grandmothers. It's so natural for a woman to open up her mirror and apply lipstick" – Monica Bellucci
You can grab this particular case for $36.
Is she your mom? Your mama? Your mommy? The list goes on, and on, and on... And for $36, it sure as heck should!
Then this $12 iPhone case and cover might be the perfectly patriotic Mother's Day gift for her.
Add a little touch of class and sophistication to your mom's iPhone with the Racahout des Arabes Théophile Steinlen Carved iPhone 7 Plus Case for $66.
… Try saying that 10 times fast.
20. What do you mean you can't spell anything with the tiles you have?! You can spell out M-O-M R-U-L-E-S T-H-E W-O-R-L-D... How many points is that?
If your mom is a big Scrabble player or if she just prefers the look of a minimalist, unassuming case, then this $36 MOM-LOVE case might be a great gift option.
Keep calm and carry on was so 2009 – plus we all know this version of the saying is a lot more legit.
You can get this case for your mom for $36.
If you're obviously the favorite child, then this accurate $34 iPhone case is a perfect present.
Mother's Day should actually just be a full season, just like around the holidays, except your mom gets her own tree with presents she's wrapped underneath and she gets to obsessively tidy the house without anyone telling her to relax.
Ah, the holidays <3 and ah, the $36 price-tag.
If mama ain't happy, ain't nobody happy, because mama keeps things lock TF down. Who can argue with that, especially on Mother's Day!
You can grab this case for $25.
I mean it in the best way, mom, I swear! I swear on this $15 iPhone case!
Updated May 2018: This article has been updated to include the best of the best Mother's Day iPhone case options out there. Don't believe me? Then talk to my mama.
Master your iPhone in minutes
iMore offers spot-on advice and guidance from our team of experts, with decades of Apple device experience to lean on. Learn more with iMore!
Cella writes for iMore on social and photography. She's a true crime enthusiast, bestselling horror author, lipstick collector, buzzkill, and Sicilian. Follow her on Twitter and Instagram: @hellorousseau