iPhone 3G casing spotted. Again. ...and again: Maybe.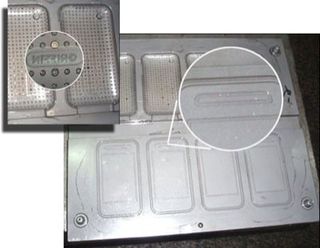 Here we go again. The sheer number of iPhone 3G case leaks is getting to be embarrassing. The latest looks to be from a Chinese manufacturer of Griffin cases and all but confirms the "new" form factor: A more rounded back, slightly less beveled front, and perhaps more squarish corners.
Thinking back to our last iPhone 3G sighting, it occurs to me that we might still have not seen the final look of the device -- the white and black plastic we've been looking at has had an awfully chintzy feel. Since all these leaks are coming from case manufacturers, it's possible that:
They created mockups of the basic iPhone 3G casing based on Apple's specs in order to better create cases or
Apple sent out a bunch of "dummy phones" that match the shape of the iPhone 3G but do not match the look?
...more renderings after the break!
Read Via
Get the best of iMore in in your inbox, every day!
That Apple sent out slugs, or even specs from which accessory makers cast their own slugs makes a lot of sense. The stuff we've seen thus far might as well have been spun out of a 3D printer.
The form factor is no surprise. Apple rides a form for a while, innovating on the inside before changing the outside. iMac is a perfect example. The all-white survived the switch to Intel before going glass and aluminum, and its been years since the long-neck or the bondi-blue CRT cycles.
If they stay true to practice, I don't see anything radical, casing-wise, for long while still. (Those phones are more fashionable, so who knows?)

Thank you for the useful thoughts.. Yet another remarkable contribution, this is the reason I returned to your weblog usually!!

packing box design for Apple series case
Dear Sir or Madam
I'm lenny from Xin Yi Mei Plastic Products Co.,ltd which is a professional plastic box manufacturers in China for many year.
When I browse on the website and know you are a leading/esteemed designer and supplier of the protective case for Apple series product. Glad to tell you our box can make your case be more attractive, enhance their grade and improve their added value.
Pls see the pictures as below or in the attachment
These box can also for ipod,ipad,itouch and so on
these boxes can be all produced from the customer's own ideas, so they can still keep the unique, fashion and cool style as you want.
The boxes can hold the set case with same subject and theme together, they clear lid will not cover their glow but make them be loved in the first sight. The various base can also fit for the main color of the inside case.
The printed instruction on the surface will not show the advantage point of your goods as much as possible but can let your customers know more things before ask the sales. The more knowledge be got, the more interest be made.
Do wish we can cooperate! Wait for your news and thank you very much!

I'm very glad to find the site.It's really a good site and I can find so many interesting things and news and see so many good people,of course get so much help from here.It's really a amazing experience.very good thanks Coach Purses.
Thank you for signing up to iMore. You will receive a verification email shortly.
There was a problem. Please refresh the page and try again.