iMore show 575: Movies everywhere-ish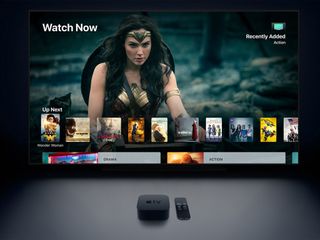 (Image credit: Apple)
This week, Rene, Georgia, Lory, and Mikah gather 'round the virtual table to talk about two new movie services—MoviePass and Movies Anywhere. MoviePass is advertised as all-you-can-eat trips to the cinema for a flat fee of $9.99 per month. Enjoy it while you can if you're in the United States, because the team predicts this company won't last long.
What's much more enticing is Movies Anywhere. Disney has partnered with other major studios, excluding Paramount (at least for now), to offer a service that lets you more freely access movies you've purchased from multiple platforms.
Then, it's Ask iMore Q&A all the way down as the team answers YOUR questions about Apple TV 4K, tips for preordering iPhone X, AirPods losing signal, and much more!
Listen now
Show notes
Hosts
Be part of the show!
Send in your comments, questions, feedback, or follow-up to:
Jim Metzendorf has been using Macs since 1994. He is a podcaster, freelance audio/video editor, and author of 'The Professional's Guide to Audio Podcast Production'. Jim also teaches audio production at a college in Cleveland, Ohio. Follow him on Twitter: @jmetzendorf
Always enjoy the show but do have a bone to pick. As someone with a ton of iTunes TV purchases who is now forced to rely on Android for my phone (provided by my job) I get a little bit frustrated at attachking Amazon while giving Apple a free pass for doing the same exact thing for the same "business model" reasons. Don't get me wrong, I want Prime Video on my Apple TV. It is the only source of content that I regularly watch requiring me to use my TV's built in app instead of the superior Apple TV. However it seems like Apple not making their DRM'd video content available on other platforms for business model reasons is accepted from Apple while Amazon not making their DRM'd video content available on iOS based devices is not. Why the discrepancy? My proposal - let's be critical of any company that behaves in a customer hostile way. We see with Apple Music that they are capable of supporting a product on Android. There is no good reason why Apple's TV and Movie content is not also accessible via an Android app and it is the height of hypocrisy to criticize Amazon and give a pass to Apple for the same behaviors.

YES. I LOVE THIS GUY. Really makes me wish I had used another service to purchase my TV content. Being forced to use an Apple device (or yes, a Windows PC through the slowest Windows app I've ever used aka iTunes) to access my TV content on iTunes really sucks. Ultimately, I'm really hoping they integrate TV shows into the "movies anywhere" service, although unlikely as the service IS called "MOVIES anywhere" :/
Get the best of iMore in in your inbox, every day!
Thank you for signing up to iMore. You will receive a verification email shortly.
There was a problem. Please refresh the page and try again.