6 things I love about macOS High Sierra (so far)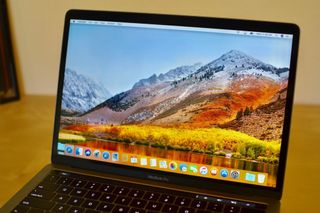 Every time Apple updates its Mac operating system, some new features get added that completely change the way I use my computer. macOS High Sierra is a smaller update, but that doesn't mean its' new features are any less awesome. Here are a few of the big little changes Apple has made to macOS that I'm already wondering how I ever lived without.
Pinned notes
This might actually be my favorite little update. I use the Notes app more and more on Mac and one thing that has always irritated me is how difficult it is to find a note I use regularly because it gets lost in the list every time I open a different one. I loving being able to keep those half-dozen notes at the top of my list where I can always keep track of them no matter how many new or different notes I open.
Autoplay blocking
I kind of hate when an advertisement, or even a news brief, starts playing automatically while I'm browsing the internet on my Mac. It can be downright startling at times when I'm not expecting it. I don't mind watching videos, and sometimes even ads if they're interesting to me, but I want to be in charge of when it plays and how loud the audio is. Apple gave us a boost in controlling sudden audio on web pages with the volume mute button in Safari, but being able to completely stop all videos from automatically playing makes it even better
Messages in iCloud
I regularly reinstall a fresh copy of an operating system on my Mac and on my iPhone or iPad. I'm not too attached to conversations I've had with people, so don't worry about losing text messages, for the most part. But, sometimes I'll wish I still had that gate code or that address someone texted me, but I won't have it anymore after restoring a device to its factory settings. C'Est la vie. Now that Apple has added iCloud support to Messages, however, all of my chats will appear on all of my devices and be saved remotely so that, when I do start from scratch on a device, I can still find those gate codes and addresses.
Mail uses up less storage space
It may not seem like much, but the built-in Mail app got some under-the-hood fixes that reduces how much disk storage space is required. It's about 35% thinner than in macOS Sierra, which means it loads faster, performs actions faster, and makes it easier to get through all of your daily emails.
New photo book printing options
Apple has opened up its photo book printing options for third-party companies like White Wall, Shutterfly, Animoto, WiX, and iFolor. These companies will offer different printing services than what Apple offers, like fully-framed wall mounted photos or website publishing help. Imagine being able to get that picture you took of your family on vacation printed onto a coffee mug, right from the Photos app on your Mac. Fun!
Site-by-site customized browsing experience in Safari
We've all heard about how Apple added a content blocking feature that keeps websites from tracking your browsing habits in Safari. But, the thing I love most about Safari's new customizable browsing experience is that you can designate certain rules for every website you visit. Individual website settings include Reader View when available, content blockers, page zoom ranging from 50 to 300 %, autoplay options for always allowing autoplay, stopping media that also has sound, and blocking autoplay entirely, and camera, microphone, and location permissions. These settings can be adjusted for each and every website you visit. So, if you want full access for some websites and zero for others, you've got it.
Your favorites?
Have you run the developer beta of macOS High Sierra yet? What are your favorite features?
○ Everything about WWDC 2020
○ WWDC 2020 remote lineup
○ Download the Apple Developer app (opens in new tab)
○ iOS/iPadOS 14
○ macOS 10.16
○ watchOS 7
○ tvOS 14
○ Discussion forums

Get the best of iMore in your inbox, every day!
Lory is a renaissance woman, writing news, reviews, and how-to guides for iMore. She also fancies herself a bit of a rock star in her town and spends too much time reading comic books. If she's not typing away at her keyboard, you can probably find her at Disneyland or watching Star Wars (or both).
Looking forward to always-on Reader View for the godawful format of Wikipedia!

I never even considered that before! Now I'm curious.

Wikipedia on wide screens is really just an unreadable wall of text. Reflowing that into a small tablet sized column and cranking up the font size a little goes a long way.

Me too!!!! (Accidentally clicked on "report this comment"....sorry!)

I can't seem to find one particular answer regarding Messages in iCloud: will Messages be added as a web-app to iCloud.com? Apple has been adding more and more functionality to the little-used web portal, and this would make a nice addition for iPhone users who have no choice but to use Windows at work...
-- And the revised Mail app: I had always preferred it (both on Mac and iOS), but have been using Spark on both platforms for about a year due to Mail's issues with Gmail. I.e., no push on iOS due to lack of IMAP Idle, and "weird" behavior on macOS (specifically, how Apple Mail creates a ton of slightly different drafts if you take too long to compose an email). With each update to the various versions of Apple Mail, I keep hoping they will address these two issues.

"will Messages be added as a web-app to iCloud.com?" I've not heard anything about this and it seems unlikely, given that this would make it possible to access iMessage from any platform (i.e. Android). iMessage is one of the reasons many people go onto iPhone, so Apple doesn't want to risk taking that away

Frustratingly, I have a feeling you're right -- but one can hope. ;-)

Apple already allows iCloud email, Notes, Pages, etc. all in the cloud so Messages is probably going to follow suit. They probably just won't build an easy to use client side app for iMessages in Android

iCloud email isn't a selling feature for the iPhone, it's just an email client.
Notes/Pages are an office suite and Microsoft/Android have a fully featured one called Microsoft Office iMessage is a unique feature of iOS/macOS that combines SMS and internet messaging into one, and now it has its own app store dedicated to it, along with all the other features it has. It won't go onto the web interface because if it did it would support web notifications, which means if you signed into it on Android you could easily use it like a normal app since Android supports web notifications. Sure you might need to fake your user agent but that's incredibly easy to do. I just can't see Apple doing it because of this

Sorry, I can't see Apple witholding web access to iMessages just because of Android. Surely iCloud servers can tell when an Android device is trying to access it and just block these out. Apple users are used to seeing all their stuff synched across all their Apple devices and this seems more important than letting Android screw up the vision for iCloud. Time will tell the tale.

With a web browser all you have to do is change your user agent and suddenly you appear to be on a completely different device. There's no way for Apple to block this, it's just the nature of the web

There's ways around it. Ex. send Touch ID screen to the user's iDevices to unlock iCloud.com. Touch ID could be required to access it.

Or just the generic 2 factor authentication system

This sounds like a horrible reason. Who would use iMessages in this way? If iMessages are stored in the cloud, I'd almost guarantee we'd be able to access them from iCloud.com. Accessing iMessages from iCloud.com wouldn't pull anyone away from the iPhone. Now, if they introuduced an application for Android...that's a different story.

If iMessage can be accessed from iCloud.com then it can be used on Android, and Android supports web notifications which means you can close the browser and still receive notifications from websites. Essentially this turns iMessage into an Android app

"head-over-heals" No. Head-over-heels. Like on your feet, not what you need in the middle of the Molten Core run.

Lori the Renaissance woman knew that. Now as for her editor, who also struck the initial cap from Renaissance…

I like the Note Pinning, Auto-Play Blocking, and Messages in iCloud. I think I'm going to like the new Photos Update, now that Edits in 3rd party apps will Sync Back to the Photo Library. The App itself seems to be more useful for editing tasks, and it will Sync Faces across devices. A bit disappointed that "Hey Siri" isn't coming to the desktop... I'll probably still forget she exist for another year or so, Lol. Then again, if they did that there would not be much use for a HomePod... My iMac has pretty good sound. I don't need another speaker for Music. Space Savings and an SSD-biased File System don't sing to me, since I'd never buy a Mac that doesn't have a 1TB HDD. Apple charges too much for space. All of my Laptops are Windows Machines with "upgradeable" hard drives, as that is far more economical (SSDs are so cheap when you buy them yourself :-P ). I don't use email enough to care about space saving in Mail. I tend to delete emails after I've read them, anyways, as opposed to hoarding them (only Product Keys, etc. get Archives, copied over to Notes, and printed to PDFs for storage in Cloud Storage with a Local [non-cloud] copy for Safe Keeping). I wish they would allow you to change the aspect ratio of video in FaceTime. The video is too zoomed in, and it's always portrait mode, even on your desktop iMac's 16:9 screen. It's horrible. I only use Skype for video calling, because it avoids this issue (the video looks more crisp, and the app isn't trying to convince the person I'm talking to that I'm on an iPhone). The anti-tracking stuff in Safari is probably the best feature of the entire OS.

SATA SSDs are slooooowwwwwww.

Not compared to platters but they aren't as fast a PCIe based SSD. Storage in the new USB-C MBP's is crazy fast

You can change the orientation in FaceTime with Command-R to make it landscape in the current OS.

Safari's changes will be most welcome.

Pretty excited to be able to use imessege on my computer! Specially since I don't want to get a mac, I simply don't like them.

Are you using a Hackintosh? iMessage is still only available on iOS/macOS

Pinned Notes: Awesome if they don't sync via iCloud to your iOS devices or other Macs... I default to keep my handful of frequently used notes at the top of all my lists by adding an "_" "*" or "-" to the beginning of titles and then using "Sort By Title" in the Notes settings. I've never had an excuse to not have quick access... iMessage Sync: Same lack of excuse... I love how you used gate codes as an example. Still, I don't see why iMessage syncing has to be the solution. Everyone I know with a gate code gets a spot in my contacts app (synced to iCloud) and in the much ignored "Notes" section under a contact's entry, I add anything and everything I need to know, such as gate codes, Wi-Fi passwords (which shouldn't be an issue anymore with the coming iOS 11 Wi-Fi Access sharing feature), alarm codes (I use this for my parent's homes and the family we dog-sit for), and other pertinent information like where they keep the spare key hidden or other unique things.