7 things you should be doing with your Hue lights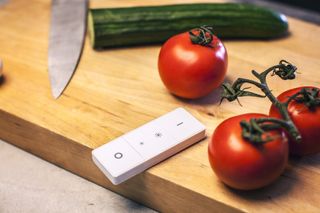 I've said it before and I'll say it again: If you're looking into home automation, you should definitely start with Philips Hue. Philips's line of lights, light strips, and accessories are not only incredibly easy to set up, they're also relatively inexpensive and well-made.
If you've already started building out your smart home and you're rockin' a Philips Hue setup, I've got some ideas to take your lighting to the next level!
1. Replace ALL THE THINGS!
Philips has been in the home automation business for awhile now, which means the company has learned how to make internet-connected bulbs at a much more reasonable price.
You can get two Philips Hue White bulbs (60W equivalent) for a mere $30.
When it comes to LED bulbs, that's not a bad price — add on the fact that they're smart bulbs, and you're really looking at a good deal.
2. Amp up your home theater experience
You've already got the giant flat panel TV, all you're missing is some nice mood lighting to go along with it.
The Philips Hue Lightstrip Plus is a stickable strip of multi-color LEDs that you can control from your smartphone.
Think about it: The next time you're watching your favorite sportsball game, you could set your Hue Lightstrips to the color of your team. You could also set them to a deep, dark red while you're watching your favorite horror flick! The possibilities are as limitless as the colors (16 million colors!).
3. Get moving with a Philips Hue Motion Sensor
I'm just gonna say it: No Philips Hue setup is complete without a Philips Hue Motion Sensor. This thing puts the auto in home automation.
With the Philips Hue Motion Sensor, you can set specific lights to turn on or off when the sensor spots movement. It's customizable, so you can have different light levels at different times of the day, too.
I have my motion sensor in my upstairs hallway just above the stairs. When it spots movement (usually someone coming upstairs or out of one of the upstairs rooms), it turns on the Philips Hue White bulbs I have in the ceiling fixture. At night it turns them on at a very low light level so as not to disturb anyone's sleep.
With the Philips Hue Motion Sensor, you don't even need to use your voice or lift your finger (to tap your phone) — just move!
4. Add remote access with an iPad or Apple TV
If you're rocking an iOS device running iOS 10, you've got to get your Home App on!
The latest generation of the Philips Hue Bridge supports Apple's HomeKit and its new Home App. That means you can control your entire Hue setup from within the app.
What's better, though, is that you can control your entire setup when you're away from home. All you've got to do is set up an iPad or Apple TV as a Home Hub (it's super simple to do).
How to make your Apple TV or iPad a Home Hub
Looking for the latest Hue Bridge? You can find it Amazon.
5. Dim your lights (and turn them on or off) with the push of a button!
We can't always be bothered to have our phone at the ready. Sometimes another method for controlling your Philips Hue setup is a good thing.
That's where the Philips Hue Wireless Dimmer Switch comes in. It's a wall-mounted, removable remote control that can be customized to control different Hue lights within your home.
I have a Dimmer Switch mounted next to my front door. When I come home, I simply tap the top button to turn on the lights in my living room. At night as I head upstairs to bed, I tap the bottom button to turn off the lights in my living room. The middle buttons let you dim up and down the lights.
This is also a great purchase if you host guests overnight. I always hand them the Wireless Dimmer Switch (it's wall-mounted, but the remote is magnetic and detaches) to give them easy control of the living room lights.
6. Add a splash of color with a Philips Hue Lamp
Smart lighting doesn't have to be static. Philips Hue makes a lamp called the Philips Hue Go that features a rechargeable battery so you can take it with you!
If you often host get togethers, this'd be the perfect light to add a little ambiance to a backyard barbecue.
It also makes a great nightlight for a kid's room or a way to accent artwork or other feature-worthy goodies in your home! Just don't forget to charge it up when it's running low.
7. Upgrade your Philips Hue setup with more colors and brighter light
Philips recently revealed the third generation of its Philips Hue White and Color Ambiance bulb. What's different? It's brighter and features richer colors.
Translation: You're getting a lot more light than previous-generation bulbs and the blues and greens really POP!
I've got a couple third-gen Philips Hue White and Color Ambiance bulbs in my Hue setup and I can definitely tell the difference — especially when it comes to brightness.
If you feel like your Hue bulbs just aren't illuminating your home how you'd like, consider upgrading! You can move the darker bulbs to the bedroom.
Did we miss anything?
Is there something AWESOME you're doing with your Philips Hue lights that I missed? Gimme a shout in the comments below (or on Twitter) — I'm always looking for new ideas!
Master your iPhone in minutes
iMore offers spot-on advice and guidance from our team of experts, with decades of Apple device experience to lean on. Learn more with iMore!
Mikah Sargent is Senior Editor at Mobile Nations. When he's not bothering his chihuahuas, Mikah spends entirely too much time and money on HomeKit products. You can follow him on Twitter at @mikahsargent if you're so inclined.