Adobe Photoshop Touch for phone brings powerful photo editing to iPhone and iPod touch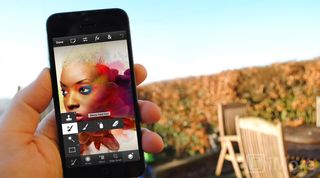 Adobe has released a version of its Photoshop Touch app specifically for the iPhone and iPod touch. The new app offers some powerful features for an app that is designed to be used on a small screen like layers and filters to dramatically improve your photographs. Adobe Photoshop Touch has been available for a while now on the iPad but today sees the release of a separate version specifically for the iPhone and iPod touch.
Use popular Photoshop features, such as layers, selection tools, adjustments, and filters, to create mind-blowing images.
Improve your photos using classic Photoshop features to bring out the best in your photography.
Apply precise tone and color adjustments to your entire composition, a particular layer, or a select area.
Create something other-worldly using painting effects, filter brushes, and so much more. With Photoshop Touch, the creative possibilities are endless.
Make your images pop with graphical text. Apply strokes, add drop shadows and fades, and more.
Take advantage of your device's camera to fill an area on a layer with the unique Camera Fill feature.
Quickly combine images together. Select part of an image to extract just by scribbling with the Scribble Selection tool. With the Refine Edge feature, use your fingertip to easily capture hard-to-select image elements, like hair.
Start a project on your iPhone or iPod Touch and finish it on your iPad or back in Photoshop at your desk using a free membership to Adobe Creative Cloud. Your projects are automatically synced between your devices.
Free membership to Creative Cloud provides 2GB of cloud storage.
Work on high-resolution images while maintaining the highest image quality. Images up to 12 megapixels are supported.
Adobe Photoshop Touch for phone is only available for the iPhone 5, iPhone 4S and iPod touch 5th generation and your device must be running at least iOS 6. Some of the features are dependant on you already having Adobe Photoshop CS5.1 or above running on your Mac or PC or Adobe Photoshop Touch for tablet.
If you pick this one up, make sure to let us know how you find editing pictures on the iPhone.
UK editor at iMore, mobile technology lover and air conditioning design engineer.
I understand why they don't do universal when they want to charge a lower price for the iPhone version than the iPad version but I still prefer to purchase universal apps over separate ones.

I think iMore should do an article touting the features and uses of this app!! It's not an easy app to just download and start editing. There's a lot that can be done with it!

I'm concerned about this statement, what do I miss out on not having CS5.1 for Mac or Photoshop Touch for iPad? "Some of the features are dependant on you already having Adobe Photoshop CS5.1 or above running on your Mac or PC or Adobe Photoshop Touch for tablet."

Can it change canvas size? The only iOS apps I know that can do that have bad interfaces.

I am using iPod for more than 2 years now and happy with the performance of editing my photos there. Though huge number of options are not available there but still its good to use for regular editing task.
Thank you for signing up to iMore. You will receive a verification email shortly.
There was a problem. Please refresh the page and try again.