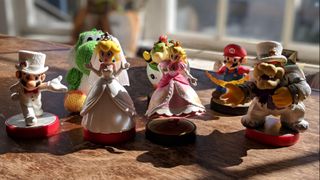 (Image credit: iMore)
Mario has entertained videogame fans for over 35 years, and he shows no signs of slowing down. The Nintendo Switch is home to many great Mario games, most of which are compatible with amiibo. Amiibo are the helpful collectible figurines that can add and unlock features in some of your favorite Nintendo Switch games. For collectors and fans alike, finding every Mario amiibo can be tough, but not impossible. Mario doesn't give up, and neither should you!
Editor's note: Some of the amiibo you see on this list are no longer in circulation, and will be both more difficult to track down and more expensive than the standard retail pricing for one of these amiibo figures. You can also use used or imported amiibo since they're not region-locked.