All Mario games on Nintendo Switch 2022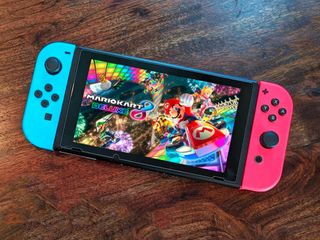 (Image credit: Rebecca Spear / iMore)
There is always plenty of Mario to choose from when you go with Nintendo. He's a classic face of the company and his games almost never disappoint. And the releases certainly haven't slowed down with the release of the Nintendo Switch. It's since released many Mario titles, some of the best games on the Switch, and has even ported in some others.
Super Mario Odyssey
Super Mario Odyssey brought a whole new twist to the Mario game. With the help of your friend Cappy, Mario can now become control almost all the enemies in the game and get some special abilities while taking their form. The many worlds you travel through are beautifully made and amazing to wander through. There's no doubt that this is one of the best games on Nintendo Switch.
Luigi's Mansion 3
While Mario isn't the main character in Luigi's Mansion 3, Luigi is out to rescue him and Princess Peach from a hotel filled with silly ghosts in this title. Play as the younger-yet-taller brother and watch him shine as he sucks specters up Ghostbusters-style with his Poltergust G-00 and solves puzzles on each floor. One of the best things about this game is that it features optional two-player co-op where Player 1 takes control of Luigi and Player 2 takes control of his gelatinous double, Gooigi. They both have skill sets that the other doesn't have so you'll need to work together to solve puzzles and defeat bosses.
Super Mario 3D All-Stars
Mario has a fantastic history of games across many fan-favorite Nintendo consoles. To celebrate 35 years, Nintendo released a limited-time collection of three 3D Mario games. With Super Mario 3D All-Stars you get HD versions of Super Mario 64, Super Mario Sunshine, and Super Mario Galaxy. This was pulled from Nintendo's site in March 2021, but is still available at some retailers online.
Super Mario 3D World + Bowser's Fury
Mixing the old with the new is Super Mario 3D World + Bowser's Fury. Super Mario 3D World was initially released on the Wii U, and has now been brought to the Nintendo Switch with some new elements. The biggest of these changes in the inclusion of a new game, Bowser's Fury. But also largely notable is the addition of online multiplayer.
Classic SNES and NES Mario games on Nintendo Switch Online
When Switch owners pay for the Nintendo Switch Online subscription, they're given access to a list of NES and SNES titles including several classic Mario games like Super Mario World, Super Mario Kart, Dr. Mario, and much more. Prices for the subscription vary depending on if you get the 12 or the three-month subscription and if you decide to get the Individual Membership or the Family Membership. The Family Membership allows up to eight people to have access to these classic SNES and NES games.
Classic N64 Mario games on Nintendo Switch Online + Expansion Pack
The Nintendo Switch Online + Expansion Pack gives subscribers access to the SNES and NES games from the base Nintendo Switch Online membership plus select N64 games like Super Mario 64, Mario Tennis, Paper Mario, and more. The Expansion Pack also grants access to the DLC for select Nintendo Switch games like Animal Crossing and Mario Kart 8 Deluxe.
Mario Kart 8 Deluxe
Whenever there's a Nintendo console, there will be a Mario Kart game, and Mario Kart 8 Deluxe is no exception. While Mario Kart 8 was initially released for Wii U, the Switch version has everything it had on Wii U and more! Nintendo has done a great job expanding the game with new modes and characters. There are 48 tracks in total, with DLC coming soon that's set to bring 48 more tracks to the game.
Mario Party Superstars
There have been many great boards and minigames to play across the history of Mario Party. Some of the highlights have been remastered and brought together to be played in one game on the Switch with Mario Party Superstars. Long-time Mario Party fans should definitely consider picking up this title and reveling in the nostalgia.
Mario + Rabbids Sparks of Hope
After the unexpected-but-successful pairing of Mario and Rabbids in the first game, Ubisoft has been working on a sequel that will take our Mushroom Kingdom friends into space. Each character will have their own style of attacks and skills that you can use in these turn-based strategic rounds to defeat your opponents and move on in the story. There are Rabbid counterparts for each Nintendo character and they will bring a fun level of silly to the game when it releases on October 20, 2022.
New Super Mario Bros. U Deluxe
This Mario Bros. game was another made for Wii U and brought to Switch. This version is a great way to introduce new players to the Mario world. With New Super Mario Bros. U Deluxe, you will find two new playable characters from the Wii U version that will make the game easier to play. This makes it fun for those who are experienced and those who are learning the ropes.
Super Mario Maker 2
Have you ever wondered what it would be like to create a Mario level of your own? With Super Mario Maker 2, you can put your skills to the test! Bring your creativity to the table and build anything you can think of! Or enjoy other players' creativity and test out other stages available online.
Paper Mario: The Origami King
Mario can fit into many categories of games outside of platformers, and Paper Mario: The Origami King is a great example. In this RPG, you team up with the citizens, and even some baddies, of the Mushroom Kingdom and work together to take on the Origami King. Partner up in battles and enjoy the humorous dialogue along the way.
Mario + Rabbids: Kingdom Battle
It might sound like an odd pairing but it works. Mario + Rabbids: Kingdom Battle brings together the quirky Rabbids of the Rayman universe and the Mushroom Kingdom gang, who all have to work side by side to get the Rabbids back to where they belong. Players will need a little bit of strategy, planning out the best attacks to win.
Mario Tennis Aces
Mario is no stranger to sports, and tennis is a classic favorite. We've seen Mario Tennis before on the Virtual Boy, N64, and many consoles throughout the years, and now it's on Switch! Enjoy playing many Mario characters out on the green, along with some new swings. If you're feeling competitive, you can even play online.
Mario & Sonic at the Olympic Games Tokyo 2020
In this version of the Olympics, it's team Mario vs. team Sonic. Choose your favorite character and your favorite event, and play through a variety of sports to see who really takes home the gold. This is a fun way to display some friendly competition between two big faces of the video game industry and has many events to choose from.
Mario Kart Live: Home Circuit
Bring Mario Kart to your home and build your own track. Put it together and watch your real kart make its way around your home as well as in-game! Mario Kart Live: Home Circuit is an unmatched augmented reality that we recommend giving a try.
Mario Golf: Super Rush
With this title we were hoping for a little more Mario silliness with a touch of golf. In Mario Golf: Super Rush, Mario and his friends have made their way to the green and are playing a pretty serious game. There are different modes, including battle golf, and there have been some free updates to the game since its release. However, it still doesn't quite hit the same silly level we expected. But if you're looking for a good golf game with some familiar characters, this one is your pick.
Super Mario Party
Mario Party is what would happen if you took Mario and made it into a board game, and it's great for multiplayer fun. In Super Mario Party, you'll find new boards and mini-games to love. This is a great game to play with a group of people but can also be fun to play solo!
A Mario for every mood
Whatever kind of game you prefer to play, there seems to be a Mario option. From RPG to sports, to the classic platformer, there's plenty of Mario available on the Nintendo Switch. If you're playing with someone new to the game, Super Mario Bros. U Deluxe has great options for beginner play. To get a laugh in while you play, pick up Paper Mario: The Origami King. And definitely don't forget to bring Mario Party Superstars along to your next family gathering.
No matter what you choose, Mario games are almost always made with the best quality and are sure to boast plenty of family fun. We're sure there are many more great hits to come for this red plumber and his friends and we can't wait to see what's next.