All Super Smash Bros. Ultimate represented games on Nintendo Switch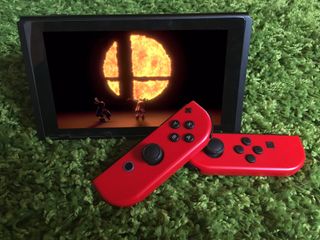 (Image credit: iMore)
Each time a new version is released, Super Smash Bros. offers more and more characters to battle with from different franchises. An under-rated benefit of the game is discovering different franchises that aren't just the main faces of Nintendo. Super Smash Bros. Ultimate on the Nintendo Switch is no exception, with a large amount of both the best games on Switch and some lesser-known games represented. Take a look at all the franchises you will see within the game and their latest title.
Only in Super Smash Bros. Ultimate will you take someone out as an adorable Villager or the lovable dog Isabelle. If you need to retreat from all the battle and relax for a bit, Animal Crossing: New Horizons has a whole island waiting for you.
(opens in new tab)
Animal Crossing: New Horizons
Get away from it all on an island all your own. Meet your adorable animal neighbors and help build up your island's reputation to bring in K.K. Slider to perform for you all!
Get a taste of what the ARMS fighters are like when you play Min Min in Super Smash Bros Ultimate. Her cute personality and those of the other fighters are shown so well in their origin game, ARMS. Test your skills in a different kind of fighting game and see who is your favorite.
(opens in new tab)
In this fighting game, you choose your fighter and customize their arms! Each arm has different unique powers to use during your fight.
Banjo-Kazooie were a later addition to Super Smash Bros. Ultimate but they showed up with a bang. Unfortunately this is their only appearance on the Switch. Their most recent title on a Nintendo Console is Banjo-Pilot for the Game Boy Advance. Since that has been so long ago your best bet for finding this title online would be eBay, if you're looking to break out your old Game Boy.
(opens in new tab)
In this Game Boy Advance adventure, Banjo-Kazooie takes on racing! Choose your favorite Banjo-Kazooie character to race with and hit the track! But make sure you have a Game Boy Advance system to play on.
This powerful, stylistic female is here to take names in both games. In addition to taking names in Super Smash Bros. Ultimate, Bayonetta 2 offers more fighting and more weapons for action lovers to enjoy.
(opens in new tab)
Not only does Bayonetta have an arsenal of weapons, but also some amazing magic powers. If she's going to go through literal Hell and back to save her friend Jeanne, she's going prepared.
Simon and Richter are not afraid of anything. They have taken on Dracula in many stories! This may be why they're such powerhouse fighters in Super Smash Bros. Ultimate. With the Castlevania Anniversary Collection, you can follow the whole story directly from your Nintendo Switch.
Castlevania Anniversary Collection
Throughout the years, there have been many Castlevania games, defeating Dracula to save mankind. In this Anniversary Collection, you'll get to enjoy 9 great platformers for the price of one!
Bring in the brawlers with the familiar faces of another Nintendo classic, Donkey Kong! Play as the ape himself Donkey Kong, his tiny but mighty counterpart Diddy Kong, or baddie King K. Rool. The Donkey Kong bunch have an adventure on their own, fighting off enemies throwing frosty blasts into the jungle. While King K. Rool isn't in the game, there are some new Kong characters to try.
(opens in new tab)
Donkey Kong Country: Tropical Freeze
Bring the heat back to the jungle and end the freeze in the latest Kong adventure!
The Dragon Quest Hero is used to traveling with a party, but he doesn't let that stop him in Super Smash Bros. Ultimate. See what more he can do with a party in DRAGON QUEST XI S: Echoes of and Elusive Age.
DRAGON QUEST XI S: Echoes of an Elusive Age
Form a party, choose their skill, and go on a series of quests across the land. In this game you can also play 16-bit versions of the game.
From a classic game to a dog with complex moves, Duck Hunt is an original worth representing and it makes us very happy to see him in Super Smash Bros. Ultimate. Duck Hunt is not available on Switch right now, but was made available on the Wii U. If you still have your Wii U system, give this classic a try!
(opens in new tab)
Keep a close eye on your hunting dog and your finger on the trigger. With sharp aim and a little help from man's best friend, you may just bag to most birds of all the hunters!
Two cute characters, Ness and Lucas, can pack some of the biggest punches in Super Smash Bros. Ultimate! These two come from the EarthBound game. While this doesn't have anything available on Switch, if you still have your 3DS you're in luck!
Get the best of iMore in in your inbox, every day!
Alex has been working with iMore as a Freelance Gaming Writer for three years. You can also find a few articles of hers on Android Central and Windows Central. She regularly covers Nintendo Switch games and accessories as well as iOS game apps. In addition to the Nintendo Switch, you may also find her playing on the PlayStation and PC. When she doesn't have a controller in hand she likes to spend her time with her husband, son, and dogs, exploring new places, or hiding away with a book (or comic book). A few of her favorite games include the Zelda franchise, Little Nightmares, and Animal Crossing.
Thank you for signing up to iMore. You will receive a verification email shortly.
There was a problem. Please refresh the page and try again.