Amplify your iPhone with this ceramic handcrafted passive megaphone [video]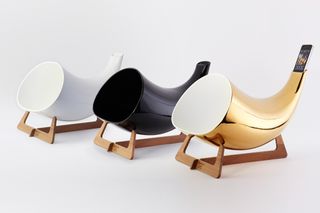 Italian design company en&is has manufactured a ceramic passive megaphone to use with your iPhone to amplify its sound. If you want to avoid the raft of powered iPhone speaker docks and are looking for something just that little bit different, this could be for you.
The horn like design sits on a thin wooden frame which allows it to float off the table to optimize the sound experience. The iPhone slips into the top of the horn and all you need to do is press play. The megaphone will then passively amplify the sound into the room. It can also be used as a speakerphone if you so wish.
The Megaphone is available in three colors, black, white and gold. The black and white models cost €399 ($540) and the gold comes in at a whopping €599 ($810). It works with every iPhone available and also with the iPod touch if you have it in a case.
There is no doubting that this would make a beautiful addition to your living room. Unfortunately with no way to control the volume or actually charge your device, it is a little limiting.
Get the best of iMore in in your inbox, every day!
UK editor at iMore, mobile technology lover and air conditioning design engineer.
That's a neat looking design and all but I'll stick with putting my phone into an empty cup for that price.

The design is creative and trendy and all, but WORST IDEA EVAR!!! I'm sure you couldn't help buy feel raped if you bought one of those...

if by trendy, you mean 50 years old, then yes. But I agree that the price is ridiculous for what you actually get, any decent speaker dock would be half this price.

Yes, Trendy in the hipster sense of the word, lol.

Check this out iPhone Jailbreakers !!! >>> http://j.mp/tZhabt

I'm not Fred Flintstone, so I'll pass.

"For the pretentious jerk with way too much money"

Lame concept, ridiculous pricing, fugly. Sorry but its the truth.

with this price ill have to get a bumpercase. i read in bumpercase.com about it that it that little bit of water can damage the whole screen
Thank you for signing up to iMore. You will receive a verification email shortly.
There was a problem. Please refresh the page and try again.