Android Wear for iPhone and ... Apple Watch for Android?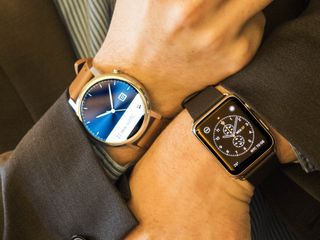 For this experiment, I decided to try Huawei's watch: The reviews were solid, and I liked the overall look.
I went with stainless steel and a black leather band; it's a bit large, but just under the threshold of what I'd consider too big. The software is Android Wear and, unlike Android on phones, Google isn't allowing any skinning or weird forks for the platform — there can be only one!
The key differences among Android Wear devices, then, comes down to hardware — sensors, the display, the casing, and such — and any custom watch faces a vendor might pre-install.
Okay, now Google ...
Setup and installation are both pretty simple: Just install the Android Wear app for iOS (opens in new tab), pair the watch, give it a minute, and you're up and running.
Android Wear has a little walkthrough to teach users how to tap and swipe your way through the watch. Features are pretty basic when connected to an iOS device, consisting mostly of notifications, although Gmail does support replying directly via voice from Android Wear. Alarms, timers, weather, basic fitness tracking, and the like are all available. There's also a nice option for an always-on ambient display that works quite well and doesn't take a huge toll on battery life. (It's definitely a feature I'd like to see on a future Apple Watch.)
Unlike Android Wear connected to an Android phone, however, there's no real app ecosystem for iOS — and a very limited selection of watch faces available. (The watch faces included are indeed skeuomorphism gone wild, but in a good way.)
Image 1 of 2
Hello, analog watch — meet digital world
Going a full day was no problem for me, even with the ambient display on and keeping brightness at level 3. I was still at 40 percent battery before I retired for the evening. Only a few asked if it was a new secret Apple Watch; most were fascinated by the simulated watch displays.
Notifications worked well. I had no problem getting used to Google Now (as opposed to Siri) for command and control, and for receiving information from multiple sources.
Overall, I liked the experience and would recommend it. It's very different from the Apple Watch in how it presents information and, of course, in the lack of an app ecosystem on iOS — as you might expect, it has great developer support for Android apps on Android phones. It's a solid offering and a good one for those who also need to live in an Android world.
Android Wear watches live at all price points, from $129 up to $1,500 for the TAG Heuer Connected. I can't speak to differences among all the offerings, but at $349 (opens in new tab), the Huawei looks to be at the sweet spot for price and quality.
One more thought
Using Android Wear with an iPhone raises an interesting question in my mind: Should Apple create some form of Apple Watch compatibility for Android users?
Apple resisted bringing iPod support to Windows for a long time, but there's little doubt in my mind that iTunes for Windows helped make iPod a success. iPhones (and iPads) still sell to many more Windows users than Mac users. Is Apple Watch a differentiator for iOS users... or could it be the next Trojan horse to bring a new generation of switchers on to the Apple platform?
If you could advise Apple, what would you tell them?
Get the best of iMore in in your inbox, every day!
I've covered the personal technology beat for more than two decades at places like Gartner, Jupiter Research and Altimeter Group. I've also had the fun of contributing my $.02 on the topic at Computerworld, Engadget, Macworld, SlashGear and now iMore. Most recently I spent a few years at Apple as Sr. Director of Worldwide Product Marketing. On Twitter I'm an unverified @gartenberg. I still own some Apple stock.
Android Wear applications look better to me than they do on Apple Watch....which is not true for iOS and Android (iOS usually has the better looking apps).

What in the world? A fair review on iMore. Thank you.

That is because Rene didn't do it. Posted from my Nexus 6P

Awww, Rene may be a shill, but he is also one of the most knowlegable tech journalists in the business. He knows things that layman fans don't know or understand. His opinions are not only informed by being a Jobsian Applelite, but also by a more complete POV than you or I.

No. Just no. Posted via the iMore App for Android

Do I understand correctly that you cannot reply to Messages (iMessage/SMS) from Android Wear for iOS?
I bought the Apple Watch after 2 years of using the original Pebble. The biggest selling point for me was the ability to rely to messages, especially with voice dictation. Siri in general has been the star of the show.
How does Google Now functionality compare to Siri? Can you set reminders, etc outside of Google's world, or do all of those things only stay within the Google ecosystem?
Also, IMO, for $350, I'd rather have the Apple Watch with full (90%?) reign over iOS. Sent from the iMore App

I am almost positive that you're correct in no ability to reply to messages on Android Wear. Actually, I agree with your whole comment. For a comparable price I'll always choose the most integrated approach (Apple Watch). I briefly tried the Moto 360 Sport with my 6s Plus and was very disappointed and returned it in a couple days. Battery life was so bad it was not usable. I'm sure other Android Wear watches are better on battery. The Moto 360 Sport tried to be the perfect smart watch for people like me that run but, sadly, ended up failing in almost every way.

Funny..just connected my Sony Smartwatch3 the other day to my iPhone.. 1. Android Wear has not been updated since November..so that tells you something
2. Regular mail cannot be responded to or handled..only Google Mail...that doesn't help
3. Even on the Android side of things..the apps that you want are not "wear" they should be..no personal pictures for a watchface...no offline GPS apps for walking or running that work like a Garmin does. So..hopefully there can be better breakthrough on both sides of the watch ecosystem.

You'd have to get a watch with GPS for that, at the moment I believe there are too. The personal pictures is a fair point. Posted via the iMore App for Android

Weird Android version was updated yesterday. Before that it was last week. Surprised they aren't turning the ios version quickly.

Lol! I usually never say 'never' -- But Apple will never make the Apple Watch compatible with Android.

I would tell Apple that they should first make iPhones compatible with Android Bluetooth. The two platforms appear to have been made intentionally incompatible with each other. Try pairing an Android Phone with an Apple iPhone. The iPhone cannot even see the Android phone no matter what you do. You can see Android watches easily enough but not the phones.

Yeah, iPhone Bluetooth profiles (what they can do with BT: file transfer, speakerphone, etc) have been severely crippled since day 1. Sent from the iMore App

You can't see someone else's iPhone in the bluetooth settings either. iPhones see each other when using air drop but you can not pair one phone to another.

If this was to happen I would be thrilled, been thinking of going to Android but I have the Apple Watch, so I was also thinking of getting a 2nd watch for Android but if someone the Apple would work with both it would be even better

google now is way better than siri. when i had the 360 i was so happy to pull out my watch and it reminds me that i have to go to the next appointment and where i had to go. apple will do some changes in iOS 10 thats for sure.

I have done comparisons with Google Now app vs Siri on my iPhone 6S Plus and Siri fails overwhelmingly on the simple tasks I give it, Google Now excels. Google allows you to set other applications instead of Google Now and so does Samsung and other OEM's, Apple as usual will not.

I wish Apple would make the Apple Watch compatible with Android...doubt it will happen though...

I don't think an apple watch on android would be a large seller. The apple watch doesn't really have any differentiating factors when it would be on android that it has with the deep ties to IOS.

Yep I tried this experiment back in November with a Moto 360 (1st Gen). I agree that it handled basic functions like notifications fine (though unless you use Hangouts for texting, you can't respond to text via the watch). My single biggest issue was how weak the taptic response is. I missed many notifications because I couldn't feel the vibration. With an Apple Watch there is zero doubt when something comes in.

Next apple watch needs to look like a luxury watch. Needs to be round and classy.

The UI of Android Wear is awful. Sent from the iMore App

It's been a month since I've bought my Zenwatch 2 (45mm) and paired it with my Iphone 6. Android-wear assists you with the set up like mentioned but there's a lot of settings you can toggle in the Google Now portion that I like. Showing the other features like travel time, notifications, sport scores etc is useful but there's so much more that can be done to take full advantage of the Zenwatch with ios. For the price of $145.00, it's a good intro for wearable tech and gave me a good picture of the capabilities compared to an apple watch. For what I need or use on a daily basis, it's a good fit. Good battery life and i can buy different, inexpensive watch bands to give it a different look.

Apple Watch on an Android? As one who is PURPOSEFULLY multiplatform, and aspiring to be even more deeply so across the board in each of the three major platforms, I feel that how insular, and enclosed and tight the Apple ecosystem is both one if its greatest assets -AND- one of its greatest liabilities (more or less in equal measure). This dynamic makes the question of whether or not Apple Watch should be supported on an Android (or Windows) Phone VERY interesting in theory. However, at the end of the day, I think it's too "low risk / low reward" to be significant. Smart Watches are not really big enough to make a huge change. You're not going to lure very many Android people over to Apple with something the likes of the Apple Watch. Neither are you (for better, worse, both, neither, and/or other) exactly going to tear down "The Great Wall of Apple" (insularity) by letting Android people use iWatch. The volume of market, paired with the peripheral nature of the experience offered is just not going to make a really significant impact either way, in my opinion. So with such little to be gained and such little to be lost by the move, all that's really left, in my opinion is the questions of precedent and principle. I mean, there is precedent already with iTunes on Windows and Apple Music on Android, but this further erodes Apple's hallmark barb-wire rim. While I am perfectly split 50/50 between "I adore" and "I despise" regarding this aspect of Apple, in the broader world of the cross-platform tech scene, I'm glad they are the way they are, since it gives us a situation where we have both extremes - super-duper wide open Android, super locked-down Apple, and a pretty good middle option in Windows. I can see the benefit to both extremes as well as to the compromise. So for the big picture's sake, I want them to stay the way they are - and as such, without sufficient risk or reward to justify yet another chip in the wall, I will go ahead and oppose the idea. Cheers!

An expensive square smartwatch with no ambient display option and no deep OS integration? Where do I sign up? /s The Apple watch is a Viable option for iPhone users because the only other options are the Pebble and various fitness-centered devices. Toss this thing into the Android Wear pool, which is already full of competitive options, and it just doesn't make any sense.

In todays connected world you should not be confined by an ecosystem of apps and iOS vs Android. I should be able to use an Apple Watch with Android and Android Wear on the iPhone and gain equal benefit after all why can't swap between watches based on what we need to use or wear. Apple has started with a couple Android apps and if the "rumors" or speculation are true Apple may begin to do more apps, supposedly under the guise that they want to help Mac users who have Android devices, I am one of those users, but I also have iOS devices too. Apple, Google and Microsoft all need to be putting out the best software and make their wearables capable of being used with any mobile OS, and honestly Microsoft its time to give up on Windows Phone and just focus on the Surface, Laptop/Desktop OS and other applications you do so well. The phone for you is dead and has been for a while, I mean even RIM has added an Android based phone packed with their security features. The only thing keeping me from getting an Apple Watch right now is the upcoming announcement, I prefer to wait and see if anything is announced, if a "S" model arrives, or if that is delayed until fall, if so I may get an Android Wear with limited features while I wait for the refreshed Apple Watch and iPhone 7 in September. Spending $300-350 on Android Wear is no biggie, but buying a $1000 Apple Watch to have it be potentially outdated in a month is a non-starter and if March doesn't turn up anything good then I will wait for September and enjoy the annual refresh cycle.
Thank you for signing up to iMore. You will receive a verification email shortly.
There was a problem. Please refresh the page and try again.