Animal Crossing: Happy Home Paradise DLC — Is it worth it?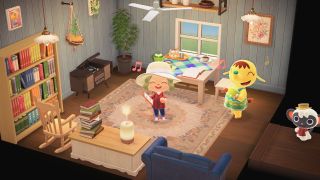 (Image credit: iMore)
At long last, Animal Crossing: New Horizons received some much-needed updates. While we expected a few familiar faces and quality-of-life improvements, we got so much more, including a paid DLC package to kick our island experience up a notch. New Horizons was one of the best games on the Nintendo Switch, but if there's one thing that it was missing, it was purpose. While the game did have a few objectives, there wasn't much else to do from there once players checked all those boxes. It's why a lot of us fell off the game after a few months.
Well, my friends, that is a thing of the past. Stomp out those cockroaches and roll up your sleeves. The Happy Home Paradise DLC is literally going to put you to work, and yes, give you a purpose. Plus, you'll end up with some sweet rewards if you put in the extra effort. But is this DLC worth the $25 price tag?
Get to work
Animal Crossing: Happy Home Paradise DLC
Decorate schools, restaurants, and more

Finally, a chance to put those decorating skills to work and get paid! Help others achieve their vacation dream and earn some pretty great rewards in the process.
Getting to work in Animal Crossing: New Horizons
First things first, I did not purchase this DLC outright. I picked it up with the Nintendo Switch Online + Expansion Pack. If you don't want or care about the N64 and Sega Genesis games, you can buy the DLC outright for $25. Just keep in mind, if you do go the Nintendo Switch Online route, you won't be able to keep your save data should you cancel your subscription.
That's pretty pricey for a DLC package, but I tried to reserve judgment going in.
Happy Home Paradise is not just a little extension of Animal Crossing: New Horizons. There's a plethora of empty islands, and they are begging to be filled by would-be vacationers looking for a home away from home. Lottie, the Happy Home Paradise founder, is happy to do so, but she needs some help. That's where you come in!
Players are recruited by Tom Nook and have the option to work as a Happy Home salesperson. The goal is to find clients and build their vacation home vision precisely as they would like it. Of course, you're not just going to do this all for free. You'll get paid in Poki, a Bells equivalent, and you'll be able to buy rare furniture and other items you can't get back home on your island.
As you design more and more homes, you'll unlock different items, new skills, and snap photos of your creations. You start off slow, designing and placing furniture in a small home, and as you take on more clients, you'll get to design the exterior, the yard, and even expand the size of each home you design. After helping enough clients, you'll unlock extras to help, like the ability to polish furniture, use amiibo card clients, adjust lighting, and more. This pacing works as incentives to keep going.
All the fun, none of the fuss
Source: iMore
One of the best things about this expansion is the sense of purpose it gives the game, and a low-pressure one at that. You have the option to go to work, make some Poki, and all you have to do is design a vacation home to your client's tastes. While the game has the classic "Nintendo" tutorial, it's helpful that the game eases you into the job, like in real life.
The first client is right there, and they have pretty simple requests to start. You don't have to do a lot of the leg work, acquire or build anything, or guess what you need to do. You can simply be the designer. As the Happy Homes designer, your job is to realize the clients' vision, from the wallpaper to the decor. While they do have a few specific requirements for their homes, it's up to you to provide the theme, ambiance, and make it perfect.
It's actually pretty relaxing! I enjoyed getting each theme, and then selecting wallpapers, furniture, and flooring. There are just so many options, and the more clients you help, the more you can do. At some point, you can add partitions to separate sections of a room, have folks double up in homes, and even bring your knowledge back to the island! In fact, you can bring everything you learn from your Happy Home Paradise position home. Polish your furniture, adjust your lighting, add a little ambiance with a little background sound, or even use partition walls to add that kitchen island you've been wanting.
The fun part is that these houses can be ever-evolving. Your skills are pretty limited with your first house, but as you grow, you can always return to the client and spruce things up with your new know-how. Plus, you can design homes pretty much anytime.
Variety is the spice of life
Another thing that makes this expansion super fun is the strange requests clients have. Yes, you'll have simple clients that just want a quiet little place to read books or drink coffee, but then you'll end up with some that want to make it rain with a swanky apartment space. I may or may not have created a Scarface-esque vacation home, laughing the entire time.
As I said earlier, if you get struck by the muse or unlock new items or ways to build, you can double back and offer a new design for any of your existing clients. But that's not all. You can help Lottie develop the facilities surrounding the Happy Home Paradise offices too! Build a school, a cafe, and more. NPCs will use these facilities once you complete them, really bringing the island to life. There are 48 slots open, but there's no telling how many homes you can design since you have the option of doubling up on properties.
Since there is so much variety, it never feels like a slog to design each home. And each new happy customer earns you some pretty great perks you can eventually take back to your own island. All the hard work is worth being able to put up partitions and play different ambient sounds. What's more, you can put that "Happy Home" touch on your villager's homes as well once you get through 30 jobs.
Animal Crossings: Happy Home Paradise - Should you buy it?
There is a lot that comes with this DLC. It may not seem like much, but there is a lot of game here: at least 48 new homes, tons of new mechanics, a whole facility, new furniture, and Niko, your co-worker and ferry man. (I love him; he's just super adorable.) But is this worth the price? After spending a solid 15 hours in the game, I'd say yes. There's plenty here to do, and unlike worrying about your own island, you have everything at your fingertips.
You get to be the designer without digging for all the complimentary items. You have everything you need to make your client's vacation home a reality, and you can even share the fruits of your labor online. Plus, you get to bring all of those skills back to your own island.
If you love designing, making clients happy, and would like some awesome new perks you can use on your own island, this is definitely worth getting. Happy Home Paradise provides hours of relaxing fun and can actually make you pumped about "going to work."
Get to work
Animal Crossing: Happy Home Paradise DLC
Roll up your sleeves!

Scratch that decorating itch and earn some Poki with the Happy Home Paradise DLC. Help clients realize their vacation home vision and bring your newfound knowledge back to your island.
Master your iPhone in minutes
iMore offers spot-on advice and guidance from our team of experts, with decades of Apple device experience to lean on. Learn more with iMore!
Sara is the Freelance Coordinator, writer, and editor at iMore. When not editing or writing away, she's glued to her Nintendo Switch, Xbox, or PS5, though she's a retro gamer at heart.