Can you play Animal Crossing: New Horizon on your Nintendo Switch Lite?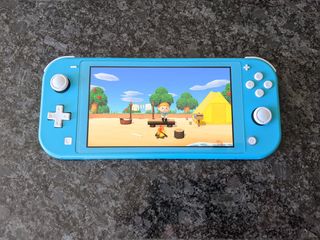 (Image credit: Rebecca Spear / iMore)
Can you play Animal Crossing: New Horizon on your Nintendo Switch Lite?
Best answer: Yes! You can play Animal Crossing: New Horizons on your Nintendo Switch Lite. However, if you would like to play local multiplayer without additional consoles, you have to sync up your Joy-Cons or Pro Controller to play.
Explore your island with the Switch or the Switch Lite
Exciting news for Animal Crossing lovers who own a Nintendo Switch Lite! You can play Animal Crossing: New Horizons on either Switch console. It does take a little extra work to use multiplayer functions on the Switch Lite since the handheld console doesn't come with extra controls or a way to play on your TV.
Since Animal Crossing: New Horizons doesn't use motion controls, single-player and online co-op will be exactly the same on either the Switch or Switch Lite. Up to four people can play on the same island with a single Switch or Switch Lite through Party Play mode. Since the Switch Lite doesn't connect with a TV, you might have to cram around the couch to see what's going on. Everyone will also need their own controller.
One player will serve as the leader, playing the game normally. The other three will be able to use tools to gather resources and can move furniture to help design a home or improve the space's look. Still, they won't be able to chat, access their inventory, craft, or access any features tied to the NookPhone. The leader can swap control over to another player using their own NookPhone.
It's a lot easier and more fun to play with multiple systems. Up to eight people can do this at once through either local co-op or online multiplayer. Online multiplayer requires everyone participating to have a Nintendo Switch Online account. Everyone with their own Switch and a copy of Animal Crossing: New Horizons can have their own island to design as they see fit. You can visit and trade resources like fruit and recipes when playing together.
Switching between Switches
Once you start playing Animal Crossing: New Horizons on your console, you cannot transfer your data to another device. That means there's no transferring your game from Switch to Switch Lite. Keep this in mind when playing with friends: if they create a home on your Switch Lite island, they can only access it on that Switch Lite.
Take your island anywhere
Animal Crossing: New Horizons - Nintendo Switch
Portable island fun

Whether on your Nintendo Switch or Nintendo Switch Lite, you can enjoy paradise and create your perfect island however you please. Pitch a tent, upgrade it to a house, search for fossils, and chit-chat with your friendly neighbors in a world that changes daily.
Master your iPhone in minutes
iMore offers spot-on advice and guidance from our team of experts, with decades of Apple device experience to lean on. Learn more with iMore!
Samantha Nelson writes about gaming and electronics for iMore, Windows Central and Android Central while also covering nerd culture for publications including IGN and Polygon. She loves superheroes, RPGs, cooking, and spending time outside with her dog. You can follow her on Twitter @samanthanelson1.