Mac sales continue to kick the PC market's ass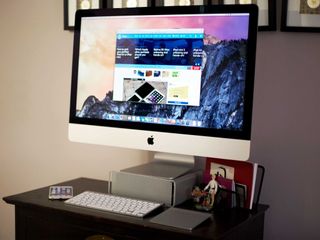 Apple's report for its Q1 2015 fiscal quarter was astonishing for its iPhone numbers alone: 74.5 million units sold, its highest quarter ever. But Mac sales were also astonishing: 5.519 million units, the best Mac results for a holiday quarter ever.
To be sure, Apple's previously reported quarter — covering June through September of 2014 — was just as astonishing, if not more: The company sold 5.52 million Macs, an all-time record which it fell just short of matching for the holiday quarter. "Back to School season voted, and the Mac won," said Tim Cook at the time.
Even compared over the same quarter a year ago, though, Mac sales growth was terrific: up 14 percent year over year. Macs contributed a healthy $6.9 billion to Apple's revenue numbers for the quarter.
What's especially remarkable about this is that PC sales continue to decline: Market research firm IDC estimated that during the same period as Apple's report, PC sales contracted 3 percent.
In 34 of the last 35 quarters, Mac sales have outpaced the PC industry. As a result, Mac marketshare continues to gain on the overall PC market. It's well into the double-digit range now, after languishing for years in the 5-6 percent range.
While many PC makers fight for scraps by bringing to market the cheapest low-margin PCs they can possibly make, Apple's singing an entirely different tune: People are spending more on the Mac than they did last quarter.
Even though Mac sales were essentially flat from quarter to quarter — from 5.52 to 5.519 million units — revenue from Mac sales increased by $319 million, an increase in Average Selling Price (ASP) of about $58 per Mac. Apple CFO Luca Maestri attributed at least part of this difference to this quarter's breakout star, the 5K iMac.
The 5K iMac is priced starting at $2,499, with options that can easily drive the price $1,000 or more higher. That Maestri suggests the 5K iMac is impacting Apple's Mac ASP indicates that Apple is moving quite a few of them, a good sign. But clearly the sales of other Mac models were also quite healthy; the MacBook Air remains incredibly popular at the reseller where I work in, for example.
Maestri also mentioned that Apple's inventory of Mac models is below its target range of 4-5 weeks, which suggests that demand for the Mac is a bit higher than Apple's current production capacity.
Neither Maestri nor Cook gave any indication of where the geographic hotspots are for Mac sales, nor did they give any sort of idea of what Apple has planned next. Rumors suggest that Apple's planning to introduce a new MacBook Air model that might be radically thinner than current models, with different connections as well. That's still no more than a rumor, of course.
2015 should be an interesting year for the Mac. The first half of the year will finally see new microprocessors from Intel — so-called "Broadwell" CPUs, the next generation of processor to succeed its "Haswell" line that is used throughout most of the Mac line (the Mac Pro uses a server-level Xeon processor instead). Broadwell processors are more efficient than their Haswell counterparts, with faster graphics performance.
What's more, Intel plans later this year to roll out "Skylake" processors that will add support for technology like Thunderbolt 3. Hopefully Intel won't run into the same sort of production ramp-up delays that have kept Broadwell from rolling out in bulk before now.
Some industry watchers think it's only a matter of time before Apple switches to its own chips for the Mac. It's something of a perennial rumor, to be frank, but that doesn't mean it's totally without merit. Apple's ARM processors that power the iPhone and iPad are rapidly increasing their power and complexity, and it's not hard to imagine that they'll be good enough to provide an uncompromising Mac experience before too long. But I don't think it's going to happen in 2015: The Mac's future evolution would still seem pegged to Intel's development cycle, at least for now.
Master your iPhone in minutes
iMore offers spot-on advice and guidance from our team of experts, with decades of Apple device experience to lean on. Learn more with iMore!