Mac sales keep kicking ass; how does Apple sustain the momentum?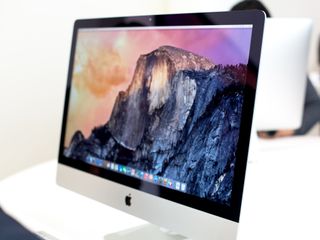 Apple's Mac sales kicked all sorts of ass last quarter. Apple moved 5.52 million Macs last quarter, generating more than $6.6 billion in revenue. So where does Apple go from here?
In Monday's conference call with analysts, Tim Cook talked about the "absolutely blow away quarter" for Mac sales. "Back to School season voted and the Mac won, and carried the day," he said.
"It's clear that all the work we've put into our notebooks on the hardware and software side is resonating with customers," Cook said, adding that if you go onto college campuses, you'll see a lot of students walking around with Mac notebooks.
By units, Apple saw a fourth quarter jump of 21 percent compared to a year ago. And revenue growth for the quarter was up 18 percent year over year. Sequential numbers were great, too.
"Being up 21 percent in a market that's shrinking, it doesn't get better than that," said Cook.
As the rest of PC market collapses in on itself, Apple has continued to see strong Mac sales — in 33 of the last 34 quarters, Mac sales have outpaced the rest of the PC industry. Slowly but surely, Apple's been growing marketshare.
One of the data points that Apple underscored during its call this week was that Apple's Mac marketshare gives it the biggest percentage of the PC market it's had in almost twenty years: 1995 was the last time Apple's numbers were this good.
So where does Apple take it from here?
Apple continues to improve its desktop computers; it just updated its Mac mini for the first time in two years with a new line that resets the entry-level price back to $499, right where it was when the first Mac mini appeared in 2005.
Apple's also just introduced the stunning new 5K iMac, a Mac with screen resolution that's four times higher than other iMacs. It's got a lot of people talking about the iMac for the first time since 2012, when Apple made the iMac radically thinner and pulled its optical drive.
Improvements to its desktop Macs are welcome and Apple's shown that it can still innovate in this space, as evidenced by the 5K iMac. But as far as most consumers and volume-purchasing institutions are concerned, laptops are still where it's at. Apple has to continue making MacBook Airs and MacBook Pros that will appeal to customers old and new.
The MacBook Air is a really strong seller: Even though Apple didn't do too much to it this year outside of a minor speed improvement and a price realignment that bought price down $100, that was enough to spur a lot of people and some big school districts to buy the MacBook Air in big numbers.
2015 promises a few changes on the CPU front that should enable Apple to roll new hardware out. Intel's Broadwell processors will finally be available in speeds and configurations for Apple to use in its laptops, perhaps even in the fabled Retina MacBook Air that many Mac enthusiasts have been waiting for.
Further out, Intel's readying another processor called Skylake, which is also due out in 2015, albeit in the second half of the year. Once Skylake is available, Apple will be able to incorporate features like Thunderbolt 3 into the Mac, which will finally give the Mac enough bandwidth to manage an external 5K display with a single cable.
Of course, the Mac isn't just about what processor is under the hood. What does Apple need to actually change to keep selling Macs?
Apple takes an iterative approach to product development; we're about two and a half years into the Retina MacBook Pro's product development cycle. Updates are surely coming, but I don't expect a radical reinvention of the MacBook Pro in 2015, just further refinements and improvements.
So the answer to that question may be "not a lot." Apple's Mac sales are improving by leaps and bounds in emerging markets like China, and that may be enough to sustain the Mac's growth for a while.
What's more, OS X Yosemite helps Apple define a powerful strategy for the Mac going forward: That one of the Mac's best assets may indeed be the iPhone. Handoff features should spur more existing Mac users with older Macs to consider upgrading to newer machines, and as word spreads, iPhone users who haven't used the Mac before are sure to consider it when it's time to get a new computer.
Are you looking forward to new Macs in 2015? What's on your buy list right now — a new 5K iMac? A new MacBook Air or MacBook Pro? Let me know what you think in the comments.
Master your iPhone in minutes
iMore offers spot-on advice and guidance from our team of experts, with decades of Apple device experience to lean on. Learn more with iMore!