App for That: How to blur sensitive material from photos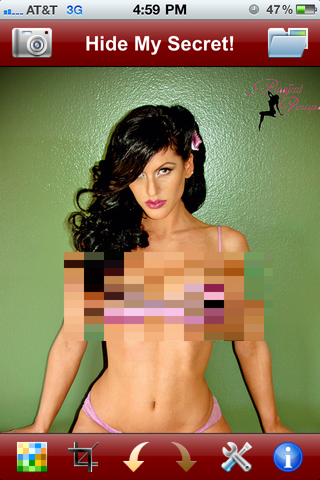 There are hundreds of thousands of iPhone, iPod touch, and iPad apps for just about everything -- so how come the one you need, the one you know just has to be there, is so hard to find? Enter TiPb's new weekly feature where staff and readers alike sort through the App Store and help you find just the right App for That. This week, KP asks:
To see what we found, follow along after the break!
Hide My Secret! [$0.99 - iTunes link (opens in new tab)] is a nifty little app that allows you to overlay your images with a pixelated mosaic effect.
Applying the effect is a breeze. Just touch the screen with two fingers and move them around until you have the incriminating area covered as desired (each finger will be a corner of the box). If the area is small, you can zoom in beforehand to guarantee accuracy. You can also pixelate more than one area before saving the image.
Now that you have hidden whatever it is that you want hidden from your photo (we won't ask!), you can safely share the image on the social networking site of your choice!
Anyone else have any App for That suggestions for KP? Let her -- and all of us -- know in the comments.
Having trouble finding what you need in the app store? Send us an email to news@tipb.com and let us know what you're looking for, and we'll do our best to find you just the right App for That!
Get the best of iMore in your inbox, every day!
Former app and photography editor at iMore, Leanna has since moved on to other endeavors. Mother, wife, mathamagician, even though she no longer writes for iMore you can still follow her on Twitter @llofte.
Just forwarded it to congressman WIENER lol

Now that photo is just an inappropriate example. Why would anyone ever want to pixelate a woman's chest? Wouldn't a zit or a smaller area covering her name tag have been a more accurate example?

How about an app to hide apps? I have some iPad apps that I only want accessible to me and not for anyone else who might use it. It'd be great to create a folder which requires a security code to access or something similar.

There will never be an app for that in the app store. However there is a pretty cool tweak in Cydia is you're jailbroken called Lockdown Pro. It will put a password on any app you want, and also folders too.

Apple just patented the ability for external IR signals to modify or even disable your camera. Try as I might, I can't think of a single situation where this is good for the customer. Shame.
http://bit.ly/jSDEPo

Photo Safe app has a pixelation features galore. Pixelate in several sizes, paint in several colors and densities.

I use Photogene.. does other stuff as well.

I have photogene too and can't find this type of feature...

It's under Retouches. Tap on the Effects button and select Pixelate. Max out the slider for bigger pixels. The nice part is that you then paint with your finger, instead of being limited to a rectangular region.

There is no Retouches option in Photogene. I've owned this app when it was merely in beta stage. You all are unknowingly talking about some other app.

Actually John, there is. Retouched / Masking Overlays / Effect / Effect Type
It's buried, but it's in there, one of a number of very cool tools!

John, both you are right and they are right. The pixelate feature is indeed available in Photogene, but in the iPad version. Appleblogz may not realize the subject of this thread is an iPhone app.

Cool! thanks for sharing this app

I was going to purchase this app, but the reviews are horrible. Any other apps? www.ChellCandie.com or www.facebook.com/ChellCandie affordable cell phone cases & jewelry.

Blur Photos is also another excellent option - https://itunes.apple.com/app/id931207837?mt=8&ign-mpt=uo%3D4&at=10l3Vy