App Store collection discounts 24 'amazing' apps and games to 99 cents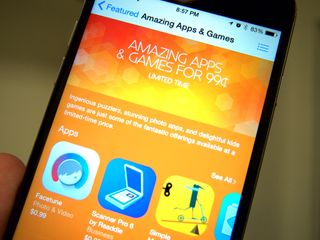 If you're looking to pick up some awesome app and games for your iPhone, you may want to check out Apple's latest promotion. Apple is highlighting a collection of 24 "Amazing Apps & Games" in the App Store and knocking them all down to just $0.99.
There's something to be had for just about everyone in this collection. On the apps side of things, Apple has highlighted a total of 12 apps ranging from Pixelmator and Facetune to GoodReader and AirPano Travel Book. If games are more of your thing, you'll be able to score a number of interesting and fun titles like The Amazing Spider-Man 2, Naught Reawakening, and the ridiculous (in a good way) Goat Simulator.
In all, there are 24 apps highlighted in the section, all discounted to just $0.99. If you wan't to peruse the collection and pick something up, you can check it out by clicking the "Amazing Apps and Games for 99¢" banner in the App Store now.
Anyone getting can not connect to iTunes Store -.- in general. I don't know if its just me Posted via the iMore App on my iPad Air or iPod Touch 5

No, working for me. Have you tried turning it off and back on?

Yep. Got it fixed haha Posted via the iMore App on my iPad Air or iPod Touch 5

Now does anyone know where the free section of iTunes went. I can't seem to find it on the homepage of the iTunes app Sent from the iMore App

Don't tell me Apple removed the section and I can't edit on the iOS iMore app? Sent from the iMore App

Nothing there for free. Move along

$1.19 in Canada - I am soo done with this. Sent from the iMore App

Apple raised the prices months ago due to the low Canadian dollar which was brought about by low oil prices. Blame successive governments for keeping our economy heavily tied to resources instead of transitioning to more value added services such as information technology.
Thank you for signing up to iMore. You will receive a verification email shortly.
There was a problem. Please refresh the page and try again.