App Store wants: More and better adult beverage apps!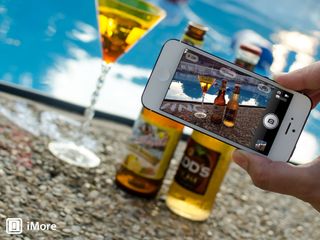 Over the weekend I was out at a local brewery that has an awesome selection of craft beers so, naturally, I decided to work on a roundup of the best iPhone apps for beer drinkers. I worried there wouldn't be enough to choose from, however, so I quickly broadened my plans to beer and wine. But when I started working on it, I quickly discovered that even including both wine and beer, the selection of adult beverage apps was dismal. A couple social apps, a couple journalling apps, a couple location apps, but not a great selection of great apps.
That's not to say there weren't a few very good ones, but certainly not enough to do a proper "best apps for" post. In all my time writing app roundups for iMore, I've never had this happen before.
For beer drinkers, the only decent app I could find was Untappd which allows you to discover beers by checking out local pubs and viewing what others have to say about their beers. Even for living in a small area outside of Chicago, I still found some people using the app and rating craft beers. Outside of Untappd, I wasn't able to find any apps for beer drinkers that were worth using.
When it comes to wine, things weren't much better. I spent quite a bit of time signing into different wine related apps but there was absolutely no community behind them, which left them with no appreciable value. The only relatively useful app I was able to find was Drync, which is available for free. It allows you to view different wine selections and browse. The killer feature is the ability to save wines you like by scanning labels. You can even buy wine through Drync with little effort and have it shipped straight to your home. If you purchase 6 bottles or more, the shipping is free.
Sure, you can use non-specific apps, like Evernote to capture labels of bottles you like, tip calculators to figure out how much to leave bartenders and waiters, and general social networks like Facebook, Twitter, and Instagram to share your experiences, but that can be said of almost any app category.
I did find quite a few apps dedicated to mixed drinks, like bartenders guides and mixology guides. I might still do a generic adult beverages round-up. But for casual drinks like beer and wine...?
In the Chicago and surrounding areas there have been several breweries and wineries popping up that have wonderful menus. From recent travels, I've also found several other areas really pushing local craft beers and wines. Anyone who looks for these places, places that feature local products, is in for a challenge.
Either I'm completely missing something or this is one of those categories on the App Store that's still underserved. Perhaps the market isn't big enough. Perhaps that's why some old apps have been left to fall out of date, or maybe no one has made the right app yet? Perhaps there's an opportunity here?
Let me know if there's a great beer or wine app you've found, or if you've looked into making one, let me know what you think of the market?
iMore senior editor from 2011 to 2015.
I'm a pretty big fan of Elixr (http://elixrapp.com) for keeping track of beers I've enjoyed, though I think it needs a little more oomph in the community to make it even better. Great design and interactions, though.

Not sure if it's all that "great," but I happen to have Hello Vino. I think I got it free on some kind of promotion. It gives basic wine recommendations by food type, but they're sometimes a little iffy. (Sauvignon Blanc with yellowtail sashimi? Really? Sake or Kirin beer are vastly better than *any* wine.) And, on a slight tangent, there's also Mixology for mixed drink recipes.

And if you're Jim Dalrymple, there's the Heineken Star app, among many other Heineken-related apps. Cheers, eh!

Seems things haven't gotten much better since a year ago. http://drinkipa.wordpress.com/2012/07/09/iphone-beer-apps-suck/ You missed BeerBuddy, which links to the RateBeer database. And if you use Untappd, try Tappd That, which is a great and fast native app to check into Untappd, and check all of your own beers. I use Untappd, but use Tappd That 90% of the time.

Personally, I think the best around for Beer lovers is Tavern for iOS. It's a new, clean simple design. I know some of the people who made it and I know they are working on a lot of added features in the coming months. You can find it here: https://itunes.apple.com/us/app/tavern/id645667451?mt=8&at=10l3Vy

There are a couple out there. I use Untappd all the time for new beer discovery, not so much keeping track of every beer I consume. For tracking beer ounce by ounce, Beer Hunt (iPhone only www.beerhunt.com) is fairly new on the scene and turns consumption into a competition between your friends with info-graphics and a leader board. Pint Labs (www.pintlabs.com) developed a huge database of beers and it can be accessed through their BreweryMap and PocketBeer apps (discovery apps). Good luck in the beverage app hunt and enjoy responsibly!

I'm also a fan of Elixr, http://elixrapp.com It's focus is on adult beverages, so it covers beer, wine, and spirits. I think they've really nailed the social aspect of drinking and sharing.

I've been using the brewski me app for the past year. There is a social component to it, but my wife and I mainly use it to keep track of the craft beer that we drink. If a beer is not in the database, it allows you to add it. There is also a rating system, barcode scanner, photo option, etc. http://brewski.me/
Thank you for signing up to iMore. You will receive a verification email shortly.
There was a problem. Please refresh the page and try again.