Apple re-aligns international iTunes App Store prices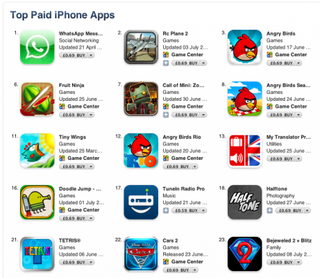 Apple seems to have taken advantage of the iTunes Connect maintenance window to altered prices in some countries due to exchange rate changes with the US dollar. The countries effected seem to be the countries listed in Apple's scheduled maintenance email, Mexico, UK, Australia, Switzerland, Japan and Norway.
Three of the countries have seen price increases, while the other three have actually seen price cuts.
The lowest priced apps/games (US: $0.99) are now priced at
Mexico: $10 $12
UK: £0.59 £0.69
Norway: 6.00Kr 7.00Kr
Japan: 115 Yen 85 Yen
Australia: AU$1.19 AU$0.99
Switzerland 1.10Fr 1.00Fr
Have you been effected by any of these price adjustments?
Writer for iMore, YouTube Vlogger, and Host for [TEChBrits]
Woo go Australia. Yeah I might buy a few more

wtf i didnt even know apple put the price up and am always in the app store every min browsing, they did not even give any notice of this

May not change my buying habits too much (except in cases over $5 as there was a significant difference), but it is nicer to look at a website that references to the US store pricing and know that the same price relates to me in Australia.

Except changes with the dollar shouldn't of put UK pricing up at all.

Omg yes, Jubeat + song packs will be much cheaper now, thank goodness the yen was killing me.

This is a bad move by Apple, especially here in Mexico. Alot of people I know and myself bought many apps. Mexico is a third world country, a 20% increase is significant. I think they raised their prices in hardware too. I wont buy as much know. I can see alot of people shifting to piracy. Good job Apple.

be nice if they update the hardware prices here in Australia, iPad is still the same price despite the stronger Aussie dollar.....hmmmmm doubt it somehow

Nice to see apple have found away of changing US more in the UK want we pay the most for things anyway ! Bad Apple !

So happy being an Aussie. Considering the Aussie dollar has been above the US dollar for months now, it's about time. But this is a brilliant surprise from apple. Thanks! I was not ever expecting anything like this from Apple!

Interestingly, the effect on consumers and developers sometimes differs because Apple now always sends the proceeds to the developers in the customer's currency. Here's a spreadsheet that shows the changes for both consumers and developers: http://d.pr/MkhA
Get the best of iMore in in your inbox, every day!
Thank you for signing up to iMore. You will receive a verification email shortly.
There was a problem. Please refresh the page and try again.