App Store highlights apps that support VoiceOver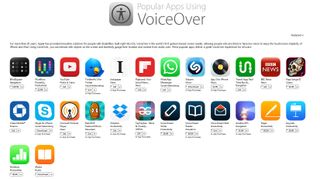 Built right into the iPhone, iPad, and Apple Watch, VoiceOver provides audio cues and gestures, allowing accessibility enough for the iOS interface to be navigated with ease. Many third-party apps leverage the technology — it's included in Apple's UIKit framework for developers — to highlight what's occurring on-screen through audio information. Right now, on the App Store, Apple is highlighting some of the very best:
Apple's efforts in accessibility have earned the tech giant the 2015 Helen Keller Achievement Award, awarded by the American Foundation for the Blind.
More: App Store (opens in new tab), thanks Steven Aquino
The clumsiest man in tech.
Useful to know. Has this list come directly from Apple to imore or is there a source we can refer to to keep track of updates etc? Even better would be a section in the App Store.

"Popular Apps Using Voiceover" is the title of the section Apple has placed on the App Store. On my iPad, it is in the top row of highlights that scrolls across the screen. :)

Very good tip and article...Thank you for writing it. :)
Thank you for signing up to iMore. You will receive a verification email shortly.
There was a problem. Please refresh the page and try again.