With Apple opening the doors, here's what happens next for VR on the Mac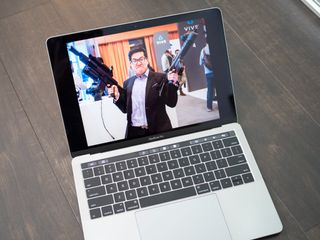 Someone told Apple that not supporting VR meant not only are Apple-loving VR fans leaving for Windows but so are the developers responsible for creating the thousands of amazing experiences now available. To address this, macOS High Sierra will come with a big upgrade to the Metal APIs.
It's called Metal 2, and while it is absolutely the last critical step in VR experiences on a Mac, it doesn't mean every Mac will automatically have total VR support.
Apple's VR efforts, explained
Where Apple's Augmented Reality efforts will be almost entirely mobile, Virtual Reality on the Mac requires some support from the things that make this industry go right now. Primarily, that means Unity and Unreal Engine. There aren't many VR experiences that use other things, so by making sure Unity and Unreal play nice on the Mac, there's a huge number of VR apps that could potentially be easy-ish to make available to Mac users.
SteamVR is another big part of the puzzle, for several reasons. HTC's Vive headset is the most complete VR experience available today, and its former CEO didn't very publicly insult Apple last year. Room-scale VR on the Vive is unparalleled, and SteamVR is a huge part of the VR ecosystem right now. SteamVR also isn't limited to the Vive; in fact, as a platform, it supports more VR headsets than any other platform right now.
Spec bumps everywhere
Software alone isn't enough, which is why several critical hardware options were announced. Apple's current lineup has exactly zero things which meet the minimum system requirements for an HTC Vive, due entirely to using previous generation GPUs, so these beautiful laptops and desktops stay nice and quiet when in use. Apple refreshed the iMac and MacBook Pro lines today with new GPUs, but switching to the Radeon Pro 560 with 4GB memory still isn't quite enough to power an HTC Vive.
There are two solutions here. One is straight from Apple and will be available later this year with macOS High Sierra. The new iMac Pro is packing the impressive Radeon Vega GPU, which will be more than enough to handle VR right now. The other solution available to users in High Sierra is using an external GPU, which means buying a graphics card separately and connecting it to your Mac of choice via Thunderbolt. With one of those attached, most Core i5 and Core i7 MacBooks should be able to handle VR. We'll have a clearer idea once we start seeing VR minimum system specs for the Mac from HTC and others.
For consumers, this means either waiting for the Fall to purchase a $5000 iMac Pro or spending closer to $400 for a VR-ready GPU with Mac support and the enclosure to put it in. That means many Mac owners will need to spend a minimum of $1200 for an HTC Vive and the additional hardware to support it. It's more or less the same ask made of Windows users last year, only Apple isn't rushing to integrate those big GPUs into its laptops like many Windows-based manufacturers did.
Convincing VR devs to support Mac
With Steam and Unity and hardware that actually supports VR, the biggest hurdle will be convincing developers there are enough Mac VR owners to justify supporting. We have no idea what that will look like yet, but that picture will become clearer as Apple and its partners continue to sell this to devs at WWDC. Not only is Apple taking time during this conference to talk about how Metal 2 is going to work, but Valve and Unity sessions on this topic will likely be aimed at easing concerns and demonstrating how supporting macOS users will work.
Steam VR for OSX is amazing news. Officially terrified of having to support it though.Steam VR for OSX is amazing news. Officially terrified of having to support it though.— Josh Farkas (@JoshuaFarkas) June 5, 2017June 5, 2017
The biggest challenge here is going to be convincing developers there will be lots of Mac and MacBook owners rushing out to buy a VR headset once High Sierra is released. The good news is developers who take the risk early will be rewarded with users who want to get their hands on every VR experience to enjoy and share. That strategy proved very successful for many of the companies which were early to SteamVR in the first place, so it's likely we'll see similar strategies used here.
Cautiously optimistic
Apple showed off some very cool things for VR developers on stage today, and that step forward is great news for everyone. What happens next depends on a couple of big questions we don't yet have complete answers to.
How complicated will it be to use a plug-in graphics card?
Will there be VR experiences unique to the Mac?
How much of the SteamVR catalog will be available on Mac?
What will Oculus do now that VR support is here?
Some of these questions we'll have answers to over the course of WWDC, but the rest will take exploring and testing once Metal 2 is available to explore. Until that happens, take a moment and share the VR experience you're most looking forward to in the comments!
○ Everything about WWDC 2020
○ WWDC 2020 remote lineup
○ Download the Apple Developer app
○ iOS/iPadOS 14
○ macOS 10.16
○ watchOS 7
○ tvOS 14
○ Discussion forums

Master your iPhone in minutes
iMore offers spot-on advice and guidance from our team of experts, with decades of Apple device experience to lean on. Learn more with iMore!
Russell is a Contributing Editor at iMore. He's a passionate futurist whose trusty iPad mini is never far from reach. You can usually find him chasing the next tech trend, much to the pain of his wallet. Reach out on Twitter!