Australian banks want to boycott Apple Pay, and that's a bad idea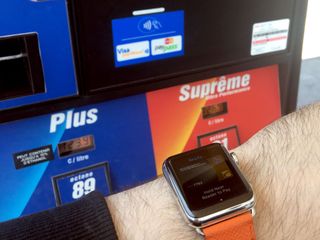 Last week, I left the house without my keys or my wallet. The former was on purpose (I have an iPhone-compatible smart lock); the latter was not.
When I realized my mistake, I was already half an hour from home and running late for a meeting in which I was expected to pay for the food. But I had my iPhone, and being in Canada, took for granted that I would be able to use its proprietary payment solution, Apple Pay, to pay for lunch.
And I did.
When my bank, TD Canada Trust, added Apple Pay support in early June, I relished the idea of being able to use my phone to pay for everything, all the time. The reality, as with all idealized things, is a little more measured — restaurants, for instance, are still very mobile payment-unfriendly — but for the most part, Canada was more than ready for the Apple Pay revolution.
But while I was busy paying for lunch, four Australian banks — Bendigo and Adelaide Bank, Commonwealth Bank of Australia, National Australia Bank and Westpac Banking Corporation — submitted an application to the Australian Competition & Consumer Commission (ACCC) (via MacStories) to collectively boycott Apple Pay and its Android counterparts for three years.
Tension down under
The move is one of the first public acknowledgements of a rift between Australia's highly-regulated — and highly-profitable — banks, which issue credit cards attached to the Visa and MasterCard payment networks, and Apple, which has sought to negotiate with them for the launch of Apple Pay. Like Apple purportedly has done with its yet-to-launch television subscription service, it believes its offering is compelling and competitive, and is unwilling to waver on certain terms and conditions the banks find unfavorable.
In particular, the banks take issue with Apple's locked-down NFC chips, which facilitate the transfer of payment credentials from the iPhone's Secure Element to the merchant terminal machines. This prevents payment services from being integrated into third-party apps controlled by the banks themselves — instead, Apple dictates the entire transaction experience, from the addition and authorization of the credit card to the interface customers see when they tap their phone on a contactless terminal.
This disintermediation of the banks involvement in the payment process is a huge concern for institutions that heavily rely on in-app marketing to sell new credit products, methods that, since the rise of mobile banking, have become even more essential as retail locations lose their efficacy for younger customers.
The banks are also concerned that alone they won't be able to negotiate in good faith with Apple, which reportedly refuses to pass along per-transaction fee to the customer. In other regions Apple Pay has launched, Apple is believed to earn between $0.15 and 15 basis points per $100 transacted (the former in the U.S., the latter in Canada and the U.K.).
Oh, Canada
Canada is a particularly interesting example, especially given what's happening in Australia. The Canadian banking market, like Australia's, is highly-regulated, and has fostered a group of five enormously powerful institutions that control upwards of 90% of the consumer banking market. When Apple Pay launched in November 2015 — a year after it came to the U.S. — it was only compatible with American Express, because AMEX operates as both a bank and a credit card issuer. That unique relationship allowed Apple to negotiate a deal with the company that likely met its standards for security and accessibility, as well as profit expectations. And while negotiations with Canada's Big Five banks — TD Canada Trust, RBC, BMO, Scotiabank and CIBC — were rumored to be ongoing, they didn't come to fruition until seven months later.
But now that those banks are on board (as well as several much smaller credit unions), the contrast to the intractability of the Australian institutions is even starker. Even stranger is the sole Apple Pay provider in Australia, ANZ, staying largely silent throughout this very public discourse, continuing to offer its Visa (and soon MasterCard) customers the same Apple Pay service as other banks around the world.
Apple Pay is not a perfect solution, and it can be argued that by preventing third-party apps from accessing the iPhone's NFC chip fosters an unbalanced relationship between Apple and the issuer, but as Tim Cook mentioned in the company's Q3 earnings call, nearly three-quarters of the contactless payments made in the U.S. are with Apple Pay. Participating banks no doubt benefit from the virtuous marketing cycle around participation in mobile payment solutions, and if Canada's banks' profit outlooks are any indication, their bottom lines are to see little, if any, negative impact from sending 15 cents of every $100 Apple's way.
Bargaining power
Many of the issues the boycotting Australian banks take with Apple (along with Google and Samsung, though their ire is predominantly directed at Cupertino) stem from the disproportionate amount of bargaining power enjoyed by these firms, who get to dictate not only the technology used in the transactions (NFC) but the security procedures (biometrics, tokenization) and many of the financial terms. They also argue that, in Apple's case, poor implementation of the onboarding process between the customer and the merchant has led to a number of cases of fraud, though there has been little evidence of that, and Apple has since further simplified and secured that process. Indeed, though the NFC chip is not available to third-party developers, it is an open platform that is compatible with the vast majority of the world's contactless payment terminals, while security standards around tokenization were created by Visa and MasterCard as part of the updated EMV standard, which has since been adopted by practically every card issuer out there.
The banks also bring up a so-called regulatory asymmetry. Specifically, credit card issuers are limited in the interchange fees they can charge merchants, and because Apple reportedly won't allow its own cut of those fees to be passed on to customers, the banks are forced to eat the additional cost. This appears to be the crux of the argument: the banks want to be able to offer their own mobile payment solutions through their own apps in a way that is similar but distinct from Apple Pay — the way that many banks allow customers to make mobile payments on Android in addition to solutions like Android Pay and Samsung Pay.
But while Bendingo, CBA, NAB and Westpac stall for as long as three years as it waits for either regulatory action in its favor, or Apple to relent, it is letting millions of customers go without a mobile payment solution at all, in a country that is desperate for it.
In the meantime, the one bank willing to negotiate with Apple has seen a surge of new customers, and will likely continue to benefit — for up to three years.
Master your iPhone in minutes
iMore offers spot-on advice and guidance from our team of experts, with decades of Apple device experience to lean on. Learn more with iMore!
Daniel Bader is a Senior Editor at iMore, offering his Canadian analysis on Apple and its awesome products. In addition to writing and producing, Daniel regularly appears on Canadian networks CBC and CTV as a technology analyst.