This is Tim: Apple's CEO on the company's 2016 Q3 earnings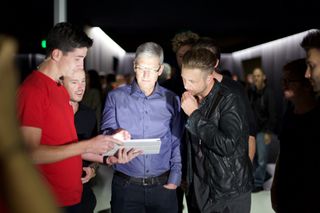 Apple CEO Tim Cook and CFO Luca Maestri spoke with analysts during the company's Q3 2016 earnings call. Here's our ongoing live transcript of their remarks, courtesy Rene Ritchie and Mikah Sargent.
Tim Cook's opening remarks
Tim Cook
Good afternoon and thank you for joining us. Today we're pleased to report results that reflect stronger customer demand and business performance than we anticipated just 90 days ago and include several encouraging signs. Revenue of $42.4 billion was near the high end of our guidance range and gross margin of 38% was at the top of our guidance range. We achieved these results while reducing channel inventory by about $3.6 billion, significantly more than the the $2 billion reduction we'd expected.
So, our sell-through was markedly greater than our sell-in. iPhone accounted for the vast majority of the channel inventory reduction. iPhone unit sell-through was down just 8% year-on-year an even greater improvement over the March quarter than we predicted and we expect the September quarter sell-through comparison to improve further.
We feel good about our channel inventory levels and believe they position us well for the month ahead.
We had a very successful global launch of iPhone SE and demand outstripped supply throughout the quarter. We brought on additional capacity and we able to achieve supply/demand balance as we entered the September quarter.
At its launch we said the addition of the iPhone SE to the iPhone lineup placed us in a better position to meet the need of customers who love a 4-inch phone and to attract even more customers into our ecosystem. In both cases that strategy is working. Our initial sales data tells us the the iPhone SE is popular in both developed and emerging markets, and the percentage of iPhone SE sales going to customers who are new to iPhone is greater than we've seen in the first weeks of availability for other iPhones launched in the last several years.
Overall we added millions of first time smartphone buyers in the first quarter, and switchers accounted for the highest percentage of quarterly iPhone sales we've ever measured. In absolute terms, our year-to-date iPhone sales to switchers are the greatest we've seen in any 9 month period. And our active install base of iPhones is up strong double digits year-over-year.
We saw tremendous performance from our services businesses which grew 19% to a June quarter record of $6 billion. The growth was broad-based with App Store revenue up 37% to a new all-time high. In addition to strong increases in Music, iCloud, and Apple Care, in the last twelve months our services revenue is up almost $4 billion year-on-year to $23.1 billion and we expect it to be the size of a Fortune 100 company next year.
Most of our terrific services performance during the quarter was fueled by our active install base of devices, with install-based related purchases of $10.3 billion accelerating to 29% growth year-on-year.
We had our best iPad compare in 10 quarters, with revenue growing 7% thanks to the roll out of the 9.7-inch iPad Pro. We're proud to have the most exciting lineup of tablets and accessories in the world, and exceptionally high customer satisfaction and engagement.
Our surveys also show that about half of iPad Pro purchasers are buying them for work. iPad Pro is the ultimate upgrade for existing iPad users and the ultimate replacement device for customers switching from PC notebooks.
Apple Watch continues to be the best selling smartwatch in the world. And just this month, JD Power ranked it highest in customer satisfaction among all smart watches.
With watchOS 3 coming this fall, customers will be able to update their Apple Watches with an enhanced user interface, significantly improved performance, and all new fitness and health capabilities including activity sharing. We're just getting started with Apple Watch and we look forward to even more exciting announcements in this space.
On a personal note, during the past quarter I visited China and India and I am very encouraged about our growth prospects in those countries. We remain very optimistic about the long-term opportunities in greater China, and we continue to invest there.
We opened our 41st Greater China retail store during the quarter and we also made a $1 billion investment in Didi Chuxing.
Switchers and first time smartphone buyers represented the lion's share of our iPhone sales in the quarter and our install base of iPhones has ground by 34% over the last year alone.
According to China mobile, there are more iPhones on their network than any other brand, with iPhone users ranking first in terms of customer loyalty, data usage, and ARPU.
By far, the largest portion of our global channel inventory reduction was in Greater China, so our underlying business there is stronger than our results imply.
We faced some challenges in Greater China since the economic environment has slowed down since the beginning of the year. This is reflected in consumer confidence and retail spending. And the Chinese Ruan has depreciated by 7% relative to the US dollar since August of last year.
Hong Kong's tourism and retail businesses also continue to be significantly impacted by the stronger Hong Kong dollar relative to other Asian currencies.
Combining this backdrop to the tough comparison to last year when revenue grew 112%, and the channel inventory reduction this year, we're reporting a decline in revenue in the June quarter.
But to keep things in perspective, when we look back on our accomplishments in this segment over the last couple of years, they are truly remarkable. In the first three quarters of this fiscal year, our total revenue from Greater China was almost $40 billion, up 55% from the same time frame just two years ago, while iPhone units were up 47%.
India is now one of our fastest growing markets. In the first three quarters of this fiscal year, iPhone sales in Indian were up 51% year-on-year. We just announced a first-of-its-kind design and development accelerator to support Indian developers creating innovative applications for iOS, and we opened a new office in Hyderabad to accelerate Maps development.
We're looking forward to opening retail stores in India down the road and we see huge potential for that vibrant country.
As we look forward to the fall, we are thrilled by customers' response to the software and services we previewed at our World Wide Developers Conference last month. This was our biggest WWDC ever, and for the first time we have four innovative Apple platforms for our developers' apps: iOS, macOS, watchOS, and tvOS. In fact, iOS 10 will be the biggest release ever for iOS.
The momentum of all four platforms shows the strong relationship Apple enjoys with customers throughout their day and wherever they go. Whether it's at home, in their car, at work or everywhere in between, the Apple ecosystem is thriving and growing and our new OS releases this fall will take these great experiences to a new level.
Customers can look forward to more expressive ways to communicate with Messages. Now with its own App Store, allowing users to create and share content, make payments, add stickers, and more, all without leaving Messages, which is now one of the largest messaging services in the world.
Customers can also look forward to a broader and more intelligent role for Siri, which will work with your favorite apps from the App Store, so you can ask Siri to book a ride with your favorite ride-sharing app, or send money to someone with Square.
There's also beautifully redesigned apps for Music, Maps, and News, significant enhancements to HomeKit, CarPlay, and the Health app, building on our strategy to give users a seamless experience in all aspects of their lives.
There's also a major update with macOS Sierra, with new features like Siri and Apple Pay that make the Mac smarter and more helpful than ever, and even stronger Continuity features across all Apple devices.
These experiences become more powerful and intuitive as we continue our long history of enriching our products through advanced artificial intelligence. We have focused our AI efforts on the features that best enhance the customer experience.
For example, machine learning enables Siri to understand words as well as the intent behind them. That means Siri does a better job understanding and even predicting what you want then delivering the right responses to requests. To make Siri an even smarter assistant, we're opening the service to developers. And this fall, Siri will be available across our entire product line.
We're also using machine learning in many other ways across our products and services, including recommending songs, apps, and news. Machine learning is improving facial and image recognition in Photos, predicting word choice while typing in Messages and Mail, and providing context-awareness in Maps for better directions.
Deep learning within our products even enables them to recognize usage patterns and improve their own battery lives.
And most importantly, we deliver these intelligent services while protecting users' privacy. Most of the AI processing takes place on the device rather than being sent to the cloud.
And starting this fall, we'll be using sophisticated technology called "differential privacy", enhancing our ability to deliver the kinds of services we dream of and our customers love without compromising on the individual privacy our customers have come to expect from us.
This fall we'll also bring Apple Pay to Safari, so users can easily make secure and private purchases when shopping on participating websites. Tens of millions of users around the world are enjoying Apple Pay today in stores and in apps, with estimated monthly active users up more than 450% year-on-year last month.
Leading financial partners tell us that 3 out 4 contactless payments in the US are made with Apple Pay. This is amazing!
There are more than 11 million contactless-ready locations in the countries where Apple Pay is available today, including 3 million locations now accepting Apple Pay in the United States.
With the launch of France, Switzerland, and Hong Kong this month, Apple Pay is live in 9 markets, including 6 of our top 10. Adoption outside the US has been explosive, with over half of transaction volume now coming from non-US markets.
With our latest OS releases the unparalleled continuity will become even more powerful. For example, macOS Sierra will sense other devices and use secure protocols to communicate. With an authenticated Apple Watch, I can auto-unlock my Mac when I open it without typing a password.
With Universal Clipboard, I can copy and paste text, images, and even video between my iOS devices and my Mac, and I can automatically access my files from the Desktop and Documents folder from another Mac, iOS device, or even a PC.
Innovations like these are the kinds of things only Apple can do. We have an incredible lineup of products in our lineup and I'm very bullish about our long term opportunity.
Now, I'd like to hand it over to Luca to share more details with you on the June quarter.
Luca Maestri on those details
Luca Maestri
Thank you, Tim, good afternoon everyone. Revenue for the June quarter was $42.4 billion, near the high end of our guidance range, compared to $49.6 billion in the year-ago quarter. Customer demand for our products and services was stronger than we had anticipated at the beginning of the quarter. As Tim mentioned, we reduced overall channel inventories by roughly 3.6 billion.
On a geographic basis, our revenue grew strongly in Japan, to a new June quarter record, and we experienced healthy growth in a number of other important markets, including Russia, Brazil, Turkey, India, and Canada.
Gross margin was 38%, at the top of our guidance range. Operating margin was 23.9% of revenue and net income was $7.8 billion. Diluted earnings per share were $1.42, and cash flow from operations was strong at 10.6 billion.
For details by product, I will start with the iPhone. We sold 40.4 million iPhones in the quarter. We also reduced channel inventory by over 4 million units, compared to about a half-a-million units a year ago. So, sell-through was down by 8%. We exited the quarter near the low-end of our 5-7 week target range for channel inventory.
The rollout of our new, entry-level iPhone SE, concurrent with the channel reduction of more than 4 million higher end iPhones resulted in a lower than usual iPhone ASP of $595. Therefore, we expect iPhone ASPs to improve this quarter.
We experienced strong iPhone growth in many markets, with sales in Russia more than doubling year-over-year, and double-digit growth in many other key countries including Japan, Turkey, Brazil, India, Canada, and Sweden.
iPhone continues to show great momentum in business markets. A recent survey by 451 Research found that among US corporate buyers planning to purchase smartphones in the September quarter, 75% planned to purchase iPhones. This is the highest corporate purchase intent ever measured by the survey for the September quarter.
Turning to services we generated $6 billion in revenue, an increase of 19% over the June quarter last year. We set a new record for customers transacting on our iTunes stores, and among our customers who purchased apps and content, the average amount spent per customer was the highest we've ever measured.
The App Store's growth rate has now accelerated for four consecutive quarters, reaching 37% in Q3. The App Store is overwhelmingly the preferred destination for both customers and developers. According to App Annie, it generated 100% more global revenue than Google Play in the June quarter, widening our lead from the March quarter.
Because of this continued growth, for the first nine months of our fiscal year, services have increased from 8% of our total revenue from a year ago to 11% this year, and it represents an even higher percentage of our profitability.
Next, I'd like to talk about the Mac. We sold 4.3 million Macs compared to 4.8 million last year. It was a challenging quarter for personal computer sales across the industry, with IDC estimating a 4% global contraction. In addition to the overall market slowdown, we faced a very difficult compare to the year-ago quarter, when we introduced a new MacBook Pro and a new iMac.
Despite these challenges, Mac continues to gain a high percentage of new customers and our Mac install base has grown to a new all-time high at the end of June quarter.
We ended the quarter below our 4-5 week target range for Mac channel inventory.
Now, turning to iPad, revenue grew 7%. iPad ASP was $490 compared to $415 in the year-ago quarter, with increase driven by iPad Pro. And we sold 10 million iPads, compared to 10.9 million in the year-ago quarter. We also reduced channel inventory by about 500K units, and exited the quarter within our 5-7 week target range.
In the segments in the tablet markets where we compete, we continue to be highly successful both in terms of market share and customer metrics. Recent data from MPD indicates that iPad gained share in the overall US tablet market in the June quarter and has 84% share of tablets priced about $200. And in May, 451 Research mentioned a 96% consumer satisfaction rate for iPad mini, and a 95% rate for iPad Air.
Among US consumers planning to purchase a tablet within the next 6 months, 63% plan to purchase an iPad, almost four times the purchase intention rate the next-highest brand measured, with iPad Pro the top choice for planned purchases.
Corporate buyers reported a 94% satisfaction rate for iPad, and a purchase intent of 71% for the September quarter.
One recent example of iPad business adoption is Sberbank, Russia's largest bank, which is adding 22K iPads to more than 10K purchased last year to deploy corporate mobility solutions across the organization and enable its consultants to serve customers in a more engaging and more efficient way.
More broadly, we're making great progress with our enterprise initiatives and we see strong growth opportunities ahead of us. In May we announced a global strategic partnership with SAP to re-imagine business processes with native iOS apps.
SAP is the world's largest enterprise software provider with more than 130 million potential users among its 300K global customers. In fact, it's estimated that 76% of global business transactions touch an SAP system.
Our partnership will deliver an SDK to fast-track iOS projects for SAP environments, an iOS academy, to enable the 2.5 million SAP developers around the world to build great native iOS apps, and a portfolio of industry specific apps to accelerate mobile transformation in the enterprise.
Last month we announced the first three solutions from our Cisco partnership. Two that we will dramatically improve the network improvements running through Cisco networks, and one that will bring the desk phone to the 21st century by integrating iPhone Wi-Fi calling to the Cisco Spark.
Let me now turn to our cash position. We ended the quarter with $231.5 billion in cash plus marketable securities, a sequential decrease of $1.4 billion. $214.8 billion of this cash, or 93% of the total, was outside the United States.
We issued a total of $2.4 billion of debt in Taiwan and Australia, while retiring $2.5 billion in US debt, leaving us with $72 billion in term debt at the end of the quarter, essentially unchanged from last quarter.
We returned a total of over $13 billion to investors during the June quarter as follows: We paid $3.2 billion in dividends and equivalent, we spent $4 billion on repurchases of 41.2 million Apple shares through open-market transactions, and we launched a new $6 billion ASR resulting in initial delivery and retirement of 48.2 million shares. We also completed our 6th accelerated share repurchase program, retiring an additional 8.7 million shares.
We've now completed almost $177 billion of our current $250 billion capital return program, including $127 billion in share repurchases. During the quarter we also spent $1 billion on a minority investment in Didi Chuxing in China, completed three acquisitions, and incurred $4.2 billion in capital expenditures.
As we move ahead into the September quarter, I'd like to review our outlook, which includes the types of forward looking information that Nancy referred to at the beginning of the call.
We expect revenue to be between $45.5 and $47.5 billion. We expect gross margin to be between 37.5% and 38%. We expect OpEx to be between $6 billion and 50 million and 6 billion 150 million. We expect OINE to be about $350 million. And we expect the tax to about 25.5%.
Also today our Board of Directors has declared a cash dividend of $0.57 per share of common stock, payable on August 11, 2016 to shareholders of record as of August 8, 2016.
With that, I'd like to open the call to questions.
On investment and Didi Chuxing and gross margin
Shannon Cross, Cross research:
Thank you very much for the question. Can you talk a little bit about your thoughts on investment. You made the Didi investment this quarter, y'know obviously you continue to make investments over time. Y'know we just saw — guess you invested in investing some of the carpool karaoke. I'm just kind of curious how you're putting your investment dollars for more sort of an acquisition or potential equity state standpoint as you look at overall capital allocations.
Tim Cook
Shannon we obviously invest a ton of capital in our business itself to support research and development and the production of our products, and that's sort of the main source of our capital. HOwever, we're constantly looking on the outside for great talent and great intellectual property. And we have been buying companies on average every three or four weeks ago. And we continue to do that and we think we've made some really great choices there. In terms of the investment in Didi, it was an unusual investment in that — as you know — we don't have a long history of doing a lot of these, but we have done some before. We invested in ARM in the early days, we invested in Akamai and a few other companies. It wasn't the first. From a Didi point of view we see that as A) A great financial investment, 2) We think that there's some strategic things that the company can do together over time and 3) We think that we'll learn a lot about the business and the Chinese market even beyond what we currently know and Didi has an incredible team there. And, so, that's sort of the rationale for why we did that.
Would we do more, sort of, the investments? Yes, but it's not something that you'll see a whole string of from us, but we will constantly look for things that are smart to do.
Shannon:
Great, thank you, and this is follow up for Luca: If you could talk a little bit about the gross margin looks and takes(?) for guidance. 37 to 38-percent. Sort of how are we thinking about commodity pricing and mix of the new products and that as you look to how you guided gross margins
Luca Maestri
Yes, Shannon, let me correct it: It's 37.5 - 38 for the September quarter. So it's essentially, y'know, we guiding gm flat to slightly down sequentially. On the positive side, we're gonna have leverage because we are guiding to a sequential increase in revenue and we expect to have positive mix as we get into the September quarter. And these positives are being offset more or less by what we call product transition cost which are typical this time of year for us.
Tim Cook
On the commodities side and for the September quarter, we see NAN being pretty much in balance, while DRAM and other LCDs and other major commodities remain in an oversupply situation. And so overall commodity prices we expect to decline at least to store up the roads.
On revenue guidance for September and platform strategy
Steve Milunovich UBS:
Regarding your revenue guidance for September, it's up about 10 percent sequentially which is clearly at the high end historically, so what can you tell us about the timing of the new iPhone model? Is that affecting this? You mentioned the 451 is finding business interest in phones, but their survey on consumers actually finds the lowest level of expectation for purchases in the next three months since 2008. You see the upgrade numbers from the carriers are quite low, so it seems like it's still a very tough demand environment so where is the strength coming from in the September quarter?
Tim Cook
Steve, we're not going to get into products or product transition, however, we've taken what we learned from last quarter and we did see a number of encouraging signs: Luca talked about the number of countries we saw double-digit growth in during the quarter — from Japan, to Brazil, to India, some even stronger numbers than that in Russia. So there's a number of countries that we saw strong signals from from that perspective. We also are very happy with the switcher rate that we saw — our highest ever recorded and the number of switchers through the nine months are the highest absolute numbers that we've ever had. So when we look at that and we look at the things going on in our other products and services, and we think services will continue to grow very briskly, that we've made our best estimate of where we think we'll come in, and that's 45.5 to 47.5.
Steve:
OK, fair enough. And as a follow up I wanted to ask about your platform strategy. You talk about the four operating systems essentially as platforms which I agree with. And it's just interesting to me, because Apple has such a control over the vertical integration of your products and yet somehow you've been able to grasp the openness that's required for platforms and I think that's reflected in WWDC, as you pointed out, opening up APIs and so forth on Messaging. And you kind of made the case there for apps vs. messaging and kind of the anti-bot argument. I'm just curious: Is that the way — am I characterizing this rough correctly — in terms of how you think about the business. I mean, how are you managing that internally in terms of having sort of this vertically integrated, somewhat closed view of the hardware and yet this pretty open platform where the value is created externally.
Tim Cook
Well, we think to have a great platform, you have to have a really healthy ecosystem. And so we're really proud of the developer community and the fact that developers are earning a lot more money and writing for iOS than other apps. We think that the best experience for users include apps and so we want to do everything that we can do to continue building that. We now have over 2 million apps in the app store and are more focused these days on discovery and other things to bring more great apps to the surface, 'cause there's so many out there. And so that's what we're doing: The TV and you didn't mention CarPlay, but these are trying to provide our users a seamless experience across all the different things that they do in their lives. So that's the rationale for CarPlay, it's the rationale for why we're putting huge investment in the home, really bringing home automation to life for people in a very simple and elegant way. It's the reason for Apple TV and what we're doing in the living room. And so all these things together are all about user experience and making people's daily lives better.
Steve:
Thank you.
On gross margin and iPhone upgrade rate
Katy Huberty of Morgan Stanley:
Thank you. Luca as it relates to growth margin, the guidance today is very similar to what you've provided over the last five years in terms of gross margin guidance in September vs. June and the variances that you walked through in response to Shannon's question are very similar to the dynamic that you see in any September quarter. But there's an added factor that's come around which is that you don't have the four million of high AFP, high margin inventory drain in September like you did in the June quarter. So I guess I would push back and as to why gross margin guidance wouldn't be even better. Is it that more balanced NAND environment that Tim spoke to, or is there something else impacting the guidance?
Luca Maestri
Well, Katy, we've talked about these elements at a broad level. Of course, you know , there's degrees of positive impact, right, for example on the mix front every cycle is slightly different on our product mix so that clearly has an impact on gross margins.
And the other thing that we need to keep in mind as we step back for a second and now we've gone through a couple of cycles where the US dollar has strengthened and, as you know, we worked with our hedging program where we get protection from the effects of fluctuations in the short term. When these hedges roll off over time, we end up replacing them with new hedging costs or [indistinguishable] rate. And so, versus September of 2014, for example, the US dollar is now strengthened on average against international currencies by about 15 percent. And I think we need to accept that now we're living in this stronger US dollar environment. We've taken a lot of actions on the cost side, on the pricing side. And obviously with hedges. But, y'know, we need to deal with this situation and that's where we are right now. We feel that 37.5 and 38 percent, given the new environment I think says a lot about all the work that we've done on the cost side to get there. Just to give you a sense, on a year over year basis, when I look at foreign exchange that has an impact of almost 300 basis points in our minds.
Katy:
Okay, thank you. And Tim, can you speak to how you envision the upgrade rate of the iPhone installed base to play out over the next quarter or the next year? Somebody mentioned that US carriers have reported really weak upgrade rates — not necessarily for iPhone — but across their installed base. The press is discussing only modest technology upgrades in your next iPhone cycle. So those data points would lead investors to believe that the upgrade rate will be low, but curious if you will have a different view. Thank you.
Tim Cook
Y'know, I don't want to talk about phones that aren't announced, so that aside, what we have seen — sort of in the past tense or current tense — on the upgrade rate is that the iPhone upgrade rate for 6s is very similar to the 5s, and I guess in retrospect, maybe that was a predictable thing, although we didn't predict it at the beginning it took us a little time to realize that. The iPhone 6 was significantly higher than that. And so it likely accelerated upgrades that would have been in the current year ahead of those. And so what the future holds, we'll see. But I'm very optimistic about the future, because I see so many signs that are positive. I see an install base that has gotten incredibly large, I see a switcher rate that is the highest ever, I see the smartphone itself, lead by iPhone, becoming even more instrumental and important to people's lives — it's becoming essential. And all of the things that are coming both in the Fall, the things that we've announced that you can see with iOS 10 (hopefully you're running by now with the beta), those and other things make it even more instrumental and AI even makes it more and more. I mean, as the phone becomes more and more your assistant, you're not going to leave without it. And so I see all of those things as vectors that are incredibly positive. I also really like what I've seen with the iPhone SE and the fact that it's opening the door to customers that we weren't reaching before and likely convincing some people to upgrade that wanted a smaller form-factor but wanted to stay with iPhone and so they were waiting for the iPhone SE. And so I see lots of positive things and so that's how I look at it.
On iPhone SE elasticity and the upgrade cycle
Toni Sacconaghi at Sanford C. Bernstein:
Yes, thank you. You commented about the significant inventory draw down in the quarter: 3.6 billion on the revenue side, so sell through was 46 billion effectively, y'know over 4 million iPhones suggesting that sell-through iPhone sales were 45 million. When I look to your guidance for Q4, I actually have the opposite question of a previous question, which is in light of the true sell-through rate, which seems to reflect better than normal seasonality in Q3, likely some contribution and elasticity from the SE. When I look at Q4, it looks like you're guiding for iPhone unit on a sell-through basis to be flat or potentially down and for total company revenues to be only fractionally up and below the kind of seasonality we see in Q4. So I guess my question is are you expecting any draw-downs in channel inventory in fiscal Q4, or are my inferences around sell-through rate incorrect, or given the business momentum you spoke about in response to an earlier question, and the hopefulness that you expressed in your prepared remarks, Tim, I'm actually surprised that the guidance isn't a bit stronger on the top line.
Luca Maestri
Toni, let me take it. Starting with your comments on the June quarter, I just want to point out that when we talk about $3.6 billion channel inventory reduction, that is not entirely related to iPhone. iPhone is the vast majority of that, but we did reduce channel inventory on all other products as well. So, that probably leads you to different conclusions on the math that you've just expressed. On the September quarter, when I look at the sequential increase for iPhone units that we are expecting, I would say that it is — even with the sell-through adjustments that you talked about — it is still pretty much in line to what we've seen in the past. As you know, we do not provide guidance for channel inventory. But I would say that, in general, I think it's important to keep in mind that if we look around the world, we do see a lot of positive signs, but we also know that the macroeconomic environment is slowing down in a number of places around the world and that needs to be taken into account in our guidance.
Toni:
Okay. Luca, I did understand the 3.6 billion, but you said over 4 million iPhones were drawn down. I added that to the 40.4, so that would suggest close to 45 million on a sell-through basis. So that was the basis for my observation. I was wondering if I could direct one at Tim. You talked about the upgrade cycle and how it kind of elongated relative to the iPhone 6 and that is similar to what you saw with the 5s. Y'know, my belief is that one of the bigger, longer-term concerns for Apple is that the replacement cycle could structurally elongate over time particularly as your install base of customers becomes less affluent and more international. So, I guess my question is you have a mechanism, which is the Apple Upgrade Program, which takes replacement cycles out of the equation and puts people on buying the phone as a service. So I'd welcome any comments on how that program is doing, and, more broadly, is Apple thinking about ways to sell not only the iPhone, but more of its products on a monthly type subscription basis perhaps in a more bundled fashion so that you can add more predictability to what is — y'know — now a largely transactional revenue model.
Tim Cook
The iPhone demand is made up, as you know, of upgrades, switchers, and new-to-smartphone. And so if you take it in the reverse order for a minute and look at the new-to-smartphone, the penetration around the— smartphone penetration right now around the world at the end of December was 42 percent. So there's quite a bit of room there, it is true that a lot of those are in emerging market, but we have done … we've had reasonable business success in several emerging markets, so we don't enter into those with no experience, although we will enter into them humbly. On the switcher side, we really like what we're seeing and we think that from a user point of view, as the smartphone itself becomes more and more essential to people's daily lives, which is a part of what I talked about before, of part of bringing it into the home in a bigger way and in the car and at work and so forth, we think people will put more and more focus on what they're buying and the thing that apple does best, which is provide the killer experience — a killer user experience that's integrated across their lives — I think becomes more important and I think that really plays to our advantage. I also think that the deployment of AI technology is something that we will excel at because of our focus on user experience, so I like that.
From an upgrade point of view, there are pluses and minuses as I see it. A plus is that more and more people have already joined upgrade programs. Some of these programs — like the one that you referenced that we've done — replaces the iPhone every year. There are also carriers that have similar kind of plans where they also replace, or, change out the iPhone every year. Others have an 18 month clock, some have a 24 month clock, and there are even some that have a 30-month clock. And so there's various time schedules there, so as of today, there are obviously a lot more people on those programs than ever before, because they just started. It really got underway, in a big way, last year and in a smaller way, two years ago. And so we'll see more of those this coming fall. The minus side is that the bifurcation of the smartphone from the service itself has a plus and a minus into it. The subsidy, the lack of that — and this is more of a U.S. phenomenon than the rest of the world — some of that can be a shock for people that were used to paying $199 for their smartphone. They come back in and they pay less for their service, but they pay more for their smartphone. So there's lots of pluses and minuses on this, but overall, as I look at this for Apple — and this is not a statement for the industry itself but for Apple — I'm very optimistic.
On China banning iTunes services and market share
Simona Jankowsi of Goldman Sachs:
Thank you. Tim, as you mentioned, you traveled to China during the quarter. And while you certainly sound encouraged on China and highlighted the Didi investment, there are some other key services, like iBooks and iTunes movies that are still banned, and some of the local vendors appear to be gaining share. So can you just give us your perspective on the market, your expectations around getting those services back up, and also regaining share?
Tim Cook
For books and movies, we currently have those stores off as you mentioned. To put this in some context, those two stores — for the months that we had them operational (which was several months) — the revenue was less than one million dollars. So it's not a revenue-related issue; it's a — from our point of view — this is a service that we want to provide our customers. So we're working very closely with the appropriate government agencies and we hope to make books and movies available again to our customers there. So we'll see how that goes, but we're optimistic there.
Simona:
And in terms of regaining share in that market more broadly?
Tim Cook
Tim: I think we've always had a— if you look at our share over time, our share in China tends to peak during launch windows. There's a higher high and a lower low there — there's a bigger difference between those two. So what we have to do, and what we're doing, is innovating like crazy and delivering the best smartphone to our customers there. And if we do a really great job of that, which we will, I'm confident that we'll do well.
On Apple Pay, Pokémon, and AR
Gene Munster of Piper Jaffray:
Good afternoon. Tim, you gave nice data points around Apple Pay. Can you remind us, is this a business that ultimately impacts the service line in any measurable way, or is Apple Pay generally about selling iPhones. And, separately, when you take a step back and look at the proof-points that augmented reality theme has had with this whole Pokémon phenomenon, how does it impact how you think about the future? I assume you think about it; I'm just curious what goes on in your mind when you see all that. Thanks.
Tim Cook
On the Apple Pay side, the revenues from Apple Pay are in the services line. The growth is astronomical, but the base is very small. So for today, Apple Pay is very much about a great feature for customers so that they can pay in a very simple, private, and secure way.
In terms of AR and the Pokémon phenomenon, it's incredible what has happened there. I think it's a testament to what happens with innovative apps and the whole ecosystem and the power of a developer being able to press a button, so to speak, and offer their product around the world. This certain developer has elected not to go worldwide yet, because of the pressure on their servers, etc. because of the demand, but I'm sure that they will over time. It also does show, as you point out, that AR can be really great and we're— we have been and continue to invest a lot in this. We are high on AR for the long run. We think there's great things for customers and a great commercial opportunity. So we're investing, and the number one thing is to make sure our products work well with other developers kind of products like Pokémon. And that's the reason you see so many iPhones out in the wild right now chasing Pokémon.
Gene:
Would you say there's going to be a computing shift to AR longer term?
Tim Cook
You know, I know there's people that want to call it a new computer platform, and we'll see. I think there's a tendency to call everything new the next computer platform, however, that said, I think AR can be huge. So, we'll see whether it's the next platform. Regardless, it will be huge.
Gene:
Thank you.
On R&D growth and iPhone SE cannibalization
Mark Moskowitz of Barclays:
Good afternoon. Just want to follow up, Tim, if I could related to the R&D pace of growth. Clearly have a lot of momentum there over the last couple years, but we're just kind of trying to figure out how much of that is dedicated to existing products and services versus what's next. Y'know, can you kind of give us a sense in terms of when investors can think about the ROI coming back of them from the R&D perspective. And kind of a corollary to that, does that— is it really restricted just to products and services currently, or can we see more of a cloud services apparatus kind of evolve over time when you do more and more enterprise, just given the courtships with SAP and CISCO and IBM?
And then my follow up for Luca is around ASPs for iPhone. We keep getting a lot of questions around SE in terms of how cannibalistic could it be to the core iPhone franchise. Are you seeing any sort of moderation in terms of the ASP pressures there?
Tim Cook
On the R&D growth, we do continue to invest significantly in R&D. The growth rates are still large on a year over year basis, and Luca can share the exact ones, but I think the recent quarter was in the mid-twenties for R&D. The balance of the company, we're managing more flattish from a year over year point of view. The products that are in R&D, there is quite a bit of investment in there for products and services that are not currently shipping or derivations of what is currently shipping. So I don't want to talk about the exact split of it, but you can look at the growth rate and conclude that there is a lot of stuff that we're doing beyond the current product.
Luca Maestri
And Mark, on the ASP question, talked about the $595 in Q3, it's down $65 on a year over year basis. Keep in mind about $20 of that $65 is foreign exchange. So during that quarter we had this combination of starting with no SE units in channel inventory, so we had to do at least a partial channel fill that obviously had an impact on ASPs. Then the other element was the fact that we produced more than 4 million units of channel inventory on the high end, right, so the combination of these two things obviously had an impact on ASPs. But I think as I said or Tim said during the prepared remarks, we do expect iPhone ASP to improve sequentially as we move into the September quarter, because these two factors that I just mentioned — I'm not going to repeat. On cannibalization, of course we've got limited experience, because the phone has been in the market just for a few weeks, but when we look at our survey data on iPhone SE, as Tim was saying, we believe that the SEs doing exactly what it was intended, which is we are seeing a higher rate of new-to-iPhone customers, which is obviously very important to us as we bring new people into the iOS ecosystem. And we see a higher rate of previous iPhone owners that really prefer the 4-inch form factor. We have not seen clear evidence of cannibalization from iPhone 6s or 6s Plus. Of course, there's always going to be some level of cannibalization, but really, to us, what is much more relevant is the much bigger opportunity to bring more people into the iOS ecosystem.
On iPhone ASP and the Apple TV business
Kulbinder Garcha, Credit Suisse:
Thanks, just a couple of questions from me. Luca, I just want to clarify that last point on ASP and iPhone. The last quarter it seemed you were quite clear that that was a negative driver to the gross margin of the company, so, I understand there are other drivers going into the September quarter, but just to be clear the 4 million or so units that you didn't sell-through that were depleted at channel inventory, those were relatively high gross margin as well. That's the clarification.
And then for Tim, on the services side, as Apple has spoken more and more loudly I guess on the last three or four quarters I think about some of the comments you've made about the TV market and how it's been stuck in the 60s or the 70s and the experience hasn't changed, and I understand that you've got the Apple TV box out, but in terms of driving actual video on demand services, is that something Apple wants to do themselves, do you want to partner, could you even build content — how do you think about that as an actual business opportunity as opposed to here's an Apple box and we sell some units but it's not that meaningful to the overall company in terms of size, I'm just curious, given the install base and users you have, many thanks.
Luca Maestri
On your question on iPhone ASP, I'm not sure I understood it correctly but, clearly the iPhone SE has downward impact on iPhone ASP of course because it comes at the lower end of range. From a gross margin perspective is slightly diluted to company margins but the impact is not particularly large.
Kulbinder:
Okay, okay.
Tim Cook
On the Apple TV question, the introduction of Apple TV and tvOS in last October and the subsequent OS releases and what's coming out this fall, think of that as sort of building the foundation of what we believe can be a broader business over time.
I don't want to be more precise than that but you shouldn't look at what's there today and think that we've done what we want to do. We've built a foundation that we can do something biggest off of.
Kulbinder: Okay.
Tim Cook
Thank you for the question.
Master your iPhone in minutes
iMore offers spot-on advice and guidance from our team of experts, with decades of Apple device experience to lean on. Learn more with iMore!
Mikah Sargent is Senior Editor at Mobile Nations. When he's not bothering his chihuahuas, Mikah spends entirely too much time and money on HomeKit products. You can follow him on Twitter at @mikahsargent if you're so inclined.