Apple Pay will come to more than 50 hospitals across the U.S. this year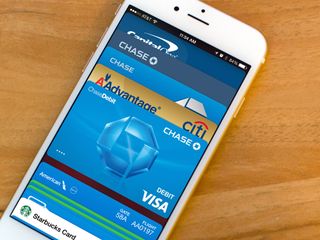 By adding support for Apple Pay, patients will be able to use the payment service to pay for services from InstaMed partner hospitals across the U.S. this year. Though InstaMed doesn't make mention of specific partners in its announcement, during Apple's Q2 2015 conference call, CEO Tim Cook said that over 50 major hospitals across the U.S. will accept Apple Pay this year:
Though Apple Pay has seen wide adoption among banks and merchants alike, this marks the payment service's first major expansion into the healthcare industry—an industry that Apple has taken a keen interest in recently with its Researchkit efforts.
Source: InstaMed
InstaMed Delivers Apple Pay to Healthcare
Healthcare providers, payers and vendors on the InstaMed Network prepare for the future of payments with simple and secure ways to get paid by consumers
PHILADELPHIA, PA and NEWPORT BEACH, CA (April 13, 2015) – InstaMed, the leading Healthcare Payments Network, announced today that Apple Pay, a new category of service that transforms mobile payments with an easy, secure and private way to pay, will be available to its customers within the healthcare industry. Apple Pay is the latest innovation in payment technology and security that InstaMed has introduced to its customers, enabling healthcare organizations to offer a convenient and secure payment experience to consumers.
In the healthcare industry, consumers will now be able to use their iPhone 6, iPhone 6 Plus and Apple Watch, upon availability, to make contactless payments using Apple Pay at the point of service. InstaMed allows all providers, payers and vendors launching consumer-facing mobile apps to offer Apple Pay as an online payment method. Within apps, Apple Pay is compatible with iPhone 6 and iPhone 6 Plus, iPad Air 2 and iPad mini 3.
Security and privacy is at the core of Apple Pay. When you add a credit or debit card to Apple Pay, the actual card numbers are not stored on the device, nor on Apple servers. Instead, a unique Device Account Number is assigned, encrypted and securely stored in the Secure Element on your device. Each transaction is authorized with a one-time unique dynamic security code, instead of using the security code from the back of your card.
"Approximately 20 percent of consumers have unpaid healthcare bills as a result of confusion in the payments process. This will only grow as more and more consumers continue to enroll in high deductible health plans," said Chris Seib, CTO and Co-Founder of InstaMed. "To resolve consumer confusion and rising bad debt, the healthcare industry must deliver a simple, secure and private payment process with innovative technology, including Apple Pay. As mobile payments are expected to reach $142 billion by 2019, the healthcare industry must leverage solutions like Apple Pay to meet these consumer needs. We are excited to bring Apple Pay to our customers and remain the leader in innovation for healthcare payments."
Consumer preferences continue to drive the evolution and expansion of payment channels in the healthcare industry, as the rise of high deductible plans and healthcare exchanges brings consumer payment preferences to the forefront. Consumers can now pay their co-pays and outstanding balances using Apple Pay in a variety of ways: at the check-out desk at a hospital or doctor's office, or within a mobile app that a hospital or doctor's office uses to communicate with their patients. Additionally, consumers enrolled in health insurance can pay their premiums and even their patient responsibility using Apple Pay with the convenience and ease of their insurance company's mobile app. By bringing Apple Pay to hospitals, doctor's offices and insurance companies, InstaMed continues to demonstrate its leadership in healthcare payments innovation.
About InstaMed
InstaMed simplifies every healthcare clearinghouse and payment transaction for providers and payers, all in one place. InstaMed enables providers to collect more money, get paid faster and reduce the time and costs to collect. InstaMed allows payers to cut settlement and disbursement costs with electronic payments. InstaMed's single, integrated network simplifies the healthcare payments process for 1,500+ hospitals, 70,000+ practices/clinics and 100+ billing services; connects to 3,000+ payers; and integrates with 60+ practice management systems. InstaMed processes tens of billions in healthcare payments each year at a rate of more than $2,000 per second. Visit InstaMed on the web at www.instamed.com.
Get the best of iMore in in your inbox, every day!
Yes! The more places that start accepting Apple Pay the better.

Just take paypal that's what I would like to happen Sent from the iMore App

I bet the non Americans who visit here are scratching their heads on this one. Yup, America still charges people to get healthcare, like $9000 for an ambulance ride alone, and not everyone is covered still. But hey, at least the billionaires and and the monopolistic corporations they own get record low tax cuts to screw the people over even more! Posted via the iMore App for Android
Thank you for signing up to iMore. You will receive a verification email shortly.
There was a problem. Please refresh the page and try again.