Apple releases iOS 6.1, adds Siri movie ticket purchases in the U.S., wider LTE support, and more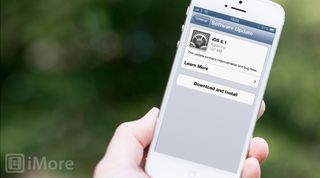 Apple has released iOS 6.1 to the public. The update brings a number of improvements, including increased LTE support and the ability for users in the US to purchase movie tickets with Siri.
This update contains improvements and bug fixes, including:
LTE support for more carriers (complete list of supported carriers at www.apple.com/iphone/LTE/)
Purchase movie tickets through Fandango with Siri (USA only)
iTunes Match subscribers can now download individual songs from iCloud
New button to reset the Advertising Identifier
For information on the security content of this update, please visit this website: http://support.apple.com/kb/HT1222
You can grab the update right now on your device by going to Settings, General, Software Update on your iPhone, iPod touch, or iPad, or connecting you device to iTunes and downloading the update there.
Once you've updated, let us know how it's working for you. Fix any annoying old bugs? Add any annoying new ones?
Update: Apple TV software has also been updated.
Joseph Keller is the former Editor in Chief of iMore. An Apple user for almost 20 years, he spends his time learning the ins and outs of iOS and macOS, always finding ways of getting the most out of his iPhone, iPad, Apple Watch, and Mac.
My iPhone 5 got the update but the iPhone 4 doesn't have seem to have it on EE? Update: It came through!

my guess is that the 4 is no longer supported

nope I am wrong- just got this from apple site System Requirements
iPhone 3GS and later
iPad 2 and later
iPod touch 4th generation and later

My Verizon Wireless iphone 4 saw the update, installing now. Maybe try it via itunes.

So much for everyone who was so about installing the leaked beta for it to be released the next day lol

AppleTV 2&3 iOS Update available as well...bringing Bluetooth keyboard support, Up Next, and an enhanced iTunes in the Cloud service.

With this final version released, is there any word of Jailbreak teams finalizing the 6.0.2 jailbreak soon?

They announced that the jailbreak should be available this week. It's an untethered jailbreak. I am very excited.

STOKED! I've been waiting SO long to have my jailbreak back! Can't wait to unleash my A6 processor for what it can REALLY do!

Sweet. Does this mean I should stay on 6.0.2? I miss jailbreak so much.

Wt is d use of jailbroking iPhone ???

Yes jailbreak should be soon

Weird that I had to enter my Apple ID all over again after the update. Can't remember if that was necessary after the 6.0 update. Also, my iPhone 5 asked me for my Apple ID password three times. I tapped "Cancel" the third time and it stopped asking.

same thing happened to me.

Same for me as well. I can't seem to add my iCould address to iMessage or FaceTime. It keeps asking for the password and then just deletes itself from settings.

something tells me there's more to this update than what they're showing. Why call it .1 and not 6.0.2?

Wouldn't matter because it would be just a play on numbers, right?

well, from my programming days, bug fixes would typically come with a x.x.1 update while an x.1 update would bring new features along with the bug fixes. While they did bring one or two new features, they're fairly insignificant in my opinion.

i think apple feels that some people might find these feature additions as more important than others. i tend to agree with you, though.

They had a 6.0.2 already. It fixed WiFi issues with the iPhone 5 and the newest iPads/iPods. To the best of my memory, that is.

6.01 was supposed to fix Wi-Fi with mini-Pad, but didn't, at least with me, as it was dropping the connection or not starting automatically. Hopefully 6.1 fixes that! Better LTE connections for non-Verizon/AT&T phones is supposed to be part of 6.1

I'm pretty sure it's because there was new APIs added

It feels snappier on the iPhone 5, I hope its the same on the iPad 3.

Sweet! updating both of mine now. And my daughter's iPod touch 5th gen. Will do my other daughter's iPod touch 4th gen and wife's 4S tonight when they go to bed. EDIT: Snappy indeed!

hoping they fix the funkiness with auto-replace not working as it should....

Yes me too! I thought i was the only one with that problem.

Nope... Been bugging me as well

New music buttons on the lock screen

OMG. They *finally* fixed the iPod controls on the lock screen to separate the buttons more. So frustrating to skip to another track when you meant to pause instead. This should have been fixed in 2008.

Yeah.. That was so annoying but finally they fixed it!

Anybody else having trouble with WiFi? I never had a issue like some did with iOS 6... now I can't connect to either of the 2 WiFi networks I usually can.

No issues on my ipad mini or iPhone 5

I connected to mine at the house just fine. maybe you got a bad download. Did you use Itunes or OTA?

I am. My wifi connection is worse, on my iPhone 5, than it was before the last update. It hasn't worked correctly since iOS 6! My phone is very slow to open apps or search in Safari. So far it appears this update made things worse for me. I hope I'm the only one as I really don't wish these issues, I've consistently had, on other iPhone users!

Just FYI: the Advertising Identifier reset button is buried way down in Settings -> General -> About -> Advertising. There's also an on/off switch for the "Limit Ad Tracking" setting.

I had an iOS 6.1 issue with Pages: it didn't upload edited documents to iCloud from my iPad mini. No problem with iOS 6.1 and Pages on the iPhone 5 or the iWork tab on iCloud.com. Just the iPad. Fix: restart the iPad. That's all it took. But the iPad was already restarted after updating to iOS 6.1, so there's obviously a bug somewhere. Minor but annoying.

Getting the "Unable to Verify Update" on the OTA on iPod Touch 5th gen. Connecting to iTunes fails as an unsupported device? Anyone else with this issue? EDIT: Apple must of corrected the path. All set now. iPod touch 5th gen up and no more issues. iPod touch 4th gen and iPhone 4S in progress EDIT 2: iPod touch 4th gen and iPhone 4S all up and good!

Yes, I got the same error earlier when I tried to update my iPod touch 5 OTA and via iTunes. As you indicated, it did work later. My iPod touch 4 and iPad 3 all updated without incident.

Is it just me, or can I no longer download a previously purchased song on my iPhone 4s? When I go to the iTunes app, more, and then hit the purchased button it takes me to the "purchased" playlist in the music app.

Wonder if there are bug security issues they are not stating. My account was charged twice on 1/25/13. Apple stated it looked like someone used my credit information to create a new account. I changed by password right away. I change it off, and on. The thing that bugs me, how did someone get the three digit security code from the credit card? At least they will credit the charge, but I will just use gift cards from now on. Strange?

I had a similar problem. Someone was using my credit card on their iTunes account. They charged over $1,000 before I got my statement and noticed. American Express was great, but Apple refused to even give me the amount charged to MY credit card without a subpoena. I spent hours figuring out which charges were mine so I could tell AmEx. I will never use anything but an iTunes cards again.

1.11 GB OS update for the iPad?! Apple needs to realize that not everyone has a 50 MB broadband connection for these updates. I have an iPhone 4S, iPad, and iPad mini to update and the total will be over 3 GB when all is said and done. Add this to updating 2 TV's and I'm pushing 3.5 GB.

the OTA update for my ipad 3 was only 70MB. Sounds like you're downloading it in itunes where it gets the full OS.

don't you realize, Its just Apple's way of saying..Thanks for buying ALL our products, now buy more Icloud storage. How else will they keep their obscene bank accounts full?

Google must be having a good laugh, this should be 6.02.1

Just updated my iPhone 5 to 6.1 and it works great so far.

"iTunes Match subscribers can now download individual songs from iCloud" That was already possible with 6.0.1 (non-jailbroken).
Somebody is wrong.

Yes, but you had to listen to the song you wanted so it started to download. Now you can just tap the cloud and downloads without listening to the song. Or download the whole album or playlist at the bottom of the list.

definately iOS feels even faster now on iPhone 5 after update.. amazing

I got mine while using Itunes this morning

I'm still not getting Facebook notifications on my iPhone 5. I was hoping that between the iOS update and the Facebook update, that this would have all been fixed by now. On a brighter note though, it looks as though the bug with the Apple maps voice turn by turn almost muting the rest of the sounds has been fixed.

that is weird. neither do i. I never get them. i see a notification in side the facebook app after i've opened it.

I am having the same issues. However it's not much with Facebook and more with eBay. I get all kinds of eBay notifications on the iPad. On my iPhone 5 however, I never get a single notification. Facebook notifications seem to have a mind of their own, they'll come and go as they please.

I'll be waiting a few months before I even consider updating...unless of course this update fixes the horrible lag with iPod Touch 4G.
Also. we should have more info on how jailbreaking is going to be, if and when it comes out for the iPhone.

They already said jailbreak release on Superbowl Sunday. Keep up!

It feels like it takes longer to connect to the App Store, and the FB app is crashing frequently.. Am I the only one having these problems? *Iphone 4s*

Still no sound when Facebook notifications arrive. Fail!

probably you just need to go into the Settings - Notifications - Facebook and change what you want it to do. I turn them all off except Messages, so that none bug me when I am sleeping. But you can have it make all the noise and banners you want.

Is it just me, or is iOS starting to get a little bit stale? Apple needs to really shake things up with iOS7. Adding sports scores and movie tickets to Siri (which I would venture to guess a very, very small percentage of people will actually ever use) isn't really that innovative. It's time to give iOS, the core of which has changed very little since it was first introduced in 2007, a fresh new feel.

What do you want to see added to make it unstale?

Looks like passbook has a new main ui design.

'bout time. Passbook so far has been almost useless. Doesn't pop up by location, just by which name is lower in alphabet!

I'm glad to be able to download individual songs again. I wonder what genius decided to removed it from iOS 6 during beta? It's a no brainer. I don't know how much I care about buying movie tickets with Siri. I tried to for Friday, I guess it's too early. Hmph Think I'm ready to jailbreak because I want to respond to texts within apps. It's quite ridiculous to have to exit an app all together to respond to a text or notification. Actionable notifications now please!

I'd like to see the ability to theme certain UI elements, widgets, the ability to quickly turn on/off Bluetooth, WiFi, etc) such as adding these toggles to the Search screen (or Notification center), and let us decide what our default browser, calendar, and email program is....

I don't understand how an update can be so big and add so little features. :(

New music player look on the lock screen.

**** I hate these stupid updates because every time I turn around apples updates seem to always screw me over I cant access the app store I cant sign in to the game center either so all the games I have the require me to use the game center I cant play so thanks a ******* lot apple you are as bad as nintendo

Did the OTA update this morning and my iphone 5 decided it would not be a "phone" today... Took two shut downs and twice upgrade with ##873283# to Sprint to get it running. Also had to have tech support update my settings. Didn't help that Sprint shut down the largest tower in downtown San Jose for the past 24 hours for an LTE upgrade.
I hope others had a better day with the upgrade....

SIRI !!! Did you order movie tickets again?

For me it fix my email. Whenever I was not on wifi it would say unable to connect to internet. I figured a work around but I'm happy its finally fixed

Finally, in the car it accesses your entire music library, even if it isn't downloaded into your phone, as long as you have iTunes Match.

Updated OTA on iPhone 5, things I've noticed:
-Carrier name is gone? No longer "Verizon LTE", just "LTE"
(Carrier version says "Verizon 14.1", is this accurate) Contacted Verizon, they had no idea what was wrong. But I am on the network. So strange, anyone else? I have reset network settings, removed SIM, all that jazz. No change.

Im liking 6.1 alot more. ive noticed that it allows alot more functionality in my car. for instance now it will list all 3000 songs that i have in itunes match instead of just the 1000 that are on my iphone, it will stream songs through the ipod port on my elantra. also my music app is no longer blocked out when connected to a car source. very nice!

I need to varify my outlook email account ,a varification was sent to my inbox which I did not receive in my inbox I need some help

I need with email varification

Why as my previous comments have not got no resoonse

I have got no replys to my comments
Thank you for signing up to iMore. You will receive a verification email shortly.
There was a problem. Please refresh the page and try again.