How to set a song as your alarm tone in iOS 6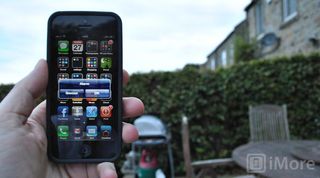 One of iOS 6's hidden gems is the ability to use a song from your music library as an alarm to wake you up. Before iOS 6 was released, you could only use ringtones or one of the default alarm tones as your wakeup call, which was less than thrilling, but now you can set anything in the Music app to jolt you up out of bed. Progress!
Launch the Clock app on the home screen
Tap the Alarms tab
Tap the + sign to create a new alarm
Select the time for your alarm
Tap on Sound
Tap on Pick a song and all of your songs on your iPhone will be available to choose from
Tap on your selected tune
It will start to play so hit Back to stop it
Tap on Save
That's it, you're are all set! When your alarm goes off in the morning it will no longer play that awful tone but now it will play your selected song instead.
So the question is, now that you can set a song as an alarm, which song will you use?
Get the best of iMore in in your inbox, every day!
UK editor at iMore, mobile technology lover and air conditioning design engineer.
Can you use a song for a ringtone in iOS6?

Check the app "Ringtones" Some hilarious stuff in there. Not 100% sure about using your own songs from the phone.

I want to use Gangnam Style as my ringtone lol

Yes, you can use your own song as a ring tone. Take any song that is an itunes style .m4a, rename it as a .m4r and when you click on that iTunes will add it as a ringtone. Based on what I've read you probably shouldn't make it more than 30 seconds but not sure if it really matters.

Haha, that's funny! This is Apple we are talking about here. This (& a few other reasons) are why I'm all about the jailbreak.

This is a Welcomed feature for the iphone i always wanted to do this.

Three Little Birds, Bob Marley

My respect for you just went through the roof. Iron Maiden and Motorhead? Now you're talking! And waking up to Aces High is definitely cool - but only the live version with the Churchill speech ;)

BTW How do you delete the songs after adding it ???

No need to delete. Just follow the steps again and choose another song or a ringtone. Or turn off the alarm.

"Wake Up," Rage Against the Machine, 1992.

ok that all sounds good but !!
the phone still needs to be on in order for the alarm to work.....
even with the do not disturb feature the alarm will not sound>>

I just tested your statement about using the alarm while DND is enabled and you are WRONG!!!!
I set my alarm for 2 minutes ahead and turned ON the "do not disturb" feature. Alarm still played......just sayin...

Im using the opening theme from the lion king as my alarm!

B.I.G Notorious----kick in the door
Thank you for signing up to iMore. You will receive a verification email shortly.
There was a problem. Please refresh the page and try again.