evasi0n jailbreak for iOS 6 and 6.1 now live, and untethered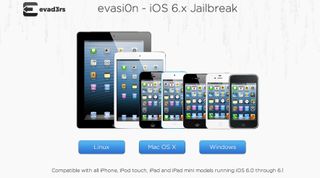 Whether you've got a new iPhone 5 and have been waiting patiently to get your jailbreak on or you've been waiting to update your older iPhone, iPad, or iPod touch for a working iOS 6 jailbreak, the wait is now over. The evasi0n jailbreak for iOS 6 and iOS 6.1 is now live and ready.
The evasi0n jailbreak supports all iPhone, iPad, and iPod touch models running iOS 6 through iOS 6.1. Yep, you heard that right. That means if you've got an iPhone 5 or iPad mini, you too can jailbreak.
evasi0n supports an untethered jailbreak which means you won't have to plug in your device each and every time you need to reboot. To download the evasi0n jailbreak program, hit the source link below.
Whether you have questions about whether or not you should jailbreak or run into issues during the process, our jailbreak and unlock forums are a great place to start. Also make sure you check out the helpful links to guides and resources below, especially if you're new to jailbreak.
If you've run the process, let us know what your results were either in our forums or in the comments below!
Source: evasi0n.com
Additional resources:
iMore senior editor from 2011 to 2015.
DO NOT USE THIS JAIL BREAK I USED IT FOR IPHONE 3GS RUNNING IOS 6.1 AND IT CRASHED MY IPHONE DID A FULL RESTORE ON I TUNES PHONE IS STILL PHUCKED UP PHONE IS TYPING THINGS ON ITS OWN CANT ACCESS SETTINGS WHAT CAN I DO TO FIX THIS WOULD DOWNGRADING TO IOS 5.1 FIX THIS

I just got paid $6784 working on my laptop using these simple steps leaked on this web page. Make up to $85 per hour doing simple tasks that are so easy to do that you won't forgive yourself if you don't check it out! Weekly payments! Here is what I've been doing http://Rich45.com

Full jailbreak process is complete. About to download my first app from Cydia. Update in a few!

Hmm, have tried to download Activator and Intelliscreen X 6 but I keep getting internal errors or hash sum mismatch errors. Actual jailbreak went smoothly and have already tried several hard restarts. Anyone else having any luck?

I'm getting the same, I think I saw someone say last time that it was from too many people trying at once, so I'm just going to try again later.

apt.saurik.com is currently offline....

No luck here either having same problems. I wonder if their server is overloaded.

I'm having a few of the same problems, I was tethered and just installed the evasion package in cydia, then reboot to let it run its course. All is well other than some updates aren't installing, like libhid, an sb settings toggles, but could be from high traffic! Just installing the evasi0n package and rebooting went smooth! So if you all are reading this and your "tethered" just hit up cydia and install the "evasi0n- untether" package ( back up your stuff just to be safe) I lost nothing but that don't mean you won't!!!! Thanks evad3rs! Job well done!!

I was untethered, and even reinstalled the package. Powered off phone, powered back on and 15mins later still have apple log on screen a couple of power and home key resets and it boots up. So it all beats me, maybe have to restore. I am sure there will be bug fixes to ensue over the next few days.

The same thing happened to me. I had to do 3+ hard reboots to get it to boot up passed the apple logo. It sounds crazy, but it actually works. Just press the home and power button simultaneously and wait for the apple logo. If it doesn't boot, just repeat until it does.

i had the same thing also . don't worry everyone who's jail broken his device by evasi0n has the same problem . let's wait for evasi0n 's update in change ( cydia )

iTouch 4th Gen done and working perfectly without any need to restore or resync...
iPad 2 next...

Jailbreaking right now. First time I've done it since I upgraded to 6.0.0 right when I got my 4S.

Full jailbreak process is complete. About to download my first app from Cydia. Update in a few!

Easiest jailbreak EVER!!!!!

I agree. Just waiting on Cydia to work for me.

Easiest jailbreak EVER! However, i cant get anything downloading from cydia! I downloaded only ONE thing and that was the five app for the status bar. Anyone else having this problem?? HELPPPP

I'm having the same issue so it's not just you! Nothing will download, and Cydia keeps running my data connection without stopping!

AHH! I just wanna get my apps running, I can't even access the featured lists or anything! How do you know it's continuously running the data connection?

My the annoying little circle continues to spin while in Cydia, and when I checked my data usage, it spiked since I started using it. I'm gonna try again later.

Try BiteSMS. That is the only one I have gotten to work. Tried Activator and Intelliscreen X 6 several times with no success. I think Cydia is getting hit pretty hard right now.

i tried downloading it and it's not working! but yeah, i might just give cydia some time. couldnt imagine how many users of the jailbreak are using it right now

You're not alone. Check the other posts on this blog.

press go to cydia and press change then to refresh to let cydia downloading the packages

Hey guys .. if i JailBreak does it unlock my phone ?
thanks

Nope. that's a separate process

So when does the Apple TV3 jailbreak come out? I guess we're still waiting...

It's not letting me download anything!!

There already is an update from Evasi0n within Cydia, so if your downloads are failing, exit Cydia, go back and install the update in Changes.
Many pages/sources are timing out because of the overload caused by the sudden spike of connection requests, be patient.
Some others' applets may not recognize Evasi0n yet, give it a few more and come back later. Nope, I don't discard the possibility that there may be some bugs (it's their first official JB publish!) and additional tweaks may be needed still for a 100% smooth JB

I agree. I am now having problems accessing anything in Cydia from my iPad 3 which is still on 5.1.1 so I would say the problem is traffic rather than a problem with the actual jailbreak. I'm gonna wait it out and hopefully things will settle down in a few hours. I've waited this long for JB, I can give it time to settle down.

I know right! Lol! That's why I updated when evad3rs said to, and I been getting a mass load of updates since. Everything is starting to come together even sb settings is working the way it's suppose to, with the processes problem. The iOS 6.1 jailbreak is so much better, I know you all will be very impressed with it. All the little bugs were clearing out with the updates and it wasn't til the release, all the traffic put everything to a stand still. I know I'm ahead of a few cause I just kept my tethered break and just installed the evasi0n 6.x untether package. For me , it's like 5.1.1 but, way faster and my battery last about three times as long now!! You all are gonna love it! I wasn't going to come off 5.1.1, but now with the updates I've gotten the past few days, there is no comparison! I'm sticking with 6.1!! Have fun all!!

Mine is stuck on the "Finding offsets..." with the evasion logo...

My ipad 2 got stuck on that screen for quite a while, maybe 10-15 min, then it finished and rebooted and I was good to go. Just let it be and you'll be fine.

you have to reboot your iphone then download the last evasion . 1.4 . when u open it try to close all the programs on ur laptop . and start again

I got the jailbreak perfect but I cant download any tweaks or apps. o.O

downloading as soon as i get home from school.
longest 2 hours of my liiiife! .____.

I'm having all the same problems as those above. Can't download anything, half the sources don't even work for me. I'm not even sure I should have updated :/

go to packages and update evasion 6.x Untether

Thanks for the heads-up, Ally.
Thanks to everyone else telling us about the problems you're having with it. I think I may continue to pass up this update, for the time being, for two reasons: 1) Early-adopter bugs.
2) I'm not ready to give up the 5.x Google Maps app, yet. The lack of contacts integration, alone, is enough to honk me off.

Definitely understand your reluctance based on contacts integration with Google Maps, however I hope you have at least downloaded Google Maps from the App Store. That is what the application SHOULD have been years ago. Give it a few hours and reconsider the JB.

I downloaded it a month or so ago, I think. But the contacts integration, bugs, traffic jams, and 6.x-incompatible jailbreak apps won't change within the hour. Sadly, I think I will have to make the change at some point because I don't want a new Apple update to break the jb exploit before I have a chance to...exploit it.

Cant download anything I keep on getting HTTP 500 errors some netDB error that wont let me download apps, whats going on AHHH

You have to be patient. Anytime JB comes out, Cydia gets hit hard. Youll be able to start downloading things later tonight or tomorrow probably.

no patience my friend LOL its just like when an iphone comes out I go crazy

My phone also wont let me download anything from cydia, just keeps giving errors.... but also when i tried to reboot the phone, it got stuck at the apple twice... and its a iPhone 5.... but then i had it in itunes mode, and itunes said it was downloading a update, which idk why cause its on 6.1 but anyways, then the phone randomly turnt back on. any ideas?

i also try to do updates in cahnges and I get GPG error
failed to fetch NetDB open nodename nor servname

Jailbreak worked on my 5G iPod Touch, Some apps aren't supported on iOS 6.1 yet... Still a successful jailbreak!

Got IntelliScreen and BiteSMS working after heck a lot of tries. But the licences don't work yet-Cydia is getting screwed I guess.

apt.saurik.com is offline. Cydia is almost useless without it... I hope he will be online very soon..

I, too, am having the Netdb node nor servname provided error messages when trying to download ANY app from Cydia. I figure this is because Cydia is getting hit HARD right now by an overwhelming amount of jailbreakers out there. Probably need to wait a couple of days until Cydia can get stable again...

I jailbroke my iPhone 5, cydia appears, but when I try to open the app it just opens and then immediately closes - any ideas?

Reboot your phone if that doesn't solve the problem jailbreak again.

UPDATE EVERYBODY:
http://cydia.saurik.com/ is currently DOWN. No wonder your downloads will fail :D
Keep an eye out for when it's back online (poor little servers got hit EXTRA HARRRRD after the Evasi0n JB release :D (and that's all OUR fault, LOL) Check back sporadically every few hours. We waited this long already, right?
You already got your iDevice JB'd with Evasi0n, RIGHT? On the side though, if you're the type that has apps stored on a computer, go here http://www.i-funbox.com/ download this neat little program and manually drop apps into your now-freed iDevice, it's SUPER easy to do..!!!

i cant install Appsync from cydia (HTTP/1.1 303 See other) error :(

As I said, Cydia is current;y DOWN.

The Waiting is our only solution : ...(

Interesting...
Has anyone with an iPad Mini attempted this jailbreak? if so, what are your findings? I have not seen any comments from iPad / iPad Mini users at all.. I am staying on 6.0.1 and having patientence... Until Mid-Feb or so.. Seems the dust needs to settle and reports & findings need to trickle in.. is there a list showing what apps have been sanctioned for use with this 6.0.1 - 6.1 Jailbreak? Thanks in advance for any help from iPad Mini users, links or help comments anyone can provide. :-) Yes... It's my 1st Apple Product and 1st look at a break..:-)

New iPad (iPad3) on iOS 6.1 successful jailbreak but like everybody else waiting on Cydia servers to ease up their overload.

It seems that you are on the fence about jailbreaking. First, you need to decide if you want to jailbreak. The findings will, more than likely, be frustrating to a first-time jailbreaker and are irrelevant over the long run because they will be fixed. If you can wait until mid-February, it would be great. One less person to clog up the systems.

LOL!
Well.. I have a Galaxy Note Rooted & Overclocked, Themed and Running the Liquidsmooth Rom & KKO.12 Custom Kernel.. So.. There is no great curiousity as to what I will see with a Custom Device vs Stock.. This is my 1st i-Tablet and it's nice to know I can make it almost as custom as my Phone but, Not a burning desire like most of you :-) I can wait..:-)
Enjoy My Bandwidth!

I can't get it to work. Every time I plug in my iPhone, evasi0n crashes. Anybody else having this problem?

Windows: Try right-clicking on the Evasi0n app, and select Run As Administrator
(which hopefully you are)

Poor Cydia were sorry to overload your servers so you cant work but just wait till tomorrow :)

I tried it once, got hung up around 3/4 of the way. Tried again a second time and same thing. It rebooted twice along the way. Third time worked when I stayed near my computer and noticed it asked me to tap an app on the phone to continue loading, then it worked. Def not as easy as others in the past, but still ridiculously easy, stay by your phone!

Ty for pointing that out. First tap to start jailbreak and when ask to tap the app the jailbreak adds to homescreen second tap on that app. Like Stifledgenius said "stay by your pc".

This may be a stupid question, but I want to jailbreak but can't really find any "real" reason (in terms of tweaks, apps, etc.) to do so. I love biteSMS, Downloader, etc. but what are some tweaks/apps you all recommend? Thanks guys!

I just got the JB on my phone. Everything worked well except the fact I can't download any tweak. I always get the same error. My connection just times out. Any body got a hint for me?! Feel free to contact me via twitter @JpJeter thanks a lot guys.

Looks like the same song for all of us. Was really looking forward to changing up my phone! Hopefully everything will be working soon.

-----------THIS IS GOING TO BE QUITE DISAPPOINTING--------------
i have 3 iphones and 2 ipads 2 of which ,i jailbroke just now with Evasi0n
the apple devices that have NOT been jailbroken with Evasi0n work perfect , and so does Cydia , i tried everything i added new sources such as cydia.myrepospace.com/Bl00dra1n/ where they have appsync 6.X and everything works perfect , yet those devices jailbroken with Evasi0n have no working Cydia ... its not an issue due to overload because its not working for anyone with Evasi0n ..
im pretty certain they will realese an update in cydia to upgrade software or might have to re-jailbreak again :( if you have an iphone 4 and cant be asked to wait use redsnow otherwise ; the wait continues :(

I have used jb for iPhone 5 and already have bitesms and activator. Just overloaded. Cydia for my iPad on 5.01 is slow and having troubles with tweaks as well.

yet Cydia smooth with redsnow jailbreak .... doubt its an overload

So must just be w evasi0n and greenposi0n...

i guess time will tell hopefully not too long :)

Yup. Although if I can't get sbs or others, I have activator and bite. 2 main reasons I jailbroke anyway.

I'm going to wait a day or two before jailbreaking, partly to wait for any reports of problems and also to wait for the initial rush to die down first. While waiting, I have a question about upgrading my iPad. The iPhone 5, no problem, save the blobs then jailbreak. The phone is already on iOS 6.1. The iPad, however, is an older one (iPad 2) running 5.1.1 jailbroke. To upgrade it should I first restore it to a non-jailbroke 5.11 then upgrade it, save the blogs and jailbreak, or can I safely upgrade to 6.1 as-is, save and jailbreak?

if you update essentially you are restoring it so no need to do it twice :)

Is that "need" or "no need"? :)

just wondering if i jailbreak my phone and let's say i download a song from the itunes onto my phone will it still go and automatically download onto my macbook air via icloud? same if i were to download a app from my macbook air's itunes and it would appear on my iPhone?

with icloud you only receive 5gb for free so for most thing you might still have to use a cable my pics all go to photostream , u can customise your self what you want to share

Out of curiosity
If i decide to jailbreak, can I at any point decide to 'un'-jailbreak my iphone 5?
Thanks!

iPhone 4s doesn't want to reboot, jailbreak went smooth no issues. But if I power off phone and restart I will have the apple logo forever it take multiple resets of hold power and home key to get phone to boot up.

I will be doing a full factory restore. My device runs very slow after the jailbreak. Not worth the lag this is causing me. Now, if this JB would allow me to go back to iOS 5.1 that would be a blessing.

I cannot download anything I keep on getting HTTP 500 errors some netDB error that wont let to download. Please help!

I am JB on 5.1.1 and cydia is slow because of y'all. :)

So far the only thing I have been able to install is Dreamboard. At this point, I just wanna install SBSettings and the Gameboy Emulator and Ill be a happy camper. The themes and other tweaks can wait. keeps either getting timed out or the 500 internal error.

I Just wanna Get stuff off Cydia When can i do this i been Whating so long

I'm going back to un-jailbroken. This jailbreak has been anything but stellar. It broke the weather app. I also realized that it killed the Redbox Instant app. The app keeps telling me the phone has been compromised. Removing and adding again does nothing for the problem. Also, the servers are being hit so hard right now that you can't even configure it once you have jailbroken it. I'm fine keeping it as Apple intended.

Try xCon from Cydia to prevent apps from detecting jailbreak.

Thank You for your input.. This is EXACTLY why I did not rush into this.. I figured there would be issues.. Patients is a virtue.. :-) My Mini has been just fine so far.. We will wait.

Thanks, gordol. I'm already in the restore process now. I'm fine not being jailbroken.

cant install anything yet..on my 3rd attempt for folder enhancer...being patient..can't wait for bitesms and all my other tweaks!!

Keep trying, cuz i managed to install BiteSMS and BytaFont yesterday during the entire mess.

Anyone who has jailbroken their 6.0.1 experiencing any slowness or unusual behavior?

I was chatting with a guy with an i5 that was on 5.1.1 and went to 6.1 and said the lagg was so bad he was going back to 5.1.1.. but he did not save his blob's so I suggested he just stay stock on 6.1 and he would have his speed back..

What's a blob and what affect does that have on speed?

SHSH image of your current version of iOS.. Don't attempt a JailBreak without it :-)

anyone know why cant acces the apn settings

Trying to un jailbreak my ipad 4 that I jailbroke with evasion so I can take back for for a replacement, having issues with screen, but cant seem to get it to restore to factory. Any suggestions ?
?

Are you using the steps in the below article? I've had to use it on previous Jailbreaks & it worked great each time. I'm about to use it tonight to remove this Jailbreak as well. http://www.imore.com/daily-tip-remove-jailbreak-iphone-ipad-ipod-touch

It looks like Evasi0n is far to be perfect...Glad I didn't do it....I'll stay with my old one and the IOS 5.1 for a while...

Yep to buggy for me, I'm lucky if I can get my phone to boot up with the jailbreak. I'm out.

Evasion had one bug that i noticed and that was during reboot and they have fixed it, all the other problems were Cydia, and the masses trying to use it at once, everything is running smooth now 2/6/2013 5:00PM EST.

so happy that my iphone is my own again :)

Please, Please..Stop spamming!!!!

Everything is ok, except on thing......my device is geting into safe mode every time I delete an app.
What's the problem???

if my device have been jailbroken, so can my videos be copied to it easily without iTunes?
Get the best of iMore in in your inbox, every day!
Thank you for signing up to iMore. You will receive a verification email shortly.
There was a problem. Please refresh the page and try again.