How to quickly answer a call with a text using Respond With Message on your iPhone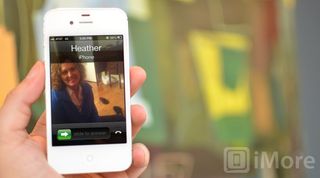 iOS 6 brings a couple of new options to the built-in Phone app, including the ability to Respond with Message to incoming calls. Basically, if a call comes in and you can't answering right then and there, with a swipe and a couple of taps, you can quickly send an iMessage or SMS instead of answering. It's a great feature for when you're busy or in a meeting and want to let someone know you will contact them later.
When you receive an incoming call you'll see the addition of a telephone icon to the right of slight to answer. Slide it upwards.
You'll now see some more options appear. Tap the Reply with Message option.
At this point the call will be declined and you'll see some options for pre-made messages you can send or you can choose custom to create your own.
Tap the message you want and you're done. The caller will be notified via text message.
iMore senior editor from 2011 to 2015.
Yeah baby, first to comment! Also, I love this iOS 6 feature.

A5 Devices Untethered Jailbreak On iOS 6 Status
http://ijailbreakinfo.com/a5-devices-untethered-jailbreak-on-ios-6-status/

It's a nice feature, but what good is this if they are calling from a landline?

How about tapping the "Remind Me Later" key?

johngirolamo: that's EXACTLY what I was going to ask. It would be nice if an automated message called them back saying I will call them back or have a custom message, that would be nice.

Allyson is there a jailbreak tweak that does this?

How does the title relate to this article? The article is telling us how to respond to an "incoming" call, not a "missed" call.

You can do this with a business land line call with retailreply.com
Thank you for signing up to iMore. You will receive a verification email shortly.
There was a problem. Please refresh the page and try again.