Apple releases iPhone-compatible SD Card Reader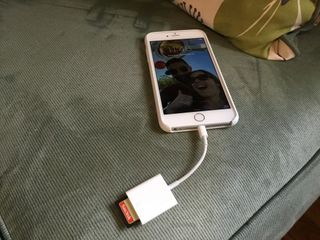 Forget weirdly-shaped silicone battery cases: The biggest new Apple product is, in fact, a revamp of the company's Lightning to SD Card Camera Reader (opens in new tab). Not only does it now offer USB 3 speeds for the iPad Pro, but all iPhone models post-iPhone 5 are supported, too.
First reported by Jeff Benjamin at iDownloadBlog, this is a huge boon for anyone who travels with a DSLR (or takes professional photographs)—no longer do you need an iPad or Mac to save photographs or video you've snapped to iCloud Photo Library or Dropbox, or share images with friends. I've been asking for this capability since the release of Apple's original SD card reader, and I am beyond excited to get my hands on it.
Apple didn't need to release a new reader to enable iPhone capability—iOS 9.2 brings compatibility to the older Lightning SD card reader—but the company's iPad-only SD reader was often sluggish with its transfer speeds. No word yet on whether Apple plans to similarly update its Lightning to USB reader, which could bring faster iPad speeds as well as MIDI instrument and extended microphone support to the iPhone, but here's hoping.
A new reader is also a great excuse to future-proof: Supporting USB 3 transfer speeds means that 4K-shot video will transfer to the iPad Pro faster than ever, and if the iPhone gets USB 3 in its 2016 iteration, the same will soon apply to the smartphone.
Regardless of Apple's motivations, I've been waiting for this little dongle for years: Between it and the Pencil, Christmas has indeed come early for my tech life.
Get the best of iMore in in your inbox, every day!
Serenity was formerly the Managing Editor at iMore, and now works for Apple. She's been talking, writing about, and tinkering with Apple products since she was old enough to double-click. In her spare time, she sketches, sings, and in her secret superhero life, plays roller derby. Follow her on Twitter @settern.
Finally lol Sent from the iMore App

Any chance this will also function as an expansion capability so that extra movies/music can be brought along without the need to copy to the iPhone/iPad? Sent from the iMore App

It doesn't look like this is made for anything other than offloading photos and videos shot by the iOS camera.

I'm guessing by the name that this will still be Read Only (please tell me otherwise!?). It's great that it will be quick at reading, but would be so much more useful if we also had the ability to save back to the SD card. Hopefully it will have the capability(?)

An early Merry Christmas to you Serenity. Nice post, thanks.
It's good to see Apple address a couple of needs with the new battery pack and this card reader today. Accessories beneficial to many users, and perfect for holiday stocking stuffers and gifts. 1. Will this card reader be a read only option?
2. Or will it act as additional storage for the device?
3. Will it work with iPads also?

According to Apple's description, looks like it's still read-only and for images and video, rather than additional storage. Should work with both iPad Pro, iPad, and iPhone 5 and above.

Thanks Serenity. Appreciate the input. :-)

Not having an SD card reader was the only thing I didn't like about the iPhone. The 3rd party ones transfer files unbelievably slowly that I just don't bother.
This is great news!!!!! Sent from the iMore App

Actually there has been a few devices that have been developed over the last 4 or 5 years to meet this need. I have had an "Airstash Wifi" device for quite a long time that reads WIFi cards(at least up to 32GB) that is great for playing movies or music with iOS devices. It will actually sync with up to at least 5 (maybe 7) different devices at the same time. (While playing different movies on each device) Great for letting the kids watch their individually preferred movies on trips on iPads. San Disk has a competitive product out for 3 or 4 years and there is a 3rd manufacturer whose name escapes me. There is an App in the App Store to manage the "AirStash" device. Recommend you take a look, if you want to increase your iOS device capacity. Especially for Entertainment purposes! BTW the battery life is very significant on the Airstash and it recharges on a USB port. Obviously you can take multiple cards so the entertainment is ENDLESS!

I have the Airstash also. Great device have used mine since the iPhone 3GS.
Before iOS 8 you could even put iTunes movies on it and stream it to iPads and iPhones. The sd reader is cool but pretty happy with what my Airstash Sent from the iMore App

RE: "revamp of the company's Lightning to SD Card Camera Reader." Revamp? I didn't even know they had a previous model.

Excellent .. So if I order one I should get the new one and not the older device? I think I'll try today.
Thank you for signing up to iMore. You will receive a verification email shortly.
There was a problem. Please refresh the page and try again.