Apple releases iTunes 10.0.1, gives Ping a boost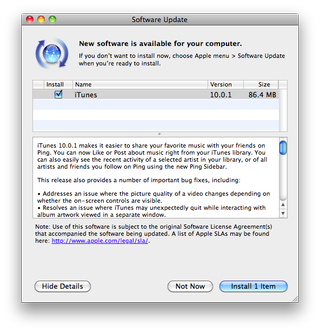 Apple has released iTunes 10.0.1,and 86.4MB update that, in addition to bug fixes, brings the new Ping social music network its own sidebar and allows you to start Ping activities right from your library.
Previously users could only access Ping via an gray icon in the gray menu list and in some cases likely just forgot it was there. Will this latest update get you to use it more?
Get the best of iMore in your inbox, every day!
Rene Ritchie is one of the most respected Apple analysts in the business, reaching a combined audience of over 40 million readers a month. His YouTube channel, Vector, has over 90 thousand subscribers and 14 million views and his podcasts, including Debug, have been downloaded over 20 million times. He also regularly co-hosts MacBreak Weekly for the TWiT network and co-hosted CES Live! and Talk Mobile. Based in Montreal, Rene is a former director of product marketing, web developer, and graphic designer. He's authored several books and appeared on numerous television and radio segments to discuss Apple and the technology industry. When not working, he likes to cook, grapple, and spend time with his friends and family.
The last paragraph sums it up perfectly for me. I always forget it exists but I will probably pay much more attention to it now that it will be visible.

I have always known it has existed, I just don't care about it. I was excited about it, until I heard about the whole Facebook dilemma. I activated it? Then immediately shut it down. I wanted the Facebook interaction.

I could care less about FB honestly. I just wish there was more to it and more bands with pages.

There are LOADS of other missing features that I would like to see before I began using it on a daily basis. This update was not really on the wish list.

@Tim agreed but I think with the sidebar it will get more people active with it and maybe then they will actually add those features! Here's to hoping!

It needs to also exist outside iTunes and I need to be able to post updates to reactivate it, and I don't want it using my complete government name on my profile, can I get a Nic.

Apple needs to get rid of iTunes, not add more useless garbage like Ping. It's already as bloated and buggy as something Microsoft would produce. They really need to work on their cloud strategy.

@geo, good point! what's with the Bla grey? how can i get excited about looking at this iTunes grey all the time?
on another note, does anyone have an issue loosing music? it doesn't happen often, but once in a while a song will go MIA. the alb cover will be there but i will loose the music file.

@Webvex
Agreed. iTunes, and especially the layering of cruft on top of iTunes, is the biggest weakness in the iOS ecosystem. This article, from shortly after Ping's initial release, goes into more details.
http://bit.ly/aFc02x

When are they going to fix the Windows Home Server issue?

I have absolutely no issues with iTunes.

Good for you Brian. Maybe everyone else is just imagining that itunes is a bloated, slow resource hog.

If the latest update doesn't fix it so that Ping no longer changes the user name to your real name for all the app store or music reviews, then I still do not have any use for Ping.

I JUST REINSTALLED ITUNES LAST NIGHT! NO 10.0.1 WAS EVER MENTIONED TO ME AT 10 PM CST!!!!

Lol @ Kyle's manic post.
I don't care about Ping. Maybe that will change one day, but not this day.
Also, I kinda hate iTunes.

Some day Apple is gonna learn how to PATCH software instead of just reinstall it every single damn time.

@Victor, yes. This would be nice.

Putting Ping on a sidebar doesn't really help it. Apple needs to better sell why the heck you would even want to use it in the first place...

I can't even get the update to download. iTunes says that 10.0.0.1 is available, but when I click to download, the button goes away, and nothing happens.

Wonder why it was only 49MB for me.

Ive just updated itunes to 10.0.1 and now i cant sync properly with my iphone 4, before the update, no problems, now it just says cant sync, cos there is a file missing ??? anybody have the same problems ?

@Sam, seems like I had a missing file in a download. I cannot recall which version. I redownloaded it again, and checked repair. That took care of the missing file.

Just installed. Tried to load it up but gave ms an error saying that it wasn't properly installed (W7). Reinstalling again....

I just updated to itunes 10.0.1 and now itunes keeps crashing/freezing when I try to browse/manage the music library on my fully up to date first generation ipod touch. Is anyone else having this problem?

Yes I have the same kind of issue since I have upgrated to 10.0.1
- my original itunes Library.itl file (before upgrade) considered as "unconsistent" and renamed during the update...
- all displaying configuration views and browsers have been reinitialized and lost.
- iTunes is very slow, close to the permanent freeze.
- some TV Shows are now considered as films
I have been using iTunes since version 8 and all upgrade have been so far quasi transparent.
The only permanent issue is the time that iTunes is systemaically rquiring to upgrade the library files after each upgrade (quiet long, more than one day for certain release)
Summing up, the 10.0.1 minor upgrade put a REALLY full mess in my library and I'm not sure at the moment to be able to go back to the 10.0.0 previous release....
Any support or feedback will be appreciated ...
nathan33

I think I have a pretty good PC ( i7930, 3x2GB RAM,RAID 0 Array etcc..)
and the ONLY THING that drags on like a dying hippo is iTUNES!!
WTF? Seriously...
It was always so slow and cumbersome to work with, so easy to wreak havoc in your music library with a single wrong click.. Everything takes forever and when the sync is on, you can't do almost anything..
And Ping? I am annoyed that I need iTunes to be able to even a song to my iPhone.. Why would I want to waste time with Ping? With Facebook, Myspace, Twitter, Wayn and all those other BS social networks I don't want to add to it by using yet another one.
If I like a band I can bet they already have a webpage, why would I need to check yet another source to make sure I know it all...
And my friends? If they like a band, they can just tell me its name,... you know like in the "olden" days..
Even I don't think that my likes and dislikes are interesting to anyone.... I guess Ping is for all those Twitter and Facebook f***s who think anyone cares...

In fine, I uninstalled the 10.0.1 release.
Renamed the iTunes Library (Damaged).itl in iTunes Library.itl, erasing the new one creating after the 10.0.1 upgrade.
Redownloaded a 10.0.0 release from http://www.oldapps.com/itunes.php?old_itunes=63?download
Reinstalled
and god sake is up and rumming after lunching the application.
Happy end to a nightmare with better time response (normally long for iTunes user <;) ) and all information in place.
But I don't know how i will be able to keep the pace with the future itunes release now ... Has anybody succeeded in upgrading in 10.0.1 from a 10.0.0 release ?
Nathan33

Folks are a little harsh on iTunes (I like the dying hippo metaphor though). I agree that Apple needs to focus on rewriting iTunes for better performance. I have heard folks say that iTunes is only bad on Windows. Really, is that an excuse to write bad SW? Or a subtle trick by Apple to get people frustrated with the PC Experience? Hmmmmnnn...

Downloaded iTunes 10.0.1 and now I can't sync my iPhone (4G).
WTF???
iTunes is truly a headache.