Apple rolls out iTunes 12.0.1 to go along with Mac OS X Yosemite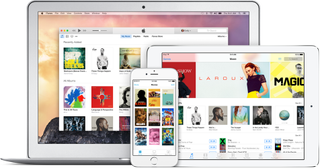 To go along with Mac OS X Yosemite, Apple has now released iTunes 12.0.1 through the Mac App Store and directly through the Apple website (opens in new tab). The update comes in at around 218MB and features many new design and performance improvements that Apple says makes iTunes more enjoyable to use.
Additionally, Apple has also released a security update with the iTunes release (opens in new tab). Security Update 2014-005 is recommended for all users and improves the security of OS X although, Apple hasn't yet revealed what has been fixed according to their update page here (opens in new tab).
Editor-at-Large at Mobile Nations, gadget junkie, energy drinker, ranter.
Praying #syncgate has been taken care of.

Doesn't seem to have for me yet. I suspect we'll need to wait for 8.1 on Monday.

So I updated and the SideBar in iTunes is gone. I really don't see why Apple removed it, its the little crap like this that gets me mad about these updates to iTunes. I hope it comes back...

No there is no longer a view show side bar, you can click view show status bar and that only view the bottom bar, sadly the side bar is gone. I submitted iTunes Feedback and maybe in a future update the side bar can come back.

It's been like that for months in the beta. I don't use iTunes much so it doesn't matter fortunately. Sent from the iMore App

Doesn't "View-->Show Sidebar" work?

Nope in iTunes 12 that option is gone now.

Just spotted this article written back in July. Not a complete fix but could be somewhat helpful... http://www.tekrevue.com/itunes-12-sidebar/

Yeah that does not work, they must have patched up that workaround since July when the article was posted. Viewing Playlist still does not show a sidebar. Hopefully future update.

Don't worry about it, after a few weeks you'll wonder why you ever needed that clunky old sidebar.

Same applies for the Finder right?

Yeah, we saw how well that worked for Microsoft...

I spent 20 minutes fighting with this: In the top-center of the iTunes window, you should see "My Music" "Playlists" "Match" "Radio" "iTunes Store" I clicked on Playlists, and it brought back the side pane. On the top right side, there is then a drop-down with Songs, Albums, Artists, Composers, Genres, which should give you back the ability to look at list, cover art, etc views again. Hope that helps someone. Also, the new red icon is hideous. It'll be positively frightening on a Retina display.

Yeah It will show a side pane, but it's still not a side bar. But thanks for that info! At least in the meantime with the steps you posted I can look a bit like how it was before.

Yeah, I kinda miss the sidebar too, but it does pop out ever now and again. Only to remind me how much I miss it.....

I just upgraded because 11.4.0.1 never worked at all. I'm so irate that the sidebar is truly gone I'd go back to version 10 if I could! Apple is turning into Microsoft with its horrendous upgrades. We shouldn't have to waste hours on workarounds for what we used to have and loved. I LIVED in the sidebar. I have no use for album art/icons or anything else. Just give me lists and playlists and show any connected/attached devices. Don't show me the Store unless I want to go there! I am literally way beyond peeved into bile-spewing, I'm so mad.

Thanks DJ Weiderman - for the helpful tip - I now have something resembling the old sidebar back again, and can see my album art in the playlist!

So, in other words, it's the Windows 8 of iTunes?

You have to select Playlist on the top bar to get the sidebar.

Apple can be such a pane :-)
Bring me my sidebar back.

Hey man, if we raise enough awareness, perhaps we can get it back. We're getting Camera Roll back (though I actually had JUST adjusted to the new way of things) so like they said at today's keynote, "we do listen to feedback".

Lots of people complained during the beta. So far they haven't done anything. But the if more people say something they might change it Sent from the iMore App

No more sidebar, no more paging for tv show seasons (very usable for shows with 10 or more seasons showing in one long list, not), terribly sluggish scrolling with big libraries, no more clear separation between store and local content, no more description text in tv show view... and, of course, of my 5 iDevices on the same network only one shows up. It is really time they replace this with something else entirely, since version 7 it only went downhill. As much as I love Yosemite, this is sheer crap.

Completely agree with you. iTunes tries to be too much and ends up behaving like a congested claustrophobic...or something of that nature.

Is it supposed to be red? The icon.

Yes. It now matches the iOS symbol. You'll get used and I like that it doesn't look as much as the App Store or safari symbol. Sent from the iMore App

When it comes to iOS I'm the person who updates ASAP, but I'm gonna wait a week or two before installing Yosemite on my 2013 13" MBP.

The last public beta has performed excellently for weeks. Sent from the iMore App

I will say it again. All sites should require everyone who writes an article to not only use their name but also their real pic. By allowing them to not use their pic and/or name, it makes the site look more like a kid's site and not a site to take seriously. No one who hides what they look like or uses a fake name has ever written anything worth reading. This includes this article by this wannabe editor.

I'm constantly getting a app store update for the new iTunes after I upgraded to Yosemite last night, iTunes is showing the latest version but the update link won't go away. I can't stand these new changes.

On Windows Vista, iTunes 12.0.1 causes buffer overflow exceptions and Data Execution Prevention notifications upon closing the program. Admittedly nothing new, been happening since 11.2. For those running Vista I can only recommend 11.1.5 or lower.

I live in the playlist view anyway, sorted by song, and by date added. A few clicks after the update and iTunes looked practically like it did before. The only difference are the horizontal icons across the top of the sidebar for other media, and the absence of a connected device (iphone, etc). I've a very large library and I can already tell this new version is handling more easily than previous versions.

Jony Ives should stick to hardware, I think. he admires windows too much. I hate this new flat design. its ugly, imo. and iTunes has a new interface now that I find confusing and harder to use. I liked the old one better. Don't fix what ain't broke, is what I say. your mileage may vary.

The latest version of iTunes 11 crashed on exit every time and 12 is continuing the trend. What is Apple's problem lately??

i want the side bar back. was just getting to know i tunes, now im lost again

If you're running Vista, install 11.1.5 or earlier.

Question. How do you combine songs into 1 album. I have an album that shows up 5 times, each with a few of the songs in it. I could fix this in earlier versions but making sure Album Artist was the same in all songs but this doesn't work anymore. I would ask in Apple Forums but they seem to be (semi)permanently down. Thanks, Tom
Get the best of iMore in in your inbox, every day!
Thank you for signing up to iMore. You will receive a verification email shortly.
There was a problem. Please refresh the page and try again.