Apple should steal these six Google Pixel 6 features for iPhone 14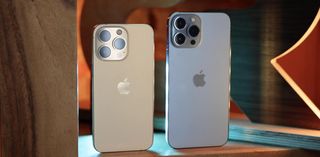 (Image credit: Rene Ritchie/ iMore)
Techtober is almost over, and there has been a lot to take in. For those of us in the Apple community, the last few weeks have been all about Apple's 2021 MacBook Pro and iPhone 13 models, though there have been plenty of announcements from other tech companies to pique our interests too.
One such event that really grabbed my attention, even as someone all-in on Apple's ecosystem, was the Google Pixel 6 launch. With Pixel 6 and Pixel 6 Pro, Google has clearly taken some inspiration from the best iPhone models, but it's clear too that Apple could learn a thing or two from the latest flagships out of Mountain View.
Great artists steal
Let's start by looking at some of the ways in which Pixel 6 has benefitted from the trail Apple has blazed.
The first and most obvious area is in the silicon. For Pixel 6 and 6 Pro, Google has taken to designing its own system-on-a-chip for the first time with Google Tensor. Ditching the Snapdragon processors that dominate the Android space in favor of its own chip is a big move for Google, and CEO Sundar Pichai reckons Tensor is Pixel's biggest innovation to date.
Having a chipset that is custom-made for your device and your OS has proved to be a huge advantage for Apple, and it could also serve to differentiate the Pixel line in a competitive Android marketplace. It has also allowed Google to guarantee five years of Android security updates for the Pixel 6. That's not quite on par with Apple, but it's certainly an improvement.
So excited to share our new custom Google Tensor chip, which has been 4 yrs in the making (📎 for scale)! Tensor builds off of our 2 decades of computing experience and it's our biggest innovation in Pixel to date. Will be on Pixel 6 + Pixel 6 Pro in fall. https://t.co/N95X6gFxLf pic.twitter.com/wHiEJRHJwySo excited to share our new custom Google Tensor chip, which has been 4 yrs in the making (📎 for scale)! Tensor builds off of our 2 decades of computing experience and it's our biggest innovation in Pixel to date. Will be on Pixel 6 + Pixel 6 Pro in fall. https://t.co/N95X6gFxLf pic.twitter.com/wHiEJRHJwy— Sundar Pichai (@sundarpichai) August 2, 2021August 2, 2021
Though skewing larger than Apple's lineup, the fit and finish of the Pixel 6 devices appear very Apple-like. With a matte frame on the lower-end device and a shiny, polished finish for the more premium device, the looks are reminiscent of Apple's iPhone XR and iPhone X lines of years gone by.
Other nods to Apple in the Pixel 6 presentation include mic and camera security indicators, almost identical to those introduced by Apple in iOS 14, as well as a feature called Quick Tap to Snap that functions just like Apple's customizable Back Tap but only serves to open the Snapchat app on Pixel 6.
There's nothing wrong with Apple and Google jumping off of each other's ideas, and, in fact, I think there's plenty in the Pixel 6 that Apple should pay attention to.
Colors
Call me shallow, but I'm incredibly disappointed by Apple's current implementation of color in its products. It's actually kind of a mess.
On the M1 iMac models, we have stunning, bright colors that harken back to the iMac G3 and offer fun choices for every — and a silver option for those that don't want something so standout.
But on its mobile devices, Apple has dropped the ball on color completely. The iPad mini models may as well all be silver, the Apple Watch Series 7 hues are basically all gray in most lights, and even the colors on the iPhone 13 became more muted this year outside of the red model. As recently as this month, we got mixed messages with new HomePod colors launching alongside MacBook Pros in gray or slightly more dark gray hues.
That's not the case with the Pixel 6, which offers a gorgeous palette of colors across the lineup with some really interesting color combinations. People like colorful things and, more than that, they like choice so let us choose, Apple!
Camera bump
Though visually a little jarring, I think the Pixel 6's "camera bar" is a genius idea. If we want the best cameras in our pockets, we're going to have to accept that camera bumps are here to stay. Instead of trying to hide away from the fact that cameras on phones are getting pretty big, Google embraces it and makes it a feature of the design.
On the other hand, Apple has kept the camera layout unchanged on its iPhone 13 models and instead just made it larger, so much so on the iPhone 13 Pro that it interferes with accessory compatibility.
The iPhone's camera bump is in the top corner of the back of the device, but it probably shouldn't be anymore. Moving to a camera bar means Google can spread out the camera hardware a bit, making room for a super interesting Telephoto camera with folded optics. It also has the added bonus that the phone won't rock when used on a flat surface since it extends across the whole of the device's width.
Always-on display
This feature isn't new with the Pixel 6 and has been around on Android for years, but an always-on display seems a given to come to iPhone soon. In fact, it was rumored for the iPhone 13 but never materialized. Apple has nailed the always-on screen in the Apple Watch, so the iPhone is the next logical step.
I'd love to see Apple bring over Apple Watch-style complications to the iPhone screen for glanceable information. With OLED screens in the latest iPhone models, it wouldn't consume a great deal of power, and it would certainly help me lower my daily screen time and maybe even save me battery life overall.
Under-screen fingerprint reader
For the most part, Apple has ditched Touch ID on the iPhone in favor of Face ID. While I don't have any major usability issues with Face ID, I know some folks do.
Touch ID hasn't gone from all Apple products, though. It has stuck around on the iPhone SE and has been included on recent iPad models including the iPad mini 6 and iPad Air 4. Touch ID even ships on the latest MacBook Pro models releasing this week.
It's been rumored that Apple intends to bring Touch ID back to the iPhone by integrating it under the display. That's exactly how Pixel 6 offers its fingerprint authentication, as have other phones before it, and I think the technology is advanced enough now where it meets Apple's high standards. If it was added to iPhone 14 as a supplementary feature to Face ID, that would be even better.
Price
This one can definitely be filed under "wishful thinking," but I am very impressed by the Pixel 6 pricing. Google is offering a lot of phone for $599, and even the $899 price tag of the Pixel 6 Pro shows Apple's pricing up. I'm aware of the difference in business models between the two companies, and Apple's intense focus on maintaining a hefty profit margin on its products, but competition in pricing will only benefit consumers.
I would love to see Apple and other phone makers bring their prices down to try and compete with the Pixel, though I can't really see it happening. Google has made great strides, but Pixel is still a niche choice, and Pixel users make up a tiny proportion of the overall phone market. But at $599, that might change.
Fresh software thinking
iOS 15 feels a little stale. iOS 14 was an iterative update to iOS 13, and the 2021 release just doubled down on improving foundational experiences rather than offering new features.
That doesn't mean there is nothing but bug fixes in iOS 15, but it's a release that serves to polish an already-fleshed-out iOS experience rather than reinvent the wheel.
With Android 12, especially on Pixel 6, Google is pushing the envelope both in design and functionality. iMore's Christine Chan already went over 5 Android 12 features iOS should steal, and I can't say I disagree with her assessment.
Get the best of iMore in in your inbox, every day!
Adam Oram is a Senior Writer at iMore. He studied Media at Newcastle University and has been writing about technology since 2013. He previously worked as an Apple Genius and as a Deals Editor at Thrifter. His spare time is spent watching football (both kinds), playing Pokémon games, and eating vegan food. Follow him on Twitter at @adamoram.
If I wasn't all in with Apple ID get a Pixel 6 myself. Android is still a mess when it comes to handoff though because it's so convoluted. Nice phone though!

I'm so tired of that "great artists steal" line, which was one of the stupidest things Jobs ever uttered and is an utterly offensive notion that originates with Picasso who was a world class a-hole. Beyond that, a lot of the ideas here are good, but have nothing to do with Pixel 6. Like the fact that the colour choices are bad or that iPhones are over-priced. Configurable, customisable software is also something that people have been begging Apple to do since forever and has nothing to do with Google specifically or the Pixel 6. The only idea here that is directly attributable to Pixel 6 is the "camera bar" and adopting that is an absolutely *horrible* idea. The rumour is that next year's iPhone camera bump will disappear completely and that is a much better solution than a bar or a bump. Apple (and Google) have been working on periscope cameras for ages now and it's possible that next year is the year they will appear, ending the reign of the camera bump for good. Even if it takes a couple of years, it certainly means that camera bumps are NOT "here to stay."

Under screen finger print reader? No. Apple implements a much better Face ID but pays for this with screen real estate, a notch. Face ID implementation, under current tech, is going to be inferior without a notch. Keep the notch, stay with best Face ID and no to under screen finger print reader (watch videos on the under screen fingerprint reader when you have some moisture or sweat). Apple's bio access is excellent but cannot make everyone happy. Google can charge less for a phone because they have guaranteed post sale revenue through data collection(which you absolutely must know). They can even take a loss on the phone, Apple can't. While I prefer data privacy, some don't mind giving up data for cheaper cost. That's each individual's choice. But when articles are written without pointing this incredibly pertinent fact out, you are opting for all story and little hard fact. (doing readers a disservice on informing them).
Security updates for 5 years is probably best in class for Android. Google gets points for that especially as there are countless millions of Android phones that are much more heavily exposed to security vulnerabilities(another piece of hard information not mentioned). But security updates are not OS updates. So not only will you have inferior OS after a couple of years onward, and not only will you have a phone with significantly less secondary market value, you'll have a quantified superior product with, the gold standard, in an iPhone. (Tensor being "custom" is drawn as the A15 equivalent? Oh sure..). But, um, yea, like why can't Apple just like charge what Google charges, ya know? So many in the tech press pass over a lot of hard information that needs to get to readers in favor of more words for a good "story". A story is good but hard info is too. The examples are above and here is another: in homage to what's called reality, the pixel is competing against and would take any market share from other Android makers such as the Samsung Ultra 21 (another phone that is demonstrably superior to pixel). Yet there is virtually no ultra 21 vs pixel comparisons. Now Obviously this is an Apple centric site so deference on that. And the iPhone is the gold standard smartphone so comparisons always start there — and Anyone vs Apple is a good "story" — but the actual reality isn't worth any words? Again most Pixel buyers will be Android users who may or could opt for the Ultra 21 (or vice versa). At least a sentence or two of that hard information that readers can use especially that small minority thinking of switching from iOS to Android. Unfortunately it's to often about the story versus hard useful info.

No thanks. The Pixel 6's fingerprint scanner is slow and unreliable, fans are already raging about it. Camera bump should recess into the phone rather than stick out, looks hideous. I do agree with the lower price and Always on Display, but I will counter that by saying my Apple Watch is my AOD and my notifications hub anyway so it's moot if you go all in w/Apple devices.

I think the camera bar will make it harder to hold the phone in the landscape orientation.

Always on display and under display fingerprint reader(faster than pixels) is all that's needed.

As someone who used an under screen fingerprint sensor on my Android phone before switching back to iPhone: Face ID >>>>>>>>> Under screen fingerprint sensor, any day of the week. I'm honestly floored with how well Face ID works for me, and how seamless any authentication interaction is. The one exception is, of course, with masks, but that should be a temporary issue. I also have an Apple Watch which provides a bypass with a mask, but I realize that requires an additional purchase. All that said, I'll take Face ID over fingerprint sensors any day. Also, big +1 to always on displays. I'm surprised it wasn't offered on the 13. Maybe iOS 15 will implement them, and for previous models as well (no reason it can't for OLED screens).
Thank you for signing up to iMore. You will receive a verification email shortly.
There was a problem. Please refresh the page and try again.