Apple UK iPhone Upgrade Program: Everything you need to know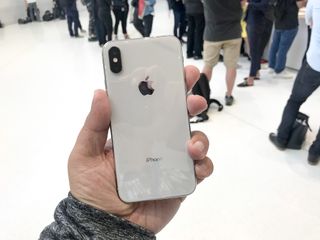 (Image credit: iMore)
The iPhone isn't cheap, that's not new, but especially in recent times the UK market has seen the cost of Apple's handheld now reach unprecedented levels. £699 for the lowest priced iPhone 8 is a lot of money to drop at once, but before you go running to your carrier to subsidize the phone on a new contract, there is another way.
The iPhone Upgrade Program. Here's what you need to know.
What is the iPhone Upgrade Program?
An in-house arrangement with Apple whereby you pay for your iPhone in monthly installments, interest-free. After 11 months you're eligible to upgrade and get that year's new iPhone as part of the program.
A new iPhone every year?
Yes! You're under no obligation but every year you can trade in your existing phone after you've made 11 monthly payments and begin a new agreement on a new phone.
Which phones can I get?
For 2017 you'll be able to get the iPhone 8, iPhone 8 Plus and iPhone X. iPhone 8 availability begins on September 15 when pre-orders open, iPhone X follows October 27.
So how much do I pay?
There is an initial payment of £69 on the day of purchase with the rest of the phone's cost spread out over 20 months with no interest to pay. The table below outlines how much each monthly installment will be for each of the new iPhones.
Swipe to scroll horizontally
| Storage | iPhone 8 | iPhone 8 Plus | iPhone X |
| --- | --- | --- | --- |
| 64GB | £37.95 | £43.95 | £56.45 |
| 256GB | £45.45 | £51.45 | £63.95 |
How do I upgrade?
After 11 months you're eligible to get whatever the newest phone at that time is. There are terms and conditions but essentially you take your existing phone back to Apple, trade it in and start a new agreement for the new phone.
Can I upgrade earlier?
You can indeed. The minimum requirement is that you've made 11 payments on your current plan. If you wish to upgrade earlier you simply have to contact the bank providing the finance agreement (currently Barclays) and make a payment that will take your total to 11 months.
Can I leave the Upgrade Program at any time?
As the Upgrade Program is a loan agreement, to leave you simply have to settle the outstanding balance in full.
Will my iPhone be unlocked?
Absolutely! It can be used with any of the UK's carriers just as if you were buying it in full.
Does it come with AppleCare+?
It most certainly does. Every iPhone Upgrade Program agreement comes with full AppleCare+ for your iPhone for the duration (it's actually required as part of the plan).
Can I sign up online?
iPhone Upgrade Program is only available in an Apple Store. You'll need to take your bank details, photo ID and your current iPhone if you're trading in. You can, however, pre-order a new iPhone online from September 15 and then enroll in the program when you go to collect the phone from your local Apple Store.
Can I use this even if I have a carrier contract already?
Of course! The iPhone Upgrade Program is simply a way to buy an unlocked iPhone without having to pay the full amount up front. You enter into an agreement with Apple that is completely separate to any arrangements you already have with a carrier.
For more details, hit up Apple's dedicated iPhone Upgrade Program homepage. (opens in new tab).
How fast is the ordering process if using the upgrade program? I can either buy outright or use the program and I'm concerned that sorting the finance will mean an added delay vs just paying via my credit card which is on file. Is the finance arranged upon collection?

Yeah the financing is done in store. When you go in the branch they scan your ID, take some personal details, which goes through to Barclays. The decision for the loan is usually within a few seconds. Adds about 5-10 minutes to the overall transaction.
Thank you for signing up to iMore. You will receive a verification email shortly.
There was a problem. Please refresh the page and try again.