Apple Watch Series 3 FAQ: Everything you need to know!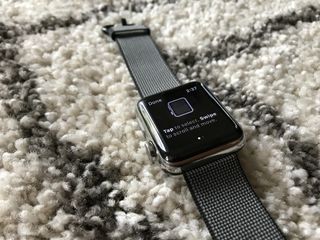 (Image credit: iMore)
At the Sept. 12 Apple press event, the company unveiled the next generation Apple Watch. The changes are big and they're on their way to a wrist near you. Here's everything you need to know!
So there's two different Apple Watches now?
Yes. Apple unveiled not one, but two new Watches to the lineup. The first is a more standard version of the Apple Watch with updated hardware and GPS. The second is a stand-alone Apple Watch with cellular support.
That's right: You'll be able to perform some additional functions with the Apple Watch Cellular that you can't with the standard Apple Watch, like make and receive phone calls, stream Apple Music, and a lot more.
What does the cellular model do?
The cellular Apple Watch uses what's called an eSIM card - a card that's one-hundredth the size of an original SIM - and it works great to allow data transfer over the air. Apple specifically mentioned that you will be able to do the following with the new model:
You can make and receive a call using the same # as your iPhone
You can receive SMS messages without your iPhone
You can use the Maps app for directions without your iPhone
Find my friend switches to your Apple Watch when you don't have your phone
Chat apps like WeChat and Snapchat work without your iPhone
You can stream Apple Music on your wrist without your iPhone
Siri can now talk
Additionally, both Series 3 models will include a Barometric altimeter for tracking elevation for such activities as skiing and snowboarding.
Some information we've received is that certain carriers will allow you to receive SMS messages on your Apple Watch Series 3 without your iPhone, but won't let you send them. We're looking into this.
You'll be able to add cellular service to your Apple Watch from the following internet providers in the US:
ATT - $10 with your current iPhone plan
Sprint - Unknown at this time
T-Mobile - $10 with your current iPhone plan
Verizon - $10 with your current iPhone plan
Both the GPS and cellular models of the Series 3 will also be available in other countries, and you can check out Apple's full international carrier list here (opens in new tab).
What's changed in the shape and size of the Series 3?
Nothing! The shape and size of the Series 3 is the same as the Series 2. There is a new color, however - in addition to space gray and silver, the Series 3 comes in a new aluminum gold.
Both models have the W2 processor chip that helps with both speed and battery consumption. The dual-core processor is 70% faster than the Series 2.
It still gets the same battery life, even though the cellular model uses more juice.
So, it's faster? Has a longer battery life?
Yes to both. The W2 chip puts some speed and longevity improvements under the hood of the Series 3. The cellular model still gets the same speed and battery life as the standard version.
Will the Series 3 and Cellular models fit my current Apple Watch bands?
Thank goodness, they will (I can hear Rene Ritchie's sigh of relief right now). The smart connection for the bands remains the same. 38mm and 42mm bands will continue to fit on their respective casings, whatever series you have (including Series 0).
Is there a special edition version?
Apple didn't come out with a brand new Edition but did add a fancy new color to the current ceramic color. It's called gray, but it's more like the space gray Apple colors (almost black).
How much is this beauty going to hurt my wallet?
The standard Series 3 Apple Watch has dropped in price by about $40 and now starts at $329. The Cellular model starts at $399. Apple will continue to sell the Series 1 Apple Watch at a new lower price of $249.
When can I get it wrapped around my wrist?
You can preorder the Apple Watch Series 3 standard and Cellular on September 15. The cellular model will be available in stores starting September 22 in the US, Australia, Canada, China, France, Germany, Japan, Puerto Rico, Switzerland and the UK. The standard GPS model will be available on the same date in Australia, Austria, Belgium, Canada, China, Denmark, Finland, France, Germany, Hong Kong, Ireland, Italy, Japan, Luxembourg, Netherlands, New Zealand, Norway, Portugal, Puerto Rico, Singapore, Spain, Sweden, Switzerland, Taiwan, the UK, the US and US Virgin Islands; and then on September 23 in UAE.
What about the Series 1 and 2? Can I still get one?
Apple is keeping the Series 1 in the lineup as the low-cost entry-level Apple Watch. Because it doesn't include GPS tracking or "swim proof" water resistance of up to 50 meters, Apple can keep the price to just $249. The Series 1 is only available with the aluminum case and Sport band.
Any questions?
Do you have any questions about the Apple Watch Series 3 and LTE? Put them in the comments and we'll fill you in as we find out more.
Lory is a renaissance woman, writing news, reviews, and how-to guides for iMore. She also fancies herself a bit of a rock star in her town and spends too much time reading comic books. If she's not typing away at her keyboard, you can probably find her at Disneyland or watching Star Wars (or both).
Do we know if Series 3 Apple watch will be ordered through cellular carriers, presuming yes, but just wondering.

T-Mobile has already announced you can order through them.

What if I have stainless steel series 2 Apple Watch, which start showing spots under screen and I need a replacement? ( I do have apple care)
They no longer will carry series 2 and series 3 aluminum is only available in cellular option. Will I'm gonna get replaced/upgraded to series 3 aluminum cellular? That would be sweet :)

Apple usually keeps refurbished models of discontinued products around for exactly that purpose.

Serise 3 aluminum is available without cellular
It comes with gps
Or gps and crllular

Hi! I see in the cellular operators list only US companies. What about the rest of the world? I'm located in Estonia (small country in 🇪🇺), does that mean that I will not benefit of the calling and internet functions? Thanks

Hey, thank you for your comment! We've updated the article to include information regarding other countries outside of the US.

Hi all. First of all sorry for my English. My question is I will be in USA in a week but I'm living at France, can I buy I watch cellular from USA then can use it in France with my mobile operator?
Thanks

So I guess you still have to have an iPhone in order to make use of the cellular then? It's not like you can replace your iPhone and only use the Apple Watch?

Similar question. I have an iPad though it is not cellular enabled. I'd like to have a smart device that just brings in phone calls and text messages, without all of the other distracting apps that you can get on your iPhone. Can this watch function as a basic, standalone cellular device?

Do we know anything regarding WiFi connectivity? I know I saw it had faster WiFi I was hoping that meant 5GHz connectivity. Also what version of bluetooth is it using?

This might be more of a Verizon question then an apple question. Does the iwatch 3 require a line charge from Verizon to use LTE?

I'm sure it does - every other smart watch with cellular connectivity does on Verizon, AT&T, etc.

I checked with Verizon this morning. $5/mo additional line charge per Apple Watch. So $60/yr. I'm really disappointed with Apple's decision to only offer the Series 3 stainless steel with cellular. I have a Series 1 stainless now. Now that I have to get cellular in order to get stainless, I will see if I can still get a Series 2 stainless at my local retailer. If not, I guess I've bought my last Apple Watch as I don't want Aluminum as it scratches to easily and I'm not paying more per month for cellular. Apple drastically narrowed my options.

The cellular watch is only $30 more for purchase price, and you don't have to sign up for cellular service with it. You could just buy it and not activate LTE for it. While I admit it's crappy that you'd have to pay a $30 premium to get your preferred case material, you certainly don't have to sign up for a recurring monthly payment.

Can you turn on hotspot on the iwatch and allow other devices to connect using it?

I back this question - this would be a killer-feature to me. Can anybody share some insights on this?

When you add iwatch 3 to your phone plan does it just use the minutes/data you already have with no additional charge or do you have to add it like you would a new phone on the same account?

new phone line with its own pool of data/mins/text plan

At the presentation they said you would use your same phone number.

I'm working at mobile phone companies. We think the watch will work as follows:
Apple will deliver the watch with an unregistered sim in it. So you can buy it from Apple store and do not have to state (or inform) your carrier. The process to register it is done ONLY with an iphone with a valid SIM / calling / data package in it. As you set up the watch with the phone, the watch reads your sim card info in your phone and clones your SIM into the watch. [We already 'clone' your SIM if you want to have a SIM in your ipad same as your phone] Then when you call from the watch or the phone, the carrier / network cannot tell which SIM /device you are using (since both SIMs are the same). Only problem then is, if someone calls you which one rings? Iphone / watch has to solve this problem itself since the network will make all devices ring / able to answer. Apple has named a set of carriers who they have agreed this process with - but probably all carriers support it.
My only doubt is that 'cloning' can also be used by fraudsters - so sometimes carriers take care to block it - and this would block iwatch too if not worked around. If carriers can tell you are using a watch they may choose not to charge you more since why would they care? Take care to remove the cloning if you sell the watch :)

Hey northerneye! You are addressing what I have been searching for. I have recently signed with xfinity mobile and would like to figure out how to connect the apple watch to that service. I really don't need the phone number-sharing but just want to be able to connect the watch to the LTE network without my phone. Any more wisdom on this subject? Thanks!

There's no such thing as an iWatch.

I would like to know if I can make phone calls on the new watch, with out owning an iPhone? Can the watch be a stand alone device?

yes, digits allows you to mimmic your current iPhone number, however there will be a standalone phone number issued to the wearable. In this case, you can have a stand alone device.

You must have an active carrier plan with an iPhone to use the Apple Watch Cellular + GPS as a cellular device. The carrier plan will be an additional price (probably about $10) to your current iPhone plan. There is no way to (legally) activate a cellular plan on the Apple Watch without an iPhone.

Can you tell me if the apple watch series 3 wll work with Iphone 7 if so, how do you connect them?

Will I have to upgrade to the Iphone 8 or can I still use my Iphone 6+

You will be able to use 6+.

I believe "Mobile" should actually be T-Mobile under- You'll be able to add cellular service to your Apple Watch from the following internet providers in the US:

I noticed that Apple Series 3 with cellular states in the fine print that it does not support roaming. However, if I have a Canada-US plan that is based in Canada will my Apple Series 3 watch with cellular still work? Is this because there is no way to enable roaming independently on the watch via settings? Do you think this will change? I am in the US at least once a week (living in a border city).

What phones does the cellular version work with? Specifically, does iPhone 6 or later include the SE?

Do you know if the latest version of Watch OS 4 or the new Watch 3 will include auto start/stop when riding a bicycle? It seems to do it when running or jogging.

They haven't announced if they are working with the rest of the world about the cellular option right?
They should at least tell us if they are working on it or not no? at least we have an expectation :(

I really like that fact that the watch arms on the cellular version of the series 3 are red. Will the ability to have that watch face with the red hands come to all Apple Watches when WatchOS 4 comes out?

It is amazing that as a avid Apple fan I am still, 2.5 years in, not tempted to upgrade my original SS Apple Watch.
I wish they had done a thinner non-LTE version.
Yes I know my original is dog slow, but all I want is a skinnier form factor.

Interesting, I also have a series 0 (black stainless steel with black stainless steel band) and am still very happy with it. OS 4 will make it feel like a new watch.

Watch OS4 significantly slows down the performance of the watch. I have the same watch and an Apple Dev account with access to the software early.

You can add another question/answer to your FAQ: What is the cost of a data plan for the Watch3? Since it will be using your current phone's number, is it going to have access to that number's data plan or will the carriers require you to have a second data plan just for the watch, or charge a fee for access to your phone's plan since you will be using a second, separate device? My bets are that this is going to cost money.

Can I play podcasts without my phone?

At launch, no. Apple may add support for podcasts with the Cellular + GPS model in the future, though.

My husband is severely hard of hearing and has hearing aids which connect via Bluetooth to his phone so He can listen to everything including music, phone calls, podcasts on his hearing aids.
I now this is a question for ReSound but is it possible For them to use Apple's app interface to support this? (Maybe only Apple and ReSound can answer this.) but he uses his watch for so much this would be terrific.

I'm sorry I don't know more information, but from what I could tell in researching, it appears that yes, a Bluetooth connected hearing aid should work just fine with Apple Watch 3 directly. I'll look into this further and try to come up with some detailed answers for you.

Ist it possible to measure your Glucose Level with the Apple watch 3?

How do the new sport loop bands attach? Is it velcro like?

It's almost exactly like Velcro. It's called hook and loop, which is the generic name for Velcro.

How come we can only purchase a stainless steel Apple Watch Series 3 with cellular? I really don't need cellular but don't want to switch (from my original Watch) to an aluminum Series 3 to get GPS only. Or is it likely the stainless Series 3 with GPS only will come later?

Any word on how this will be handled with company provided iPhones? No way in **** my company fronts $10/month for the 400 people within the company that have an Apple Watch. Ideally I would like to be able to pay separate and still have the same number and sims tied.

Same question I have. I am on a corporate phone (Verizon), I doubt we will be able to take advantage of the LTE version. Sadly I would happily pay for the service, but many companies don't have that capability in place.

I'm in the same situation. I'd gladly pay the cost directly to Verizon if that was an option.

I have the same question. I would like to pay separately (and have no issue paying the same carrier) but would like to ensure I can link the watch to my phone number. While my company has no issue with the number linking (I have it already to my personal iPad) they do not want to deal with tracking a personal reimbursement collection from employees and thus the cost needs to be paid directly from a personal credit card, etc...

I have the same question! I need the watch cell service associated with my company iPhone, but billed to me separately. Help!

This is not an option. Your Apple Watch cellular plan will be tied directly to your iPhone plan. Sorry to hear that your company won't cover the additional upgrade.

Can you purchase an LTE Series 3 and Not activate the LTE? I am assuming it has a bigger battery, and you might possibly get two days of normal use out of it if you can disable or never activate LTE.

I have the same question regarding the LTE service. If I buy a Series 3 + LTE and decide after a month or two to no longer user the cell service portion of it, does the watch still work as if I had bought a watch without the LTE service? I'd like to buy the LTE version and have the flexibility to decide later on that I might not want the cell service.

I just found this article http://www.zdnet.com/article/heres-what-you-need-to-know-about-the-new-a... which states, "To be clear, users who purchase the Series 3 model with cellular connectivity are not obligated to activate it on a wireless plan."

Anyone has some insight about Telus? When would "later this year" be?

Did anyone confirm if the Watch 3 can support LTE and a bluetooth connection at the same time - so you can take a call with a BT headset. It seems like tables takes, but it would be battery intensive and I noticed that Apple promoted using the watch solo with really very decent audio off the watch itself.

I'm getting the Samsung Gear S3 Classic to use with my iPhone 7 & my SGS8. It's stainless steel & I think it's the best Smartwatch today. I think it's much better looking than the I-watch & does it All.

@Pluka471, I think I saw some battery life numbers around taking a call over bluetooth (from the watch) vs. taking a call directly from the watch in Apples documentation; so that would suggest "yes". Also, it can definitely stream Apple Music over LTE, and listen via AirPods at the same time. They mentioned that on stage.

@Proto732. Great. I missed the comment about streaming music over LTE to the AirPods, so it makes sense a voice call is not an issue. Thanks.

2 questions:
. If I buy the iWatch 3 LTE and link it to Verizon, can I later switch it to AT&T?
. Can you stream Pandora, Spotify, etc. or only Apple Music?
Thanks

I have the same first question.

Your Apple Watch Cellular + GPS will be linked to whichever carrier you have. You can't separate them. If your iPhone is on AT&T, your Apple Watch has to be, too. If you're on Verizon, so is your Apple Watch. So, you can switch Apple Watch carriers as long as you can switch iPhone carriers. As for streaming music, currently, there are no apps that support onboard streaming for Apple Watch, but that may change.

What about having an iPhone? I have a Samsung S8+ but want the iwatch 3.

unfortunately you're gonna need an iPhone for any apple watch

Ordered my aluminium Grey Series 3 with cellular at 3am. Will receive it on Sept 25th! Can't wait :) Will have to sale my 0 series.

I was told today by a Verizon rep today that you cannot buy the Apple Watch as a "stand alone" device. Meaning, you cannot replace your phone with your watch because they couple the phone number to your current cellular plan. Based on some of the comments here, it would appear he is right? Any thoughts from the group on this?

Can one use Apple Pay With Apple Watch s3 cellular without an iphone? I have done some searching.. havent been able to find the answer..
My intuition says no since it may need the secure envlave on iPhone..
I hope im wrong!
It will be so cool if apple pay does not require the iPhone..

Does anyone know is it possible to buy the LTE version Series 3 and try it out, but later change your mind and only use wifi with it? Will it still work? Also, someone said on here that Verizon is charging $5 per apple watch added to plan but everything I see in the news is $10 per apple watch

Can Applepay be used on the Applewatch series 3 cellular independent of the iphone ?

My bad... i found out....Apple pay is independent of iphone even on s1 and s2 apple watches... so surly 3 will be too.

So why the delay of the Nike Watch edition and when will it be actually coming out. Apple has a mysterious shipping 10.5.... which means what exactly? Oct 5? Middle of October? My head hurts. Also, as I am thinking about taking up running, and don't want a phone on me... what is the difference advantage of waiting for the Nike Edition vs just ordering the standard Apple 3 LTE version and using a Nike App on it instead? Thanks in advance.

I believe it is a date, Oct 5th..!

Can you pair your Apple Watch 3 Cellular with your car like you would your iPhone? So that the car can use the watch's cellular capability for certain functions, and you can stream music from your watch through the car's stereo? Also, and most important, so you can take calls from your watch through the car.

Is there a way to pick a particular contact to send sos or make emergency call to? .. and not all emegancy contacts with apple watch 3 and cellular ?
(It has to be in the sos touch free mode since wet screen does not respond to touch )
I windsurf/kite in many locations.. and i have different lifeguard stations i like to be able to contact depending on where i am.... not all.

Is it possible to use all the features of the Series 3 + Cellular without a cellular contract? Like how my current iPad with cellular works with out having my tmobile plan anymore. I'm considering getting the Series 3 + Cellular so that I have the option to add cellular service later on down the road but still be able to use wifi in the mean time, minus the ability to make calls. Who cares about calls any way? I haven't placed or made a call in a decade thanks to Apple's iPhone. lol

I came here to post the same question.

I rely on Messages a lot and the continuity of any particular conversation. Currently my series 2 watch carries over any Messages transcripts in entirety. I'm wondering if the series 3 will sync Messages in entirety if the devices are in different locations. For example if I left my phone at the office while I went for a long walk and I did some messaging on the watch, would there be real time updates on my phone back at the office and would all of the back and forth messaging occur on both devices?

T-Mobile is having activation problems with watches purchased directly from Apple. They are working to fix this but don't know how soon. They suggested trying to activate again on Monday.

Can you buy the series 3 watch and NOT use the cellular? I'm interested in playing music. The Series 3 apparently doesn't stream music.

Can anyone tell me if the 3 with cellular will work with my iPhone on Straight Talk?

No. It will only work with the 4 major carriers in the US.

Good Day - Hoping someone could answer - If I get the cellular model can I use it without getting the cellular service at this time? Thus having all the same features as the gps version- Then I would activate service for the watch at a later date when ready? Thank you for your time and support. Best, Chris

yes you can, I got one for my wife and she is using it the same was as previous Series 2, kinda standalone only connected to iPhone via Bluetooth. Later we will get her a plan once there are more common and less expensive.

Do you have a list of 3rd party apps supporting Apple Watch 3 cellular function?

Can we skip cellular activation on Watch 3 if the carrier is not supported?

If I have Call Forwarding turned on on my iPhone — would the Apple Watch 3 still ring when my number is called?
Thank you for signing up to iMore. You will receive a verification email shortly.
There was a problem. Please refresh the page and try again.