Apple Watch accessories we're most looking forward to!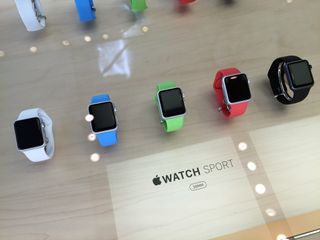 From stands to third party bands, tons of companies are pulling out all the creative stops for the Apple Watch. Whether you want to design your own custom bands or you need accessories that are more geared towards health and fitness, the Apple Watch isn't even out yet and all of the above is already in the works. Here are just some of the accessories us here at iMore are most looking forward to in the coming weeks and months!
HiRise by Twelve South
The HiRise dock by Twelve South will give you easy, elevated access to your Apple Watch while charging it. Just run your Apple Watch's magnetic charger through the HiRise and you're ready to go. The HiRise will be available in both silver and black and you can sign up for notifications on when you can order one via the link below.
Click
Click is a successfully funded Kickstarter campaign that functions as a band adapter for Apple Watch. When using it you'll be able to use any 22mm watch band with your Apple Watch. Click comes in stainless steel, aluminum, and a plastic polymer blend. You can also get bands for your Apple Watch through Click as well.
$14.99 and up - Preorder now
Luxury Pocket Stand by Pad and Quill
If you're looking for a stand that's a little more unique, Pad and Quill gives you the choice of three high quality wood finishes; cherry, mahogany, and walnut. Each finish varies in price but all of them look absolutely stunning. There is a cutout for your Apple Watch charger as well.
Casetify custom bands
Casetify already lets you customize cases for all kinds of devices, including iPhone. Now you can also customize your very own bands for the Apple Watch. You can shop existing collections or use your own Instagram and Facebook photos to create designs that fit your personal style.
Pricing varies - More info

(opens in new tab)
CYCLIP by VAR
If you plan on doing some heavy cycling with your Apple Watch, the CYCLIP acts as a handlebar adapter. Anyone using GPS apps to track rides will appreciate the ability to see exactly where they are as well as pace, distance, and any other data without having to risk looking at their wrist.
Pricing not yet available - More info
Your picks?
What accessories, if any, are you looking at picking up for your Apple Watch right away? Be sure to let me know in the comments!
Get the best of iMore in in your inbox, every day!
iMore senior editor from 2011 to 2015.
I just pre-ordered the Dodo case combination iPhone and Apple Watch stand. Pretty sweet. http://www.dodocase.com/products/charging-dock-organizer-for-iphone-and-...

I want to see a reasonably priced dock that will charge the Apple Watch and the iPhone 6 Plus--preferably a dock that does not look too modern.

I went with this dock set
NuDock: Apple Watch & iPhone Docking Station
https://www.indiegogo.com/projects/nudock-apple-watch-iphone-docking-sta...

Actually, I've been a huge fan of Twelve South ever since I got their HiRise for my iPad mini 2 and iPhone 6. Its simply the best stand I've seen. So, I'll be ordering the black HiRise for my 42mm Space Grey Apple Watch Sport when its available. I'm not sure I'll get any other accessories for my Apple Watch.

I think you should have mentioned the other accessories offered by Pad & Quill--especially their "Timber Catchall" which, even though I might end up matching my iPhone HiRise dock with Twelve South's new watch dock, is calling my name because it holds both the iPhone and the watch. Pad & Quill also has a travel kit and pouch etc. for the watch: https://www.imore.com/e?link=https2F2Fr.cfm%3F...

I am looking forward to having this on my nightstand: http://enbluetec.com/premiumonew3/

The Casetify bands look like total junk to me. Paper thin "leatherette," stuck in a laser printer and adorned with whatever tacky jpeg you upload to their site. Horrible! I certainly wouldn't trust my $500 Watch to one of those.

In their defense, they (or at least the online tool I just tried) only accept .png files.

The twelve south at $50 is sadly the cheapest dock I've seen. I'm in the fence but at the same time a lot of companies are taking advantage. Pad and Quill make great quality products but for a piece of wood That's a dock I could make in middle school wood shop I'll pass for $70-80.. I forget what it is. To me this is a first gen. I'm not worried about buying too much for it. 3rd-4th gen we will see. ( when I expect to upgrade again.) Sent from the iMore App

Spigen has a good one for $20.

Does anyone else think the Cyclip is silly? If you are using your GPS and mapping, you still need your iphone with you. Wouldn't you just get a clip/holder that holds the iphone instead and just keep the watch on your wrist? I guess maybe if you have 6+, it might be too big? But wouldn't you rather look at a bigger screen to figure out where you are going while peddling than looking at a small watch face? Oh also, you could just raise your wrist and see the same thing? Product just doesn't make sense to me I guess.

On a pushbike, sure. It actually makes little sense not having the watch on your arm while cycling since you'd lose the heart-rate monitoring. But on a motorcycle (which is what you see it being attached to in the picture above), raising your wrist to peer at a tiny 42mm screen, your hand off the clutch as a result, at speed - suicidal.. Agree with everything else you stated.

I was thinking the same thing but also how's it supposed to monitor your health if attached to the handlebars? I get putting the phone in bag for safe keeping but as a GPS unit on a bike the watch wouldn't cut it.

Moodyz, didn't realize that was a motorbike in photo. I thought it was just a very cool pedal bike. And agree that raising your arm while driving a motorbike would be a bad idea. But I don't think looking/peering down to look at a 42mm screen that is now 24" from your face at a small map is a great idea either? It would be much better looking at the iphone screen that is bigger and mounted to handlebars? And you both bring up a good point that you would want the heart rate monitor going while on a pedalbike. But I guess someone will want this?

The watchtower by 10Design looks like it'll be pretty interesting. All these Watch stands look like stands, aren't very pretty on their own. They have a little teaser on their Twitter feed. 10design.us

I'm going to give the Epik Lunatik a spin and see how it works......http://epikwatch.com

I ordered a Nomad charging stand. You can try searching for a Nomad coupon--they had a 20% off deal on some sites.
https://www.imore.com/e?link=https2F2Ft%2F2-150563-...

I hope Apple will eventually make leather loop for the 38mm. Sent from the iMore App

That Cyclip idea has massive potential if there's an app that goes with it. Sent from the iMore App

More of a fashion accessory but looks really sharp. Found them on Twitter www.watchdots.com
Thank you for signing up to iMore. You will receive a verification email shortly.
There was a problem. Please refresh the page and try again.