The Apple Watch Edition's upgrade dilemma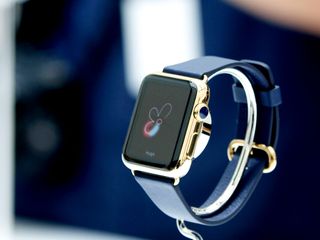 As such, it's no surprise the Watch has been on my brain, as well — specifically the Edition model. There's been a lot of speculation on pricing and whether Apple will legitimately charge $10,000 (or more) for the gold models. To compete in the high-end watchmaker's space, that kind of cost isn't out of the question, but I do wonder: Can the company get away with selling a five-figure Apple Watch that's obsolescent in two years?
I should preface this by saying I've never purchased, owned, or been given a piece of jewelry over $5000, and I don't claim to speak for those who regularly seek out $15,000 watches and other jewelry items. But in my mind, when you eliminate the 1 percent of folks who have the capital to buy such a watch for everyday wear, you're left with a very different subsection of customers: those who may not have the money to buy such an item every year, but save for a special present or to pass it down through the family.
Maybe the Edition isn't designed to serve that market: At its core, it is technology, and as a society, we've become accustomed to regifting or recycling iPhone models every year or two for the next greatest thing. Maybe the people buying a five-figure Apple Watch are of a tier where they don't mind dropping that kind of cash every 18 months. Maybe the old Apple Watches get thrown into a bin in a safe in the back of the Apple Store and get shipped off somewhere to be reduced to component parts, the gold melted and reformed for Apple Watch 2.0.
Maybe I'm naive. But the whole concept just rubs me the wrong way.
The cost-per-year of Apple Watch ownership
I understand the justification of replacing an iPhone or a Mac when they've become too slow or outdated for their task — at most, I've spent $2000-$3000 on such a device, and its cost-per-year averages out to something where I don't feel wasteful in replacing the machine.
Watches are different. They're jewelry. They're as much a fashion accessory as they are a device. And watches can have a long lifespan, if treated properly. Watches have people trained in the art of repair, keeping someone's $20,000 timepiece from becoming a useless paperweight.
Once Apple jumps into that price point and that industry, should it expect that users will pay $10,000 again 18-30 months down the line to replace their watch? Does the advent of digital mean we're expected to replace our heirlooms now, rather than pass them down? I really don't know. Maybe the Edition is truly just meant for those who look at $5000 cost-per-year of ownership as no big deal on their bank account. Companies like Vertu have made a living off those customers; why shouldn't Apple?
But I'd like to believe Apple is better than that. If they truly want to command the watch industry, they might take another page from watch-makers: repairability.
I doubt Apple will ever let you take an Edition to a third party repair shop, but if they offered Apple Store-replaceable cores in their Edition watches, that could potentially be a way around the upgrade process. When Apple Watch 2.0 comes out, instead of paying another $10,000 for a brand-new watch, you pay $500-$1000 at an Apple Store, and a Watch Genius replaces the S1 chip with an S2 chip.
For the lower-end Sport and Apple Watch models, it makes sense to upgrade to the newest model and recycle the old. For the Edition, an "update" price point allows you to keep your beautiful piece of jewelry without sacrificing speed or technology.
Unfortunately, I don't know how practical such an idea actually is: Replacing RAM on a computer is one thing; replacing its entire chip is another thing entirely, especially one "encapsulated in resin" during the building process. And then there's the question of screen resolution upgrades and additional sensors: It's a bit hard to "update" those with a quick back-of-house fix. A trade-in program with heavy discounts isn't out of the question, either, though you'd essentially be getting a new watch in lieu of updating your old one.
It's a hard nut to crack. Apple has built their entire industry on devices that — while they last longer than their competition — are designed to eventually be succeeded by better devices. In contrast, I sense technology plays little role in convincing customers to buy a new Rolex for their collection: If you're picking up a second Rolex 18 months after your first, chances are it's for fashion reasons, not new and special timekeeping features, and you're in the vast minority of consumers when doing so.
Apple could solely go after the high-end fashion market, say "These customers have no qualms about paying $15,000 every two years," and be done with it. Or the company could invest in some sort of long-term support for its Edition customers. And even after writing all this, I'm still no closer to figuring out which one the company will pick. The former model favors Apple's traditional business model, just at a much higher income bracket. The latter feels more like an Apple move, to support its customers and give them the best experience possible.
I suppose we'll see in April just what the company decides. Until then, let's chat about it — is Apple going to abandon Edition customers in version 2.0 and expect them to upgrade like everyone else? Or do you think they might come up with some sort of update program?
Get the best of iMore in in your inbox, every day!
Serenity was formerly the Managing Editor at iMore, and now works for Apple. She's been talking, writing about, and tinkering with Apple products since she was old enough to double-click. In her spare time, she sketches, sings, and in her secret superhero life, plays roller derby. Follow her on Twitter @settern.
Actually, Serenity, I've thought since the first leaked photos of the Apple Watch shell that the guts looked like they were meant to be swappable: https://9to5mac.files.wordpress.com/2015/02/apple-watch-gold-render-01.p... I wouldn't think it's about replacing the pieces individually though (RAM, screen, "taptic engine", etc.) but rather just lifting the entire internal assembly out of the case and dropping in a new screen+guts+sensors core. If you look at the image I linked to above, it seems pretty easy to do. I wouldn't be surprised if only the Edition models offered this service, though perhaps the regular model or even the sport model will as well. What that would mean though, is that the actual gold / steel case, plus the bands would be the "jewelry" portion that could theoretically last a hundred years. And the electronic core would be replaceable every year or two or whenever you want to bump the version on the technology portion. This would only require Apple to lock down and commit to: 1) always supporting the 42mm and 38mm sizes with compatible cores (although they could add additional sizes in the future) and 2) keep the way bands attach to the case standard and unchanged through all generations of the watch. Bot of those commitments seem not only feasible, but very likely to me. Which makes the upgradeable core part feasible and pretty likely as well. My guess is that the upgrade process will be a big focus of the final release announcement, because it's one of those things "only Apple" can really guarantee and do. None of the Android Wear OEMs control their ecosystem enough to commit to that kind of future proofing, and it would be a major unique selling point for Apple Watch.

That's a great idea. But my feeling on the matter is, anyone who has $10,000 to blow on a watch, probably has $10,000 to blow on a new one every two years.

You're probably right about that. But as someone who has around ~$500 (hopefully not more) to spend on the normal Apple Watch and who wants to have a couple bands, etc. I hope that I will also be able to upgrade the internals independently of the case / band components. I like to have the latest tech, and it would be too expensive and wasteful to toss out the entire watch to upgrade every year. Plus, I think making the watches "disposable" year to year would hurt the branding and positioning Apple would want to create for it. The watch that lasts forever and can have the latest technology plugged in every year creates a sense of higher quality in my mind.

I doubt it would be cost-effective to upgrade the low-end model. That service will most likely be made available only for the gold versions. The watch will be as "disposable" as your phone. Most people I know either sell it or pass it down to another family member. Apple gear almost never gets thrown away after a year or two.

I also think there is less incentive to make the lower end models upgradeable... BUT 1) Watch form factors simply aren't going to change as much as phone form factors. They have been refined for a hundred years, and there's unlikely to be anything "new" in watch design that Apple is going to bring to the table every year or two. Plus, the form factor of a phone greatly impacts it's perceived "newness" and "cool factor" and even its utility, but I think that won't be the same for watch designs. 2) The cost of the iPhone is mostly in components, but the cost of at least the Edition watch and possibly the regular steel watch + bands could be higher for the non-component parts. 3) There is no carrier subsidy for watches, so less easy to buy new ones just for technology bumps 4) It's better for Apple to sell technology "core" upgrades every year or two than to sell nothing at all to existing Apple Watch users. 5) Watches are jewelry and have a long history of being kept for years. Cell phones never had that sort of history. If Apple wants to treat the watch product with the respect that it has from many aficionados (which they seem to want to) they won't treat them as disposable as something that is purely a functional piece of technology (i.e. a phone).

My guess is Apple is already working on a thinner 2nd-gen Watch. That's not a big cosmetic change, but I think it's enough for people to spend another $350 every other year. I agree the steel version might be costly enough to warrant upgrade service, especially if the expensive bracelets (link, Milanese, etc) change with the thinner casing. A very small percentage of watches are kept for decades. By far the huge majority are as disposable as a phone. But I agree that Apple should try to follow the high-end watch industry's example of product longevity. I can just imagine eBay pricing on an original 2015 Watch Edition (in mint condition with original Milanese bracelet) with 2020 upgraded internals.

That's a nice thought, but the article was about the Edition watches, which will certainly not be anywhere near $500.

They've made iPhones disposable, thanks to carrier subsidies (history would be way different if people had to plunk down 700$ every year/two years), why wouldnt they get people to believe they ought to change their watch every year? Branding? And what exactly would be the cost of replacing the hardware/technology (given Apple's profit margins) while keeping the shell on an entry-level, 350$ watch, as opposed to changing the whole thing? I like the idea of block changing for the Gold edition, but that's about it. For the rest it may just be another iteration of smth that used to last and that no longer does, another need created from scratch by a corporation. Hell, people used to stay married for 50 years, somehow society put planned obsolescence into this as well...

At the very least, Apple are going to do a recycle scheme, because it's going to be a cost effective way at getting the gold back. They could afford to offer a trade-in rate at more than the market rate for the gold by weight, because there should still be plenty of margin between that and the cost of a new watch. Plus it's the easiest way to manage obligations for disposal of electronic waste. My gut feel is that you're right though - the Edition is for people who want to make a statement that they can afford to spend that kind of money lightly. It sounds expensive, but it's in the same ballpark as luxury cars, high-end designer suits - the kind of stuff that has massive depreciation in first few years of ownership. It's not in the same market as people who would buy an Omega with the expectation it will last them a lifetime.

An interesting read and very well thought out, but I tend to disagree with most of your points about the upgrade process being difficult. I don't see that the S1 chip will be hard to swap out at all, or agree with the implication that additional sensors will necessitate swapping out the watch body. Also, Apple has already hinted strongly that the gold bodies will be recyclable, and their entire product line to date, is more recyclable than pretty much any other manufacturer. Far future upgrades, like putting the SIM and the cell radios in the Watch so as to free us from the tyranny of the iPhone, will necessitate a different body design, but that stuff is many years away, possibly even a decade. What I see happening is that the Apple Watch *is* upgradeable, that responsible trade-in and recycling programs will be in place as usual, and that Apple will use the very first "upgrade" to highlight this process, by being a straight swap out of the S1 computer, for an "S2." This way they will telegraph their intentions directly to the consumer. It could just as easily be argued that the design of the Apple Watch body will *never* change, making *all* upgrades merely internal ones. Future cameras can be hidden behind the same glass covers. Future SIMS could be digital and not physical, radios can use the front screen as a portal to get signal, etc. It's unlikely that the watch will ever go round, or get squared corners, or anything of that sort. It might (we hope) get thinner over time, but it might also need that extra space for batteries and other tech. It sure isn't going to get thicker or larger because it can't.

FWIW we've spoken to watch makers who have suggested it might be hard to swap out, even at Apple Stores give the way it's designed and the access provided. Of course, until hardware ships, it's tough to know for sure.

Agreed. But it sure *looks* like it will be easy to swap out. :-) Clearly access is from the front through the glass cover and once the cover is removed, it's just a "stack" of screen>battery>processor>sensors. Even the sensor/charger pad at the back looks like it would screw out and be replaceable. Fingers crossed anyway.

You don't think iFixit will be able to take this apart without damaging the case? Seems like they'll use some sort of suction mechanism to remove the display and then remove a few retaining clips before popping the entire guts by pushing on the back of the watch. But you're right, we won't know until April.

Hey Rene - any specifics about what would be hard about it? Everything about the way the watch case and internals are designed and have been shown make it look relatively easy. https://9to5mac.files.wordpress.com/2015/02/apple-watch-gold-render-01.p... + http://images.apple.com/media/us/watch/2014/videos/e71af271_d18c_4d78_91...

Not sure how accurate the first rendered image is, but the one on Apple's website sure makes it look like removal is relatively straightforward.

This speculation has gotten OUT OF CONTROL. There is no way, mark my words, NO WAY, that this device goes over $1,499. More than likely, It won't even hit 4 figures, $999. But hey, all this wild, unfounded, ridiculous speculation leads to clicks, I can't fault the writers for having a field day with it. But step back and REALLY think about it for a second.

I think the Edition watches will hit four figures because if you figure in the price of the gold and add a bit for some kind of (bogus) "craftsmanship" appeal that you know Apple will make, plus a similar price for the bands for the gold Edition ... that pretty much takes it to the "low thousands." Like, maybe the top Edition Watch with a hand made solid gold Milanese loop bracelet might be multiple thousands, but that's about it. What I feel is completely wrong is the suggestion that above all that, Apple will *then* just tack on many *other* thousands, simply because: fashion, or because: brand. People who suggest that the top Edition Watches will be $10,000 or $20,000 are either completely wrong, or Apple is about to do something it has never done before. Rip-off their customers simply because they are able to. I refuse to believe it until it happens and I don't expect it to happen.

"People who suggest that the top Edition Watches will be $10,000 or $20,000 are either completely wrong, or Apple is about to do something it has never done before. Rip-off their customers simply because they are able to." While I agree this is a PR/branding mess waiting to happen, I don't see how Apple would be "ripping off" anyone. The aluminum and steel models would be priced within what most consider to be reasonable price ranges compared to the rest of their product line and mid-priced quality watches on the market. The gold models are simply not going to be purchased by anyone without a lot of money, period. They will be bought by people who already spend tens of thousands of dollars on watches and other jewelry so how would they be ripped off?

I agree. The term "ripped off" is more in line with not getting what you paid for. If you find value in something then it is not a rip off and I feel like anyone with $10k to drop on a watch will only feel ripped off if it doesn't function properly or there are major flaws in craftsmanship. Otherwise something like an expensive European sports car is a rip off because it does little more than a meager midsize Toyota or Ford.

Actually I think it's quite on track, especially after reading Kevin Michaluk's post about how it could be a $10,000 and why that might not be such a bad idea. But even if it is at a much lower price like your $999 speculation, I still agree with Serenity that there should be some sort of upgrade plan. Even at $999, that's still too much for a large faction of people to spend every 1-3 years on a new watch. As Kevin pointed also, making the Apple Watch Edition $999 would be underselling it and not really living up to the promise of what it could and should be. A luxury watch. Luxury isn't cheap. Sent from the iMore App

I don't get this up session with the Edition watch. It's not like that's the only watch Apple is selling.. 99.9% of iPhone users never have to think about this version. Also think this version has more to do with fashion than high margin luxury. If Apple really wanted to go that route they would've designed and all gold bracelet to go with the gold watch.

$999, sorry but the gold in it is almost worth that. I'm thinking $5000 range.

Yah, while I'm not as strongly opinionated that iMore is click-baiting, this really reminds me of iPad price speculation and that moment at the announcement where they showed the speculated price and then slammed down the real one dramatically. If I were a conspiracist I'd say these are purposeful, clever leaks just so they could have those moments of HOLY COW IT'S SO MUCH CHEAPER THAN WE THOUGHT! But I'm not really like that.

I'm with you on this one. I don't see it costing more than $1,000 for the high end model. All this hype about 5, or $10,000 is awesome though. It's gonna be like before the iPad was released. Everybody was speculating it would start at $1,000 or so. When it started at $500, people went nutz. It's gonna be the same here. When the high end "only costs $1,000" people are gonna go crazy. Sent from the iMore App

@bhough7 wrote: "There is no way, mark my words, NO WAY, that this device goes over $1,499. More than likely, It won't even hit 4 figures, $999." What are you basing your predictions on? If we start with a $350 aluminum watch with a rubber band and then add an 18K gold case which estimates say will contain about 30g of gold, with a value of about $1200, do you honestly think Apple is going to go to the trouble of manufacturing gold watches just to lose money or break even on the gold? Plus how much room would that leave for intermediate pricing for the steel models? Come on, use some common sense.

Does the $17,000 price tag make you feel stupid now?

gold is currently about $1200 per ounce. Assuming there is only one ounce of gold in the watch, you're already over $999 with no markup, no manufacturaing, no delivery, no screen, no internals, and no battery. $5k, minimum.

Totally agree. The problem for the Edition watch buyer and Apple is that the exact same technology, which is what this watch is really about will be available at a fraction of the cost in the Sport model. Who will pay $ 10,000 for $200 of technology and a $1000 of gold ? The analogies comparing this to high end cars are completely wrong. Imagine a Ferrari engine and suspension but in a Ford chassis at a Ford price, that would be a great deal and significantly depress the value of a real Ferrari. The cost premium is usually the result of proprietary technology and craftsmanship, in the Apple Edition watch it is for nothing more than the shell/fashion and cannot be grossly over priced as it labels the buyer a moron for paying disproportionately for the most meaningless part of the watch, exactly what Apple should discourage.

Ren, I fear you are completely out of your element on this. Apple will have a product for you in your price range. And you will be more than qualified to comment on it. To somehow suggest that it is immoral to charge that much for an item that people might want to replace in 18 months just means you need to stay away from reporting on the luxury goods world. I, however, look forward to reading KM on the subject. He can afford it and does live in that world. Sorry about the harshness. I get weary of poor tech writers commenting about the luxury industry. I look forward to watching a nice video review from you on whatever the cheap one turns out to be. You have made it abundantly clear that you are not in tune with the luxury market. If you must write about that market, please try to do so without the hint of moral judgement. Apple is doing nothing wrong by making it. People who want to buy it are doing nothing wrong when they buy it and enjoy it.

No moral judgement intended or implied in this article, I promise. For folks who have the cash to spend, they're more than welcome to spend whatever amount they want on whatever they please. (Heck, those in a lower income bracket could argue that I'm privileged to be able to buy a new iPhone every year. It's all about perspective.) I'm mainly curious about the Edition's long-tail value — a well-cared-for Lamborghini isn't obsolete in five years, even if the owner purchases a new one. Will the Apple Watch be just as valuable, or will it be a paperweight?

Ren, they are gathering stones in the comment section, and getting ready to end me in biblical fashion, so I have to make this quick. :) "Maybe the Edition is truly just meant for those who look at $5000 cost-per-year of ownership as no big deal on their bank account. Companies like Vertu have made a living off those customers; why shouldn't Apple?" This is the key, I think. If the conspicuously wealthy want to spend that kind of dime on a new  Watch every year, good on them. Ultimately, who cares? Why should the people who are never going to buy this watch worry so much about the people who do? If they buy it, they would not be stupid or wrong. They would just be a lot wealthier than us. Whet I would like to know from those who are in that market is if they would find it reasonable to pay $10,000 a year to upgrade the technology. How long would they need to keep a watch at that price range for it to be worth it to them? We can't answer these questions. We need to be talking to them. Again, apologies for coming across too harshly. I have been hearing and reading a lot from people who bash the very idea that a company like Apple dare cater to the luxury market. If Apple wants to make a model that only heads of state can afford, why should that matter to the rest of us wearing our Sport edition?

"Why should the people who are never going to buy this watch worry so much about the people who do?" I see two categories here: 1) people who desperately wanted a gold Apple watch, had no clue what gold watches actually cost, and are dismayed to hear they won't be able to afford one and 2) people who find such conspicuous consumption offensive and feel that Apple is harming their brand by evolving into a Gucci/Louis Vuitton-wannabe. The only thing that would piss me off is if they arbitrarily excluded technological features from the aluminum and steel models and only offered them in the gold - something I am certain they will not do.

Serenity I thought you must be privileged because of your jewelry price point :) I too must have missed the morality play in your article. Very interested to see if this price point is true. How does a company perform that kind of magic, to turn a set amount of gold and a small handful of silicon into huge profit margin. Early day alchemists would be impressed!

Just in case you're not joking, Ren is SeRENity's nickname.

Yeah I realized that must be the case. I don't have illusions that I know strangers on the internet:)

Wow, harsh is right. Relating someone not being able to afford a $10,000 luxury piece to being 'poor' is quite a leap. I make a damn nice living and would in no way drop $10 large on any type of watch...am I poor?

Rich, poor, and middle class are totally subjective terms. Ask anyone who makes $200K a year and they will tell you they are middle class. Ask someone who makes $40K a year and they'll say the same. Ask a starving kid in Somalia and they'll say the poorest person in America is a billionaire by their standards.

F. Scott Fitzgerald wrote
"Let me tell you about the very rich. They are different from you and me. They possess and enjoy early, and it does something to them, makes them soft where we are hard, and cynical where we are trustful, in a way that, unless you were born rich, it is very difficult to understand. They think, deep in their hearts, that they are better than we are because we had to discover the compensations and refuges of life for ourselves. Even when they enter deep into our world or sink below us, they still think that they are better than we are. They are different." Sent from the iMore App

@ dandbj13: So rude, dude. People have told me that I come across as mean on this forum sometimes, but at least I never hinge my entire comment on a personal attack/comment about the author. Argue about the facts dude. Try not to make your comments about the people unless they get personal first, (and the author of the article is hardly going to get personal first).

Poor tech writers? I'm not sure if you mean financially or quality. If the latter, Ren is hardly so. If the former, that was extremely rude. Make your case without the unneeded adjectives.

The fact that you wrote a condescending and baseless attack, then wrote that you were "sorry", and posted the whole thing anyway, shows you're not sorry at all.
I don't think you know what sorry means.

Apple sells "affordable luxury". If gold content pushes cost of materials to $2-3k, I can see them charging $4-6k...but NOT $10-20k. Despite an unwarranted reputation, Apple doesn't rip off their customers. But if the gold content cost $5k, then we could definitely see a $10k price tag. Regardless of price, the concept of watch servicing makes sense. High-end watches need costly ($500+) servicing every few years. We know from the $349 minimum cost that the guts of the Watch probably costs ~$200 or less. So it's definitely feasible to replace the entirety of the watch aside from the gold casing for ~$500. There've been rumors that Apple will weigh individual watches for gold content if customers decide to return a gold watch. In order to do this, they must be able to separate the gold components (case, crown, etc). It seems logical that with specialized tools this would be a relatively simple task.

There is no way this watch will be $10K or $20K. Those price estimates from Gruber were based on Apple announcing an all gold band at launch. We have zero evidence they're going to do that. If Gruber really believes the Watch pricd range will be $349-$19,999 he's jumped the shark.

I mostly agree with you. It's just I have no idea how much gold will be in these things...$1k or $5k worth of gold? Gruber was also off on his theory that the watch bands/bracelets would not be sold separately. If someone wants to put a $199 (wild guess) steel link bracelet on a $349 Sport model, why would Apple deny them?

When did Apple announce an all gold band? Gruber was speculating that Apple will release a gold band option as a surprise during the launch.

All more reasons why I do not want a smart watch. Will the $350 version still be usable in 2-3 years? What about 4-5 years? If the watch is still functional will it be compatible with the latest iPhone 8 or 9? I don't need a wrist computer, I am perfectly happy with my pocket computer.

However rich you are you dont want to look dumb by letting Apple to entice you to throw money out of the window o I don't see Apple trying to get away with no future proofing. High end watches have always justified the cost through them being passed from one generation to the next. Apple have made a big play about how they went out of their way to understand wtch industry (features are called Complications etc) for them not to have a solution for this one - My bet is that the non-gold thing will be swappable as a single module so they can claim there is a part that has a lasting value....

"However rich you are you dont want to look dumb by letting Apple to entice you to throw money out of the window o I don't see Apple trying to get away with no future proofing. " Where is the future proofing on $2000 designer shoes that go out of fashion in a year? Nordstrom sells some t-shirts for over $1000.

That was not my point, using your example you would pay $2,000 for shoes that would last a week whereas your friends "Rolex" shoes - also for $2,000 - would be good for 5 years. And the producers of the new shoes would be claiming they figured out everything about traditional shoemaking and are re-interpreting the shoe in a new modern way.... We will see soon I guess...

You wrote, "I don't see Apple trying to get away with no future proofing." My point is that the target customer for the Apple Edition couldn't care less about future proofing. For them the watch's cost is not a burden and they are already accustomed to buying expensive things that don't last and/or will fall out of fashion quickly. No Apple Watch will be upgradeable for 5 years. Within 2-3 years at most they will have a slimmer form factor and new sensors making it impractical to update older models by just swapping out its guts. Plus by then the target customer will have grown bored with the look of the original Apple watch and will be looking to buy something new, Apple or otherwise. Imagine if the first iPhone had been designed with this "future proofing." Every year you could have spent $100 to upgrade some of its features while you continued to walk around with something that looked like a beat up old 1st gen iPhone. But it wasn't and you didn't. You happily spent whatever it cost to upgrade to a brand new phone every one or two years. That's the way an Edition customer will look at it.

I think you have a point about upgrading the original iphone. I still think they will have a hard time selling an expensive watch without giving you the feel of buying something timeless. So we will see what they do... For me it is the stainless steel one anyway, I would not like to wear a golden watch.... You?

I've already said that, if offered a free Apple Watch of my choosing, but with the condition that I couldn't sell, trade, or give it away, I'd get a steel model. I think gold is kind of tacky - real or not.

I agree... If white gold were an option though.... :-) Sent from the iMore App

I think people just need to take a deep breath and relax. This product isn't our yet. We don't know what pricing wil be at the high end. For all we know, Gruber's Edition pricing estimates are way off.

The problem I am having is that I don't actually consider this a "watch". Its a wrist mounted PC with a watch app and is subject to the same longevity issues as other PCs. If someone wants a gold PC more power to them. If they think it will make me or others think they are fashionable and cool to spend 10k on watch with a questionably short life span and little resale value I think of them the same way I think of glass wearers.. tools.

As to upgrade, well I'm either thinking Apple doesn't care about upgrade pricing and it'll be like everything else, you want the new one? buy it again. Or this will be the first kind of trade in program where they get their gold back and can reuse it, then sell new one at a pretty good discount, but probably still at least half cost.

This is a great article!
Something that some bloggers seem to be forgetting is that when you buy a high end luxury watch, you're at least 50% of the cost for the movement of the watch. As an example I'm going to use Panerai not Rolex as so many like to. There are multiple reasons: Panerai uses modified ETA (stock movements) as well as creating their own in-house movements. Panerai also makes watches in steel and gold (and some other interesting materials). Finally Panerai also has a wide range of straps and bracelets.
When we look at prices from Panerai, a SS model with a manual movement and leather strap (Apple Watch Sport) is $5400, a SS case with automatic ETA movement and leather strap (base SS Apple watch with strap) costs $7400 as of 2014, the same model with a SS bracelet (SS Apple watch with bracelet) costs $8400. A similar watch with an in house movement with a SS case and leather strap $8300 and one with a SS case and bracelet is $8900. Finally for the same watch with gold case that is 2mm smaller the cost is $25,900 (Apple Watch Edition).
My point to all of this is the "movement" of the Apple Watch is the chip and it must be pretty inexpensive if they can charge $349 for the sport model. If we use that as the base price with plastic watch band and use the percentages from the Panerai price list for the different permutations of the cases/straps/bracelets and add an additional $100 for the saphire screen we'd come up with prices of:
Apple Watch Sport: $349 = $5400 Panerai Base model
Apple Watch SS with leather strap $599 = $7400 Panerai SS w/leather strap
Apple Watch SS with SS bracelet $649 = $8400 Panerai SS w/SS bracelet
Apple Watch edition: $1999 = $25,900 Gold Panerai with leather strap The Apple watch edition isn't something you're going pass down to your child. It doesn't have a movement at aficionado's will admire. It only has a gold case which set's it apart from any other model of Apple watch, and while it'll be a hit, it's not a luxury time piece. That's my thoughts.

"Finally for the same (Panerai) watch with gold case that is 2mm smaller the cost is $25,900."
"Apple Watch edition: $1999 = $25,900 Gold Panerai with leather strap" You lost me when you started throwing out actual numbers. If Panerai can jump from $2000 to $25,600 for a gold case, what makes you think Apple would sell their Edition for just $1999? If you use the same formula that would price the Edition at about $4400, which is right about what I'm expecting..

Exactly! When someone buys a 10K or 20K watch they are getting something special, not just a hunk of steel, platinum, or gold. There is nothing we know now that would make the Edition watch special, just a gold case. Would a luxury buyer pay 20K for a Seiko with a gold case? Don't think so. To charge those prices you are getting beauty, engineering, quality, a keepsake and yes, a fashion accessory. No way the Apple watch is worth those numbers.

There's no way Apple Watch to be upgradable. Every generation of the watch will be thinner, lighter, with more sensors, new tech. Look at iPad Air 2 and original iPad, it's been just 5 years and it changed so much, the same iPhone, and Watch will be the same. The upgradability would require from Apple a lot of sacrifices in terms of future Watch development, you can't go forward looking at backward compatibility.

I wouldn't automatically assume that what works in the tech device industry carries over to the fashion accessories industry. Surely, you don't think the people running Apple are that stupid.

Apple isn't going to do an upgrade program. They will suck those in who feel they "need" a gold watch and will upgrade, and if not will make the watches slow/lose it on features, similar to what happens with iPhones. Sent from the iMore App

The more I think about it, the more I think all these attempts to rationalize the price of the Apple Edition watch are ultimately pointless. Everyone is trying to make sense of a $10,000 fashion/luxury purchase based on the same decision-making criteria that would drive the purchase of an iPhone. For those who will buy Edition watches, I think we have to abandon the usual logical arguments that go into a purchase decision for items costing under $2000. For the most part we should also forget about the sort of aspirational customer who might save up for a once in a decade purchase, such as a Rolex, secure in the notion that it will last more than a lifetime and retain its value. That's not the target market either. I see the Edition as targeted at buyers who can *easily* afford a $10-20K purchase without wasting a second worrying about longevity or resale value. This will be the sort of customer who routinely spends hundreds of dollars or more on meals, tens of thousands of dollars on clothing, hundreds of thousands on cars, and millions on homes. This type of buyer doesn't purchase a Rolex because it will last a lifetime or increase in value. They buy one because it looks nice and will go well with their $3000 Louboutins. So with this in mind, the interesting question is whether Apple will price the Edition "insanely" high - at the same levels as a gold Rolex for example, or if instead they will attempt to disrupt the high end watch market by selling it at a much lower price point than a "comparable" Rolex while still maintaining very comfortable margins. Considering the target customer, though, I don't think a lower price would be a selling point. Regardless of which path they choose, Apple risks tarnishing their brand and alienating their existing customer base by transforming into what might be perceived as an elitist, fashion-focused company, validating years of insults from Apple haters.

I like your comments but why would this tarnish Apple's image - this product is for the super rich that couldn't care less about upgrades - this has Kim Kardashian written all over it.

It won't tarnish the image for the intended buyers of the gold watch but it might for everyone else. Apple's brand has never been associated with the likes of a Kim Kardashian. Apple evokes an image of good design, craftsmanship, and utility - not opulence, extravagance, and pretentiousness. As Tim Cook is fond of saying, Apple has always been focused on making products that change people's lives. How does a $20K gold watch change people's lives - one whose whose sole differentiating feature setting it apart from its $350 brethren is an 18K gold case? It's not an "honest" product. The gold serves no function. It's not lighter, stronger, or more durable than steel or aluminum. It's sole purpose is to loudly proclaim the wealth and superiority of its owner. It's a soulless product. When Jony Ive teamed up with Marc Newson and Leica to design a one-of-a-kind camera that was later auctioned for almost $2 million, much of the proceeds went to charity. The camera was a work of art, but it was a functional work of art. It looked like something someone had brought back from the future. They didn't just take an off the shelf model, slap an 18k body on it and ship it off to Sotheby's. http://www.sothebys.com/content/dam/stb/lots/N09/N09014/130613RD_Leica_2...

Actually Serenity, in a world where the Apple IIe sells for $25k on eBay.. I think you can be fairly sure that the limited nature of an Apple Edition 1st gen watch will fetch easily 3-4 times it's value in 10-20 years by collectors.. You're still thinking from a technology point of view.. Do you really think those bidding on an Apple IIe up to $25k wanted it to USE it? This is the thing I think you need to realize.. this isn't about tech in the long run... It never is for those who buy this.. In a way, it's an investment.. by those who collect or those who sell to collectors.

I'm uncertain where the immense dollar amount guesses are coming from as well. https://www.imore.com/e?link=https2F2Fc2F4... The website doesn't show any solid gold link bands. It looks all leather (with potentially gold clasps / buckles). Even then, all it really *states* is 18-karat gold casing. I have no idea how much gold it would take to make the watch casing. I'm sure it's still quite a lot of gold. And assuming those buckles / clasps are solid gold that would add some to the cost as well. An 18-karat solid gold link band would be quite pricey. I'm not seeing any of those on the site anywhere. That isn't to say that they won't make or sell them (or that a third party couldn't figure it out), but it's entirely possible they are going to release v1 with a fairly conservative spread of options. I'm on the fence as far as upgrades go. I can see Apple going either way. *IF* it's just the casing, buying Apple Watch 2.0, and sticking it in your existing band probably wouldn't be that big of a deal for those that could afford it to begin with. (If we are assuming that the $10k version of the watch is $8k worth of solid gold band, you're still retaining that band so your investment is more protected as long as the magnetic clasp compatibility is maintained.) Apple could even offer a "trade-in" discount for the gold (which I'm sure would head back to the smelters) of your previous Edition watch. I'm guessing not too many people that can afford a ten thousand dollar watch would balk much at a net loss of a thousand or two to upgrade to the latest tech. But I really don't know. I am, fairly confident, however, that Apple has probably talked to a reasonable sample portion of their potential customer base for this before spending the money on the Edition version. (They *are* pretty keen on business and market research, in case no one has noticed.)

While a few may buy Edition watches to lock away in a vault as collector's items, that cannot be Apple's intended market unless they are making a very limited number of them. You're correct in that we shouldn't be thinking of these from a technological point of view but I think you're incorrect in viewing these are primarily collector's items and long term investments. The market for those is tiny for a company like Apple. Their real target is very rich people for whom these will be an impulse fashion purchase with zero consideration for long term collectibility or appreciation in value..

I wouldn't be surprised if Apple is seeding many of these rumors so we're blown away when it costs $1,999.

I agree with dcompiled and gazoobee. It makes sense. Even just looking at the casing. It looks easy enough to swap out. Sure, they're wll be different models in the future, but as long as the internals are the same it will make the old ones sort of collectable.

Like every apple product, a lot of people will be happy with it and a lot of people won't. Limitations will be blown out proportions and it will exceed sales expectations. My only issue with the watch is that it reduces the excellent security of apple pay. How dumb is that?

I don't think it reduces  Pay security. It has to be paired with your phone and worn constantly. Once it breaks contact with your skin, a pin is required. If someone steals your watch, they will not be able to use  Pay.

So you feel skin contact and pin is just as secure as fingerprints?

How do you feel that it harms security for Apple Pay?

The removal of requiring a fingerprint for authentication.

"when a user first puts on the Watch they must type in a PIN code to authorize Apple Pay. Once it's on, the Watch uses constant skin contact, which it can sense using the four sapphire-covered lenses on the underside of the device, to authorize payments. However, once the device is removed from a user's wrist, they must re-enter their PIN when putting the device back on their wrist." http://www.macrumors.com/2014/09/10/apple-watch-apple-pay-security/

So you believe skin contact and a pin is just as secure as a fingerprint? It's interesting to see touchid marginalized as such

Can you describe a scenario where you feel this lack of security could be exploited?

Sure. Take someones watch and phone, enter their pin and start a buying spree.
That scenario wouldn't exist if TouchID was used. That said, I am never going convince you if you think a pin is just as secure as a fingerprint.

Correct me if I'm wrong, but if TID doesn't work when you are making a payment, will it not just revert to the pin? How is that different from the watch? I'm not sure what you think the difference is.

Exactly. Also the best thing about TouchID is that it's quick and easy to use, and therefore encouraged a lot of folks to lock their phones who previously left them unlocked because they didn't want to be bothered to enter a PIN. That alone has massively boosted security for a lot of iPhone users. As far as Apple Pay payments go, the biggest security features I think are the fact that your credit card number is never sent out. it generates a unique token for each transaction. That means the merchant can never store your card number only for it to be stolen when their servers get hacked. Also means they can't track you and your purchases nor share your purchasing habits with other companies.

You can configure Apple Pay to use the passcode instead of TouchID (it doesn't fall back), then it would be just as insecure as the watch. For normal users who aren't going to turn off TouchID, the difference is a pin that can be guessed while a fingerprint cannot (unless your thief has the same fingerprints). Again, I find it interesting that the security of TouchID is becoming marginalized.

Since your "buying spree" requires the theft of both watch and iPhone, I guess we're lucky to have 'Find My iPhone', 'Lost Mode', and 'Remote Erase' features available.

There is also the aspect of marketing that I think a lot of people are overlooking. The fashionistas, celebrities, athletes, royalty, and politicians will all be wearing the  Watch Edition. Even Samsung will not be able to convince any of them to wear a Galaxy Gear. Zero percent of them will choose a Pebble over the AWE. While the average person will not be able to afford that one, they can own what is essentially the same watch starting at $349. Other companies will not be able to buy that kind of publicity.

Yes, even the "One Percenters" still come to over 70 million people.

It shouldn't be a dilemma. $10000 watches are made by guys cutting handmade gears and building an actual heirloom quality piece inside and out that's remarkable to even look at. No matter how you want to spin the Edition, it's still just a bundle of digital components made in China in a gold case. There is absolutely nothing Apple could do with the Edition to make it even remotely comparable to a handmade Swiss watch. Yeah, there are some factory made designer watches probably around that price point, but they're at least usually made with materials and jewels that might be comparable to a necklace at that price point.
It's just gold. Price it in line with a gold watch by a decent but accessible brand , Seiko at most. But even they don't go obsolete. Sent from the iMore App

Swapping out the guts is the least they can do if they're going for an absurd price point, but I don't think there's much doubt that Apple will change the design every few years. Sent from the iMore App

"I don't think there's much doubt that Apple will change the design every few years." Oh, I doubt it very much. One thing Apple is not is stupid or irrationally rigid. If it doesn't makes sense to change the design every few years, they won't do it. I'm not saying they won't be changing the design, I'm saying you can't assert they'll surely change the design simply because that's what Apple did in the past with its other products, none of which are fashion accessories.

This was a long article about nothing

And yours was a short comment that added nothing to it.

No upgrade options. No $5k+ Watch. To suggest either is just silly. Sent from the iMore App

If we assume that the form factor / face sizes for  Watch will remain the same for a good few years, then we can also assume that the straps you buy on year one will be compatible with future faces for five years+. So you won't need to buy a new strap for quite a while, leaving your yearly upgrade cost a new face only. I think we can assume that the Sport and Steel faces will come at a single fee that you would have to pay again in year 2, year 3 etc. to upgrade to the latest versions. The Edition collection is something quite different. But I don't see the internals being upgradable, because that would limit other potential changes to the sensors / internals that Apple might want to make year on year. So I envisage an optional trade-in / upgrade path, where you bring back your V1 18k gold face and give it back to Apple, along with a fee of some amount, to get a brand new V2 18k gold face. Five years down the line, you might have a V1 and a V3 strap, plus an extra blingy new V5 strap, all of which are compatible with your V5 face, which you have traded up each year at a lesser cost than a brand new face. Alternatively if you're so rich you don't care about splashing out the full amount again, you can hold a collection of faces and straps from all years to mix and match as you like.

Neil Cybart wrote a great piece on why we shouldn't focus on the price of the Edition watch. If you look at what Apple is done the only difference between the three watches is materials/colors. The Edition watch doesn't have better internals or more features. And from what we know so far the only difference with the Edition will be the box it comes in. Compare that with the recent iPhones where if you wanted the best camera you had to buy the 6 Plus even if you didn't want that large of a screen. Or the iPads where the mini 3 didn't get the same specs as the Air 2. Or go back a few years when Apple was charging more for the black plastic MacBook just because it was black. It seems to me Watch really is for everyone and I don't understand why all the angst because one version will most likely be very expensive. Do people say they don't want to be seen with a Toyota because they can't afford a Lexus? Do people who own MacBook Air's feel inferior because they don't own a Mac Pro or retina MacBook Pro? I highly doubt people will develop a complex because they're rocking the aluminum watch and someone else has the gold one.

I'm not so sure about that.
http://www.huffingtonpost.com/2013/09/13/iphone-5c-for-poor-people_n_392...

People do not understand Apple Watch ... and won't until it's released and in the hands and on the wrists of millions of people.

Assuming you'd want to upgrade the "guts" assumes apple won't really upgrade the body. Which they will. Sent from the iMore App

Whatever Apple does, I'm sure they will take the path of least resistance. Sent from the iMore App

I had the same thought as you, that the core can be upgraded later. But if not Apple would probably take back an older Edition just for the metals and give you quite a lot of money back towards a new Edition.

An upgrade will only be possible until Apple changes the form factor, and I fully expect a thinner Apple Watch sometime in the future.

Why can't Apple have more than one form factor for their smart watches?

They can. But there will always be a better form factor. The iPad Air form factor is just better than the original iPads form factor. Even if you were to replace all the internals of the original iPad, the Air's form factor is still newer and better. Sent from the iMore App

I just think that the design aesthetics in the tech device industry is different from that of the high end fashion accessory business. The classic pieces don't change year in, year out. The latest Birkin or Chanel quilted leather bags are not much changed from the originals. You might say the Apple Watch Edition is hardly a classic. To which I'd respond all the classic pieces were brand new designs once upon a time. And the AWE certainly won't become a classic if Apple keeps changing the design every year.

Seems to me that we know Apple is laying the groundwork for some fairly frequent receptions of used edition apple watches. The (rumored) fact that they are installing scales at the stores suggests as much. If it were only for repair swaps, they would likely just institute a drop off repair system where you got your unit back and they then wouldn't have to worry about gold content at the store. Given there is going to be some infrastructure, and given legacy compatibility (I'll explain in a sec), what makes the most sense to me is that Apple is preparing for an upgrade program of some sort. My guess is that it takes the form of an upgrade program. One where you get to upgrade to the latest model for some attractive price. If it was originally a $10k watch, then I wouldn't be surprised to see a 2 or 3k upgrade fee. Why? Well the rich are rich because they are careful with their money. I know many rich people, and many that would want an edition Apple watch. But I don't know any that would pay that kind of coin for something that would be obsolete in less than 5 years. The analogy to a rolex is not proper. A 100 year old Rolex still can be fully functional. A 10 year old apple watch will not be functional. It may light up, but it will not work because apple will not/cannot keep the ecosystem backward compatible. So therefore: both to capture the rational customer, and in order to not have to offer unreasonable backward compatibility, I believe apples' only rational strategy is an upgrade plan announced with the watch. This will only apply to Edition however. Pricing for the other lines will make it unnecessary. I also expect this to take the form of a full trade-in. Too much is going to change with V2.0 for us to think the form factor will remain. Furthermore, trade-in makes the store scales all the more necessary. 2¢

How much does a factory overhaul of a mechanical Swiss movement cost? Easily more than $349, right? $349 -the price of a bottom-of-the-line AppleWatch which has exactly the same innards as an Edition. Jony Ive talked about the traditions of the watch industry and the respect that Apple wants to show towards those traditions. This inspired them to introduce the "digital crown" as the digital age update of the classic crown. Apple can standardize the geometry of the AppleWatch's cavity, screen, digital crown and back cover and thus make the watch upgradeable, basically, in perpetuity: The latest core, back sensor pack, screen, and crystal can be retrofitted on any AppleWatch's case, of any year. I don't see why Apple can't do this if they choose to do this. People might say that the AppleWatch won't get any slimmer or lighter then. Well, introduce a second line and standardize on that geometry as well. This is the watch industry, what watchmaker has only one model? Who ever heard of a major jewelry and fashion accessory maker who offers only one basic design?

The difference between a $350 Apple Watch and a $10k Apple Watch is the material used for their housings. The technology in both models is the same, and may be obsolete in two years. But while the $350 model drains it's battery in the back of your wardrobe, the housing of the Edition Watch retains it's value. Because gold is highly recycable, it has a high resale value (maybe higher than today). So the upgrade path for the Edition Watch looks more like: sell, melt, buy a new one.

I'm not too convinced that the Edition model will be over $1,000 either. The marketing mainly showed a middle-class business woman.
The watch must be paired with the iPhone. So, most upper class folk, use BlackBerry, and even basic phones, for business work and life. They usually like to save money too, and prefer mechanical watches.
The screen wraps around quite a bit, and the band isn't gold. The core needs a lot of space for the hardware. The buckle has some gold too, but its design limits the amount used. Don't forget the cutouts for the charging, the buttons, the holes to adjust the strap, the hollow areas, etc. If you look closely, the 42mm and 38mm sizes have different gold layouts than each other.
Anyways, this watch is geared for young, working age adults, to middle aged adults. I can't see my grandparents using a small electronic watch, for drawing hearts, sending love notes, squinting at their wrist at a map while driving, and to go jogging up the mountain side. Sent from the iMore App

I think this is an excellent article. This is not about pricing, habits of luxury buyers or even jealousy that some people can afford items in this price range. Some comments are misguided. It's different to spend $10k or above on a Rolex (that keeps its value over the years) or an Apple Watch that will be obsolete in a few years - even for the rich. In one case, you can gift the Rolex to your children or resell it, maybe even for anhigher price. In the case of the Apple Watch you can melt the gold, the rest will be worthless in 10 or 20 years. Sent from the iMore App

In summary: Either Apple offers upgrade options for the Edition line (at least for one or two chip generations) or it risks selling a lot fewer of these golden watches going forward. Sent from the iMore App

Since the actual gold is the main cost, I would think that you pay the $15K for your watch the first time you buy it. Then when the next model arrives you hand it back in at the Apple store, pay a $1K upgrade fee and get a brand spanking new Edition gold watch.

I was planning on buying the gold apple watch before they released the price. I only wear gold watches, but didn't want to spend much more than $5k. Once they released the price point, I thought to myself I could justify spending that extra cost if they gave some type of trade-in offer when a new version comes out. If Apple offers this they will have a gold watch edition customer here.
Thank you for signing up to iMore. You will receive a verification email shortly.
There was a problem. Please refresh the page and try again.