Apple Watch Sport Loop: an up close look at the new Midnight Blue band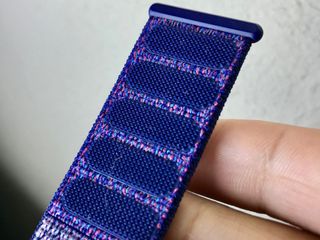 Something that bugs me about Apple's online store is the almost artificial quality of the product photography — it's too good, too clean. And it's particularly an issue for Apple Watch bands, because you want to know how they're going to look strapped to your wrist in all sorts of lighting conditions — not just the brightly lit, all-white environments Apple uses.
I wasn't entirely sure how Apple's new Sport Loop was going to look and feel in person, but I knew I wanted it the moment it was announced on stage. I love my Leather Loop and I dig the look and feel of my Woven Nylon bands. The Sport Loop, I imagined, would combine the best qualities of both. So despite not knowing how it'd look and feel on my wrist, I placed an order for a Midnight Blue Apple Watch Sport Loop immediately following the event.
See at Apple (opens in new tab)
The band appeared in a photo I took last week and I've since received a couple questions and inquiries about the hook-and-loop fastener on the band.
Is the band speckled?
Folks were wondering about what looked like a speckled pattern in the band. Beneath the nylon loops, the band features multicolored fabric specks. They're kind of difficult to see along the main portion of the band (due to the loops), but a quick peek at the area surrounding the hook fasteners shows off the design:
How does the hook-and-loop fastener work?
I — along with a couple folks who inquired — was curious how Apple would limit wear and tear on the band, given hook-and-loop fasteners work by hooking and unhooking from looped material every time you fasten and unfasten them. Over time, the hooks can wear down and the loops can break. I decided to pull out my trusty macro lenses and take some up-close shots of the Midnight Blue Sport Loop!
The loops are made of nylon and seem quite resilient to the pull of the hooks. The hooks appear to be rubberized and don't extend as far as other hook-and-loop fasteners you might find on a backpack or garment. The hooks stay fastened when they're connected but release cleanly from the loops; those shorter hooks seem to wear less on the nylon loops.
Is the connection strong?
I also got a couple questions about the strength of the fastener. I've been wearing this band since the event in all sorts of scenarios: cleaning house, going to the store, going out for drinks, taking walks, etc. With five separate hook fastener pads and a band full of loop fasteners, I've had no issues. It's stayed firmly on my wrist and in place the entire time — no slipping. It's stronger than the magnetic connection on my Leather Loop and seems just as strong as the traditional fastener on my Woven Nylon bands.
What's it feel like?
Despite being made of the same material, the Sport Loop feels nothing like the Woven Nylon bands for the Apple Watch. Thanks to the Nylon loops across the surface of the band, it's very soft — almost spongy. I've found it does a better job handling sweat than its Woven Nylon counterpart, too. All in all, this band is very comfortable and it looks great!
If you have any questions about the new Sport Loop, give me a shout in the comments or over on Twitter and I'll be happy to answer your questions!
Get more iMore in your inbox!
Our news, reviews, opinions, and easy to follow guides can turn any iPhone owner into an Apple aficionado
Mikah Sargent is Senior Editor at Mobile Nations. When he's not bothering his chihuahuas, Mikah spends entirely too much time and money on HomeKit products. You can follow him on Twitter at @mikahsargent if you're so inclined.
I too bought one of these site unseen. I was very disappointed by the appearance of the band. I bought the sport black and liked the black with colored specs that were pictured on the Apple store app. When I received it I found the speckles to be very subtle and even worse, the "nicer" side seems to be hidden by the "underside" once attached to your wrist.

I need to try these out in the store to see if I like them. TBH they don't appeal to me too much yet. Maybe I will feel different in person about them. Anyways I think I will wait until I'm ready for a new watch :)

Thanks for the close up pics. I thought I was attending biology class! LOL

Fifty bucks seems a bit excessive for a short length of stretchy velcro.

I love the look of the nylon band but the one thing I don't like is I can't wash my hands as it takes hours to dry and ends up smelling really bad after a few days. Any comments on this for this new Sport Loop?