Apple will reportedly offer Apple Watch band exchanges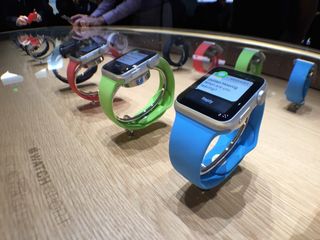 Instead of exchanging the entire Apple Watch if they need a new band, customers will reportedly be able to exchange the strap. This allows customers and retail employees to forego the process of setting up a new watch when all that is needed is a new band, according to MacRumors:
Replacement bands will apparently be required to come from the same collection as the customer's watch. For instance, if you want to replace a sport band for the Apple Watch Sport, don't expect to do so with a Milanese Loop. Band swaps will also reportedly be required to take place inside the watch's 14-day return window.
It's likely that we'll more information on this program following the official launch of the Apple Watch tomorrow, April 24.
Source: MacRumors
Get the best of iMore in in your inbox, every day!
Joseph Keller is the former Editor in Chief of iMore. An Apple user for almost 20 years, he spends his time learning the ins and outs of iOS and macOS, always finding ways of getting the most out of his iPhone, iPad, Apple Watch, and Mac.
The details of this are so confusing and contradictory that it's almost not worth reporting.

Seems pretty straight forward to me. What's confusing to you?

Well, I'm not blaming the author here, he's just repeating from the source, but it says that "instead of setting up a new watch" they will replace the band, but why would anyone think they would replace the watch if it's just a problem/broken band in the first place? So it presents it as a solution to a problem that I don't see actually exists. It also doesn't mention mention what would be considered a problem that would engender the band swap. The way references are made to keeping within the style of the original purchased watch, it (sort of) implies that someone could "swap bands" possibly even if they just don't like the colour or style. Probably I'm reading too much in or tired or something but it kind of reads overall like you could just swap bands for the first 14 days if you don't like the one you have, which seems a bit outrageous to me, especially considering how many people are looking at two month windows to get the bands they ordered in the first place. I guess I'm still angry about having to wait until mid June to get a white Sports Band that I'm paying $70 for, when some dude can just walk into an Apple store this weekend and possibly exchange his band from a wide selection of in-store stock.

Do you ever do anything but complain?

What I want to know is if you can replace the band that came with the silver sport watch with a black sport band.

Not to be mean and nothing personal to you, but I certainly hope not. (see my reasoning above).

I would have just preferred that the black band was available for the silver colored sport watch. It seems kind of strange that I have to purchase a green band with my watch, recycle or sell it, and buy a seperate black sport band for $50. I honestly find this roll out a little confusing in general - like something run from their new fashion department. But I love the watch and glad they still have "the people's" version.

The "huh" factor comes from the expanded story from MacRumors (link below): "Band swaps won't be done entirely in store. After an employee confirms that a customer is within their 14-day return window and wants a new band, the swap must be initiated through the Online Store call center. Customer support representatives will create a new band order, ship it out to the customer, and provide instructions on how to mail in an old band for a refund." Come again? I have to walk into a store, confirm that a exchange can be made and then the order for the replacement will be made online? Really?
Link: http://www.macrumors.com/2015/04/22/apple-band-only-apple-watch-exchanges/

I'm pretty sure they will try and swap your band with bands other people are trying to swap. That explains the whole online aspect to it. I bet they got the idea from bandswap. I have a feeling they'll find a lot of black sport bands in demand!

The question is: Can i swap with apple my other sized band that will come with the watch for a different size and different color but within the sports band? To be more clear the watch comes with 2 bands so for example the larger on fits but the smaller one is just sitting there so can I swap the smaller black band for a larger green band? Opps... Just read that there will be three pieces and the two pieces that have holes will have one larger and smaller wrist sizes so there will be no extra bands sitting around just half a band collecting dust! Damn it so what do i do with that?
Thank you for signing up to iMore. You will receive a verification email shortly.
There was a problem. Please refresh the page and try again.