Apple is working on an Apple Watch with a built-in EKG heart monitor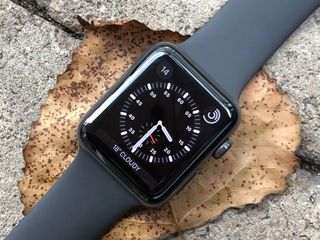 Want to keep a better eye on the ol' ticker? According to a report by Alex Webb for Bloomberg, Apple is working on developing an EKG feature for future models of the Apple Watch that will allow users to detect arrhythmias and other potentially dangerous heart issues. This is hardly a surprise, as Apple announced their plans to put more into researching irregular heart rhythms with Stanford Medicine back in November. As noted by Webb, data acquired through this research may help Apple in developing Apple Watch tools that can "spot abnormalities more easily and support the EKG project."
Bloomberg's report goes on to further describe how exactly the feature currently works in testing:
EKGs, or electrocardiograms, are used often by medical professionals to ascertain whether or not a cardiac event has taken or is taking place. If the test recognizes any abnormalities that could increase the risk of more serious issues like strokes, heart failure, and atrial fibrillation (like tachycardia or an arrhythmia), the doctor and patient can then work together to combat those risks. However, because EKG machines in hospitals usually only monitor the heart's activity in short bursts, their ability to spot these abnormalities is pretty restricted. That's why wearable devices capable of performing an EKG on a more regular basis are hugely important — with an integrated EKG reader, the Apple Watch could go from being a coveted but perhaps unnecessary tech accessory to being a life-saving heart monitor.
Though all of this sounds fantastic, it is important to note that this feature is still in development, so it isn't clear whether or not the EKG reader will be incorporated in the next version of the Apple Watch (or at all). But as someone with a heart condition, I'm crossing my fingers.
If you can't wait for the possible new tech and want to perform an EKG with an Apple Watch right now, you can purchase the recently FDA-approved EKG Apple Watch band from AliveCor (opens in new tab).
Thoughts? Questions?
What do you think about an integrated EKG reader for the Apple Watch? Give us a shout in the comments!
Get the best of iMore in in your inbox, every day!
Tory Foulk is a writer at Mobile Nations. She lives at the intersection of technology and sorcery and enjoys radio, bees, and houses in small towns. When she isn't working on articles, you'll likely find her listening to her favorite podcasts in a carefully curated blanket nest. You can follow her on Twitter at @tsfoulk.
I'm absolutely hoping they do this. I'd switch from my FitBit to a Watch in an instant even though it's a huge $$$ difference. I'm in my early 40's and already have had some AFib issues (40's is really young for that) so anything I can do to easily monitor for it at home would be extremely welcome. I've had some stuff done that hopefully has "fixed it" for at least a number of years but until they come up with better true cure treatments I'm all for way to monitor it at home without having to wear a cumbersome heart monitor (which you still can't do long term).
Thank you for signing up to iMore. You will receive a verification email shortly.
There was a problem. Please refresh the page and try again.