Ford quietly reveals Apple's next-gen CarPlay before WWDC even begins
Could a Ford soon be in your future?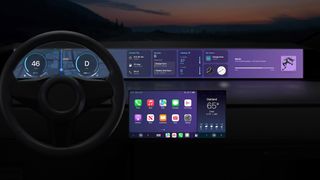 (Image credit: Apple)
Apple announced a complete rethink of its CarPlay system at last year's WWDC, featuring "deep integration with the car's hardware that lets you tune your car's radio or change your temperature without ever leaving the CarPlay experience." And if you want it, the luxury 2024 Lincoln Nautilus will likely be the first vehicle featuring the new system.
Revealed in late April, the 2024 Nautilus features a "reimagined digital experience" thanks to an ultrawide screen that wraps across the cabin, from the driver's side to the passenger side.
This massive, ultrawide display can be customized to meet driver needs, and ties into a high-end "sanctuary" experience called Rejuvenate with special lighting effects, massaging seats, and even curated digital scents: Mystic Forest, an earthy blend with woody, rich notes of patchouli; Ozonic Azure, a crisp blend of aromatic patchouli and traces of bright violet and Violet Cashmere, exotic white florals and violet that are "crisp and refined as fresh linen."
Forget the digital scents for a second (if you can). Does that wrap-around screen sound familiar to you? It looks astonishingly similar to the display Apple showcased during the 2022 WWDC, a similarity that a Ford spokesman agreed was "uncanny" – before declining to say anything further. When asked for confirmation of the connection between the Nautilus and Apple's next-gen CarPlay system, Apple referred us to the company's June 2022 Newsroom post.
Ford's new plan appears to be built upon proprietary vehicle chips, rather than the NXP chips and QNX software that much of the auto industry relies upon. Ford's top tech guy is Doug Field – officially Chief Officer for EVs and Digital Systems. He gave a breakout session during Ford's Investor Day presentation on Monday (May 22), detailing plans for a new hardware platform: "a centralized high-performance compute, where we control the software, and that brings infotainment – and our autonomy software also – into two, internally controlled modules for both the physical design and the software."
Last year, Ford CEO Jim Farley – along with Intel's Pat Gelsinger – wrote an op-ed for the Wall Street Journal underlining the importance of US silicon. More chips made on US soil would strengthen the economy and reduce our dependence on foreign suppliers, the pair noted. Clearly, Ford is doubling down on this position.
"When we design a module, we pick the silicon, and we start managing the supply chain," Field noted in Monday's presentation. "And that's really really important when there's a chip crisis, that's really really important when you want to get onto the latest silicon, and it's really important for managing cost and quality."
Here's the rub: Field's also formerly Vice President of the Special Projects Group at Apple, underscoring the connection between the two companies.
---
Analysis: Will Apple's M3 be inside?
Rumors have swirled for years about Apple's interest in the car space. Most of the time, people have speculated that the company was trying to develop its own car, which seems preposterous at face value. What if Apple abandoned those crazy aspirations and instead concentrated on building the platform for the car of tomorrow?
The technology industry has been staring at the automotive industry for ages, wondering how to sink its tentacles into this incredibly lucrative market. Nvidia and Qualcomm, in particular, have made multi-million dollar inroads, with chips that power autonomous driving features, comfort features such as adaptive cruise control, and yes, infotainment features. Rather than trying to compete with Tesla or Toyota, a smarter move for Apple would be to compete in this space, with its proven M-series chips.
Yes, the fanciest versions of these chips are meant for Apple's powerful laptops and servers, but a stripped-down version for embedded systems could bring the power of this proprietary platform to the automotive space – and enable that amazing new CarPlay experience. And that one-two punch of power and beauty could be a killer combo.
Do you have CarPlay in your car? Or are you planning to upgrade to one that has it? Let us know over at the iMore Forums.
Master your iPhone in minutes
iMore offers spot-on advice and guidance from our team of experts, with decades of Apple device experience to lean on. Learn more with iMore!
After 25 years covering the technology industry, Jeremy Kaplan is a familiar face in the media world. He is currently the Content Director for iMore, where he oversees product development and quality for one of the world's largest and most respected technology publishers.
Before joining the iMore, Jeremy was Editor in Chief of Digital Trends, where transformed the niche publisher into one of the fastest-growing properties in digital media, ranking on the annual Inc 5,000 for three years running. The publisher won multiple awards during his tenure, including a sought-after Digiday Content Marketing Award in 2019. The same year, Jeremy was named to the FOLIO: 100, which honors publishing professionals making an industry-wide impact.
Prior, he served five years as the science and technology editor for FoxNews.com, where he made international news through a series of articles exposing Hector Xavier Monsegur as the head of LulzSec, revealing a months-long collaboration with the FBI, and detailing the ultimate takedown by law enforcement officials of the hacker collective. Kaplan worked for over a decade at Ziff Davis Media, publisher of PCMag.com and Extreme Tech. While there, he helped found the GoodCleanTech blog, which was a 2008 finalist in the MIN Best of the Web Awards and the Jesse H. Neal National Business Journalism Awards Competition and ultimately served as Executive Editor.
He's a sought-after tech pundit and futurist who's worked with organizations like the Consumer Tech Association to identify and highlight the world's most innovative technology. Kaplan appears regularly on television and radio, including frequent appearances on Fox Business, Reuters, Cheddar, and NPR.