CarPlay: Everything you need to know!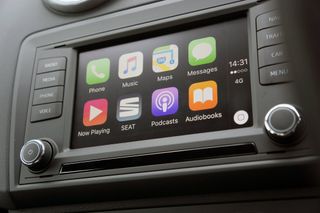 (Image credit: iMore)
There are many, many options when it comes to buying a car, but if you own an iPhone, you might want to add one more to the list: whether your new vehicle supports CarPlay, Apple's voice-activated assistant.
What's new in CarPlay?
June 4, 2018: Apple announces support for third-party navigation apps
At WWDC 2018, Apple announced it will bring support for third-party navigation apps to CarPlay in iOS 12. We'll update you when we get more details!
What is CarPlay?
CarPlay is Apple's voice-activated system for the car: The goal is to keep you connected to your digital life without having to constantly look at a screen or interact with buttons. It uses Siri and your iPhone to showcase a simplified home screen on your car's touch display; you can also interact with CarPlay by pressing the Voice button on your steering wheel.
How is CarPlay different from Siri Eyes Free?
Siri Eyes Free is more of an extension of Siri than a full interface with added functionality. CarPlay lets you use some of the apps from your phone in your car, like the music players, messaging, phone and map app. Siri Eyes Free lets you speak in natural language to control basic functions but doesn't do as much as CarPlay currently.
Is CarPlay currently available?
Yes, but there are some restrictions. CarPlay is not currently available in all cars just yet. Apple notes that more than 100 vehicles currently support it, with more being added regularly. There are also a number of aftermarket head units that you can install in your current vehicle to bring support, but that can get expensive quickly.
What iPhone do I need to own to make it work?
To be able to use CarPlay, you will need an iPhone 5 or newer to get started. That currently includes:
iPhone X
iPhone 8
iPhone 8 Plus
iPhone 7
iPhone 7 Plus
iPhone SE
iPhone 6s
iPhone 6s Plus
iPhone 6
iPhone 6 Plus
iPhone 5s
iPhone 5
What cars support CarPlay?
There are more than 100 vehicles that support CarPlay. CarPlay is generally an upgrade option, so if you are looking at new vehicles, be sure to ask which package you need to get the functionality. If you are content with your current vehicle, you can check out Pioneer, Kenwood, and Alpine for head units that will add functionality to your current car.
Here are all the cars that currently support Apple's CarPlay
How do you know if the car you want to buy has CarPlay?
You will need to check the options on your car. Odds are that if you are driving an older car, it doesn't have CarPlay built-in, but many 2016 and newer models come with it. Most of them offer it as an upgraded package over the base model car; often, you're looking for a "media screen" or "navigation" package. While car-shopping, you can double-check by plugging your phone into the USB port (if the car has one) and seeing if any CarPlay messages pop up.
What if your car doesn't support CarPlay?
Depending on the radio configuration in your current vehicle you may be able to install an aftermarket unit in your car. Pioneer, Kenwood, and Alpine are all making head units that you can purchase and add to your current car to gain CarPlay support. You will need to have a double din slot available in order to get this done. Below are some of the models that you can add, and you may want to consult with an installation professional to be able to order the correct wiring harness and other accessories.
What countries is CarPlay available?
CarPlay will be available in a number of countries for drivers to take advantage of. As with most Apple products and services, we will likely see this list expand over time, but the current countries include:
Australia
Austria
Belgium
Brazil
Canada
China
Denmark
Finland
France
Germany
Hong Kong
India
Israel
Italy
Japan
Malaysia
Mexico
Netherlands
New Zealand
Norway
Korea
Russia
Saudi Arabia
Singapore
Spain
Sweden
Switzerland
Taiwan
Thailand
Turkey
UAE
UK
U.S.A.
How do I use CarPlay?
Using CarPlay is actually quite simple: The interface is very similar to iOS, with large icons on the screen, similar menus, and the like. You just tap on the app you want to use, navigate through the menu, and find what you are looking for. There is also a Home button in the lower corner that lets you return to the main screen.
You can additionally press and hold the on-screen Home button (or a button on your car's steering wheel) in order to access Siri for voice commands. This makes messaging and calling contacts even easier, as well as finding just the right song to complete your driving experience.
CarPlay can also be controlled in certain ways right from your phone — but only if you're a passenger. You can use the connected phone to select contacts to call, change the music that's playing, and more.
How do I add third-party apps to CarPlay?
You don't actually install any apps to your car or CarPlay: They live inside your iPhone. When you connect to CarPlay, your car will show you any installed apps that you can use. Most compatible apps are ones that stream music, podcasts, or sports, including Spotify, MLB at Bat, Pandora, Overcast, NPR One, and more.
Any other questions?
Have any other burning queries about CarPlay? Let us know in the comments.
Serenity was formerly the Managing Editor at iMore, and now works for Apple. She's been talking, writing about, and tinkering with Apple products since she was old enough to double-click. In her spare time, she sketches, sings, and in her secret superhero life, plays roller derby. Follow her on Twitter @settern.
I understand that a physical USB connection between the phone and the car is currently required for CarPlay. Rumor is that Bluetooth connectivity is either coming or recently added. If currently supported, is there a list of cars that support this second generation connectivity?

On my 2015/16 Genesis you have to use the USB cable.... Bluetooth doesn't work for Apple CarPlay... at least on my car. So far, and I upgraded about 3 weeks ago, everything works perfectly.

can you please confirm whether the iphone is charging while connected with lightning cable or not? many thanks

My JVC does charge while connected to CarPlay. There are two USB cables coming out, one is marked "USB" and one is marked "phone". If I plug into the phone port it will charge while connected to CarPlay. Not sure if they are all the same or not..

I'm getting an Alpine ILX-007 unit installed in my older vehicle in a couple weeks for Carplay. Really looking forward to how well it works.

Any word on if third party navigation apps will be allowed to be compatible? I'd love to be able to use Waze.

Dumb question, but Will having Carplay affect my SiriusXM radio at all?
How do I know if my car has a double din thing?

No issues with SiriusXM. What happens is that you get a separate CarPlay logo to activate. When you do that it goes to the CarPlay menu screen. If you want to get back to SiriusXM you simply hit your radio button... at least in my car that's how it works. When you do that you are back to your normal radio mode. But no, it effects nothing that you currently have on your car. When I upgraded on my 2015/16 Genesis I had to update via the Navigation/Infotainment memory card. I was praying it wouldn't wipe out my Navigation maps and everything else the car has. But all it did was add the Apple and Android apps. On the Genesis both Apple and Android are enabled... it just depends on which type of phone you plug in using your USB cable.

I put in my own Alpine (ILX-007) unit and really have no regrets. Admittedly, I did buy on the rumor that there's a wifi chip in the unit and it has only to be activated by Alpine through firmware update. But I can find no confirmation. Wireless CarPlay is now a thing, so we'll see. It'd definitely be nice to not have to pull phone out and plug in.

I looked into getting one installed in my car and it was going to be a hassle. I have controls in the steering wheel and that would requires an additional adapter. On sale, these units are $450-500 or so, plus installation (~$100). Tip: You can price match a good deal on Amazon at Best Buy and have them install it all. Do your research before trying to DIY. If you have the cash to spare, it is worth considering.

What happen to Wireless CarPlay?! My VW does have CarPlay support via USB. And the car does have WiFi. Is there any way to activate that feature??

I have the same question.. i don't understand completely the technology to make this wireless. I have the same features as mobile23 (CarPlay supported 2017 Honda Accord with WiFi), but I don't understand why it wont work wirelessly. is it something that Honda needs to update/turn on? an apple update?.. I keep hearing about Wireless CarPlay, but I dont get much more on it.

Hi i have a bluetooth remore that i use to volume up donw change songs etc when i connect the iphone with carplay i will still be able to use it?
thank you
Thank you for signing up to iMore. You will receive a verification email shortly.
There was a problem. Please refresh the page and try again.