Apps of the week: Fleksy, Vert, Tunein Radio and more!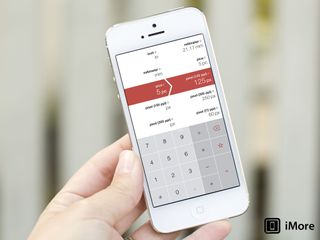 What a week we've had. iOS 7 releasing, the iPhone 5s and iPhone 5c launching, it's been busy, but the best kind of busy. So, what better way to unwind a little than with another selection of great apps! Here's what the iMore writing team has been using this week.
Fleksy - Joseph Keller
Fleksy is, as of now, just an app that provides an alternative option to the standard iOS keyboard. The basic idea is that you type in the app, then copy the text and paste it where you need to. It's the way you type in Fleksy that makes it special. Fleksy uses a custom keyboard and predictive typing to provide dramatically increase your accuracy while type. There's no spacebar, no special characters, just letters.
If you make mistakes while typing and Fleksy autocorrects to the wrong word, flick up and down through a list of possible alternate words, the one you meant will most likely be there. Fleksy is also quite accurate even when you're not looking at your device at all. Swipe left to right on the keyboard for punctuation, right to left to delete. It does take some adjustment, but once you do adjust, Fleksy really takes off. Tap the blue circle in the top right corner to access the settings and instructions. What I'm really excited for is third-party Fleksy integration. Fleksy announced an SDK earlier this year, which will allow developers to integrate Fleksy's keyboard into their apps, and I can't wait to see what my favorite apps might do with it. You can download Fleksy now as a free, universal app on the App Store.
You Don't Know Jack Party - Simon Sage
One of my favorite games of all time, You Don't Know Jack, just launched a multiplayer edition that plays nice with Apple TV and lets players use their iOS devices as buzzers. It's freakin' sweet. If you're not familiar, You Don't Know Jack is a free trivia game with new content coming out all the time. Guests hop on for snappy commentary, and the questions are usually pretty funny. Different game modes like the Jack Attack and Dis or Dat keep things interesting. New episodes can be bought for They've also brought back the option to screw your opponents... Which forces them to answer a question. You get one episode for free, or you can pay $2.99 each for others, or $9.99 for all six. Also be sure to try out the regular You Don't Know Jack game, which is separate. That one has a Facebook connection lets you compete with friends, and if you want to play more than once a day, you can use your hard-earned winnings or pay through in-app purchases. YDKJ is amazing, and you need to play it. Find some friends, and fire up AirPlay.
LoungeBuddy - Ally Kazmucha
I've been checking out travel apps a lot lately since we have quite a few trips coming up over the next 6 months. LoungeBuddy is one of my favorites since it makes it easy for me to find amenities quick through many different airports. You can even tell LoungeBuddy what kind of memberships or perks you have and it can find amenities based on that.
Just specify where your trip starts, where it ends, and what class. LoungeBuddy pretty much does the rest for you. Oh, and it's updated for iOS 7 which makes it that much more appealing. If you travel frequently or are heading to airports and locations you aren't familiar with, I'd suggest checking out LoungeBuddy before you leave.
Vert - Peter Cohen
Steve Jobs once said, "Simple can be harder than complex: You have to work hard to get your thinking clean to make it simple." Based on that axiom, Calumaa must have worked very hard on Vert, because it's simple, elegant and beautiful to use. Vert is a conversion calculator with a truly astonishing array of conversions - everything you'd expect, like length, weight and currency conversions, plus many more that you don't expect, like energy, force, shoe and suit sizes, typography conversions, viscosity and more. Need to convert a Jamaican dollar to an Uzbekistan som? No problem. Want to know your suit size in Korea? No problem. All told, Vert can do over 700 conversions in 30 different categories.
All of this is wrapped in a simple-to-understand interface based around a slider, so it's easy to use with just your thumb, and it looks right at home on iOS 7 (though it works on iOS 5 and later). If there are conversions you come back to frequently, you can "star" them as a favorite to make it easier to find them next time. If you bought an iPhone 5c, or just like a splash of color in your conversion calculator, Vert's developer has you covered there, too - you can switch up the app's color combos on the fly, too.
Tunein Radio - Richard Devine
Nothing shows you the true value of your favorite apps like standing in line for a new iPhone launch. Tunein Radio has been my cross-platform go-to app for listening to radio stations via the Internet for as long as I care to remember. While waiting for the iPhone 5s to go on sale, it got me through many of the hours stood in line. The idea isn't anything fancy, but it's a solid, well designed app that has such a huge catalog it's tough not to like it.
I've usually got something piping into a set of headphones, and TuneIn Radio continues to be an app I can depend on to supply the right sounds.
Your picks
So, those were our picks, what about yours? Drop us a line in the comments if you've been using something particularly good this week. We'd love to hear about it!
Get more iMore in your inbox!
Our news, reviews, opinions, and easy to follow guides can turn any iPhone owner into an Apple aficionado