Apps of the week: Snapseed, Vox, Solar Flux HD and more!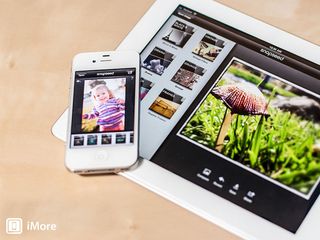 Another weekend is upon us, and that can only mean one thing. The iMore editorial team has come together once again to share with you some of the iOS and Mac apps they've been using this week. We've got a bit of a spread again, so let's jump straight in and take a look.
Viewer for CloudApp - Joseph Keller
CloudApp lets users store and share links, pictures, and documents. While there is an official app for the Mac, iOS CloudApp users rely on third-party apps. Viewer is a simple app for accessing, uploading, and sharing items to CloudApp. Users will immediately notice that Viewer was designed with iOS 7 in mind. Look at pictures, read documents, visit websites, and listen to music that you have stored on CloudApp, or upload something either from your clipboard or Camera Roll. Easily share items as well. Viewer is a simple, solid app, and if you use CloudApp, you should check it out. Viewer is available for free on the App Store.
Solar Flux HD - Simon Sage
Solar Flux is a really interesting physics game where players have to guide a tiny space probe around planets in order to gather plasma and deposit it into a dying sun. Players need to conserve as much fuel as possible by taking advantage of orbits available, as well as surf on the solar flare emitted after you drop off a bundle. You also can't stay in direct exposure of the sun for too long, otherwise your shields melt down - you'll have to stay in the shade of planets every now and then. As you might expect, the physics can get quite interesting, For a 2D game, the graphics are extremely rich and polished - almost believable, considering you're dealing with objects of a massive scale. The audio is very calming and equally well-done. I'm finding it tricky to get three stars even on the earlier missions, but after coasting through the first levels in most puzzle games, I can certainly appreciate a challenge.
Fetch: A Boy and his Dog - Ally Kazmucha
Fetch is a story about a boy's adventure to rescue his dog. On a stormy night towards the beginning of the game, a fire hydrant snatches Bear. His owner, a young boy, goes on the hunt to find him. From mini games to searching through the world around you using clues as to your next mission, you'll help find Bear and unravel the mystery of who has taken him.
I've been playing Fetch for about two days now and the thing I find most intriguing is the attention to detail and how players interact with the world around them. From popping bubble wrap to searching for hidden items, it's a fun little game for adults and children alike.
If you've ever played the classic 'Gold Digger' game then prepare for a bit of a twist on that. Gold Diggers adds a bit of action to that old classic and replaces the miner with a futuristic steam-punk digging tram, just steer the digging machine through the earth and collect the gold. As you progress, you'll have to get greedier and capture more gold like the dwarves in the mines of Moria. Watch out though, you'll also have to avoid flaming pillars, giant worms and other hidden creatures beneath the Earth's surface!
Gone Home for Mac - Peter Cohen
Fullbright's "Story Exploration Video Game" doesn't have ichor-dripping monsters or horrific aliens, but that doesn't make this game any less compelling. You've spent a year abroad and you arrive home in the middle of the night to discover that your family - your mother, father and sister - has gone missing. Has something horrible happened to them? You must search the house for clues as to what happened. Along the way you do discover ghosts - not the supernatural kind, but the kind that haunt every family. Mom, dad and sister Sam each have skeletons in the closet that are unearthed as you make your way through the house. Sam's story is the consistent narrative thread that binds Gone Home together, but it's not the only piece of this puzzle.
Gone Home is a family drama that unfolds one bit at a time, but that's what makes it so compelling and unique. Fullbright has managed to create a very compelling world to explore, with top-notch voice acting, great sound effects and music, and the control scheme is simple enough to disappear very quickly, immersing you that much deeper in the story and helping to invest you in the characters and their stories. If your interest in video games starts and stops at blowing things up, move along, Gone Home certainly isn't for you. But if you're interested to see how a video game can be used to create a compelling and artful interactive drama, Gone Home is worth your while.
Snapseed - Rene Ritchie
Snapseed was originally developed by the legendary Nik Software, which was bought by Google last year. Nik has made amazing filters for Photoshop for years, but Snapseed has proven even more useful to me since more of my photography went mobile. It's just a great toolkit to have on your iPhone or your iPad for when you happened to get a good shot but really want to make it a great one.
Leanna did a full Snapseed review last year, before Google bought it and made it free. Get the app, and then read the review for the details.
Free - [Download now](https://itunes.apple.com/us/app/snapseed/id439438619?at=10l3Vy&ct=UUimUdUnU19920]
Vox - Richard Devine
I reviewed Vox when it launched a few weeks ago, and I was impressed. Despite some early bugs, Vox made listening to music on the Mac pleasurable again. The developers have updated it a couple of times since then, and the early niggles seem to have gone away. Vox will pull in your iTunes library, and let you play it without having to be inside iTunes. It's a much more lightweight music player, with a bunch of customization settings and even a plugin to connect it to the media keys on your Mac's keyboard.
The app itself is free to download, with Internet radio streaming available by way of an in-app purchase.
Get more iMore in your inbox!
Our news, reviews, opinions, and easy to follow guides can turn any iPhone owner into an Apple aficionado