Vox for Mac review: Your lightweight yet powerful iTunes alternative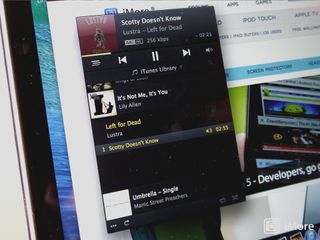 If iTunes gets you down sometimes, then Vox may well be the Mac music player you've been looking for. We're not going to spend 300 words talking about why iTunes might get you down, we've been there before. Instead, lets focus on Vox, which is a fine alternative. Part of it's beauty is in its simplicity, yet behind the minimal exterior lies a powerful music player with a ton of options, support for all the audio formats you should ever need and the ability to play your iTunes library.
Simplicity is true as well, with the Vox window occupying the space that iTunes would reserve for its mini-player. From here though you choose your music source of choice; your Vox playlist made up of files imported yourself, Radio which itself is a premium upgrade via in-app purchase currently on offer at $0.99 until August 12, or from your existing iTunes library. Vox will pull the hard files from your iTunes library on your Mac and play them itself. Sadly, it also imports listings for music you have available via iCloud, but you can't play those. A minor inconvienience, but one nonetheless.
By way of a separate download required due to sandboxing restrictions, Vox can also interact with your Mac on a hardware level. All options are user selectable, but it will work with the hardware media buttons on your Mac keyboard including launching the app when you press play. The best bits though are interaction with headphone controls such as those found on the Apple EarPods, and full support for the Apple Remote. The additional download is available in-app, is free of charge, and is highly recommended.
The good news for those of you that love to tweak and fettle your music settings; there's many of them for you to tweak. From an equaliser with a decent set of presets, to crossfading and even just how the app behaves, there's much to tinker with. A favorite though has to be the "Labs" tab. A selection of experimental features, the most useful of which – at least in my day-to-day activities – is the integration with Skype, and pausing the music when a Skype call comes in.
So, any negatives? Not as such, but during my initial review time I've found an interesting, frustrating and peculiar bug. Sometimes, for reasons I've yet to ascertain, pressing the 'A' key on my keyboard while Vox is open will play/pause the music, not type the letter I want. It isn't persistent, and has since gone away, but something I did caused it, I just can't pinpoint what.
The good
Looks great, minimal design but well thought out
Pulls in the iTunes music stored on your Mac
Skype integration is fantastic, despite being a "Labs" feature
Works with hardware media controls on Mac and headphones, as well as Apple Remote
The bad
Pulls in listings for all iTunes music, including iCloud music that can't be played
Unusual and irritating 'A' key bug that's in there. Somewhere.
The bottom line
If your music is all based in iTunes, but you just can't get on with it to play your favorite tunes, Vox is well worth a look. It's completely free, with the only charges coming if you wish to unlock the Internet radio features. If you're wanting radio, grab it before August 12 for just $0.99, before the price rises to $4.99.
Master your iPhone in minutes
iMore offers spot-on advice and guidance from our team of experts, with decades of Apple device experience to lean on. Learn more with iMore!