Apps of the Week: Videator, Dead Ahead, Blast-A-Way, and more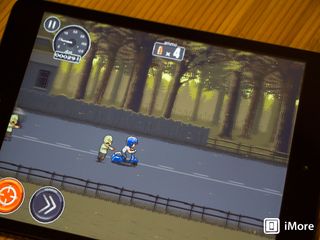 Every week, the editors and writers at iMore carefully select some of our favorite, most useful, most extraordinary apps. This week's selections includes a few games, a Mac app for video editing and effects, a weather app, a journaling app, and more.
BBC Weather - Richard Devine
I'm a sucker for weather apps. I don't know why, it's some kind of smartphone illness I guess. The latest to grace my iPhone is the new BBC Weather app. For some reason it took the BBC far too many years to do this, and as such they maybe missed the boat a little. But what they have done is really, really nice.
It's not beautiful like Yahoo! Weather, but it's still a bit of a looker. And it's very simple too. The only settings to change are the units you want your information in, and to add different locations. Otherwise you can scroll through hourly and daily forecasts on the same main screen, and that's it. It's a one screen app, but you get everything you need on that one screen. I may, may, stop downloading weather apps when iOS 7 hits, but for now, I've found my new go to.
Blast-A-Way for Mac - Ally Kazmucha
I'll admit, there aren't very many games I play on my Mac. I own very few and they fail to hold my attention for longer than about 20 minutes at a time. Blast-A-Way is a rare exception to that and I have to force myself not to play it while at work. I'll seriously lose a lot of time very quickly.
The object of Blast-A-Way is to save the Boxies by blasting your way through courses with bombs. Different bombs have different functions. Some create change reactions while some are sticky. Some will only damage items of the same color. It's definitely a fun puzzler with many levels for you to figure out and work your way through.
Videator - Peter Cohen
Andrew Stone's software has been around Apple products since the original Macintosh was new. He lovingly handcrafts each application for his Stone Design business the same way he's built the rest of his life - a bit magically. Videator is video magic, especially if you're interested in real-time VJ performances. Hundreds of realtime effects, support for audio mixing, support for as many cameras as you want - it's all there.
If it sounds like a lot of money, you can download a limited version for free from Stone's Web site to try before you buy.
Day One - Joseph Keller
I often find myself wishing that I had saved more. More pictures, more memories, just more, from earlier in my life. Not that anything I had to say in my slightly younger years was particularly insightful or profound, but it would be nice to just have that sort of thing around, even if just for a bit of nostalgia. So recently, I've decided to make more of an effort to document my life. Enter Day One, a journaling app that let's you easily capture and record the moments that are interesting and important to you. And while you can share things with Day One, I use this an app first and foremost for private journaling. Write a quick thought, or a long one, or take and save a photo, and scroll through your timeline at your leisure. You can mark the location of your entry, and even get the current weather, to provide further context. Have the app remind you to make an entry at a certain point every day.
A universal app for iPhone and iPad, as well as a Mac app, Day One lets you keep your thoughts in sync across your devices with either iCloud or Dropbox. The apps also let you set a password, letting you keep your private thoughts private. If you do choose to share an entry, you can do so via email, Messages, Twitter, and Foursquare. Markdown support makes writing long entries a breeze. Day One is a great app for anyone looking to keep their thoughts and moments organized, so get it now and give it a shot.
Perfection. - Simon Sage
I bumped into this great little game at the IndieCade at E3. Perfection is a calming, procedurally-generated shape puzzle game. Players are provided with a random shape and the silhoutte of another. The goal is to turn the former into the latter in as few cuts as possible. All you have to do is drag from one side of the shape to the other to cut it. You have as many swipes as you need. but if you can pull it off in one, you get bragging rights.
There aren't really any points or leaderboards, just an never-ending stream of puzzles to chew through. The accompanying music is really calming, the pace meandering, and a few simple options allow you to cycle through shapes and color schemes. If you enjoyed Splice, this is a nice follow-up and a little less complicated.
Dead Ahead - Chris Parsons
Zombies have taken over the town and you're on your own. All you have is some weapons and a motorcycle to outrun the zombies. Kill or be eaten. Just make sure you don't run out of ammo.
Dead Ahead is a pretty basic "running" game but its basic nature is kind of what actually makes it fun. Easy to play and challenging, plus it's free. Yes, there are some in-app purchase options for upgraded weapons and such but getting as far as you can without the need for any of that is 90% of the fun.
Free - Download Now (opens in new tab)
Stickets - Leanna Lofte
It's no secret that I'm a fan of puzzle games, and Stickets is the new one to steal my attention. In Stickets, you have four puzzle pieces to choose from and you simply place them on the board. Each piece has a red, blue, and yellow sections and the goal is to group colors together. When there's three or more pieces of the same color adjacent to each other, you can tap the group and it'll disappear from the board. The ultimate goal of Stickets is to never run out of space. One thing I love about Stickets is its nice, clean, minimalist design. There are three difficulty levels available, but I've only played the easiest. You must reach a score of 50 in a given difficulty to unlock the next one.
Stickets is challenging, fun, and beautiful and makes for a great final Pick of the Week for me.
Your Pick?
Now that we've chosen our favorites for the week, we want to hear yours! Did you pick up a killer app, accessory, or game this week? Let us know in the comments below!
Get the best of iMore in your inbox, every day!
iMore senior editor from 2011 to 2015.
Blast Away is loads of fun.

Always appreciate the Editors picks, but would absolutely love it if you guys/gals would do an "Apps of the Week" and a "Games of the Week" instead of an "Apps of the Week" post that is mostly games. (I know I'm nitpicking, but I can't be the only user that isn't big on mobile gaming besides the random "Tetris" or "PacMan" marathon. Most of the (non-gaming) apps you pick are very useful & would love to see more of 'em!!!

So "Day One" is like social networking that no one else ever reads?
("Antisocial networking", perhaps?) You can do that in Facebook, incidentally, by setting posts to "Private". I always wondered why people would do that.

I haven't used these apps before, thanks for sharing I must try these apps soon. :-)