Final Cut Pro iPad hands-on - one of Apple's best multi-touch apps on iPad
It's finally here, and it's one of Apple's best apps already.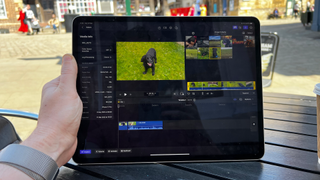 (Image credit: iMore)
For years now, pro users have been wanting to see two apps from Apple make the move from Mac over to iPad - Final Cut Pro and Logic Pro, and that day has finally arrived. iPad versions of both apps are now available.
But there's at least one significant change compared to the Mac versions, and that's in the form of the pricing model. Final Cut Pro is available at $4.99 per month or $49.99 for a year's subscription, which is a far cry from the one-off price that both apps have been sold at since their original debuts in 2002 and 2011 respectively.
There's also a one-month free trial, so you can try both of them out to see how they fit your workflow, but the change is something long-time users will have to get used to — and potentially brace for in terms of potential pricing changes to desktop versions, too.
The video editing suite of Final Cut Pro on Mac has long been a tool for content creators to make movie projects for their portfolios and YouTube channels, with many professional music videos and movies created with the software.
Professionals have wanted more powerful features than what Garageband and even third-party apps such as DaVinci Resolve and Luma Fusion have offered for years. 4K multi-cam editing and being able to manage projects between Final Cut on Mac and iPad has long been sought after, and it almost achieves that wish.
But as the iPad has become more powerful in its hardware and more flexible with its iPadOS operating system, it's felt like an obvious move for Apple to move this app to the tablet. It's been a long time coming, with Apple's beginner-friendly iMovie being a passable substitute since it debuted with the original iPad back in 2010.
I've been testing Final Cut Pro for iPad over the past week and came away impressed. But even 8 years after the iPad Pro's debut, and Apple's long-gestating development of these mobile versions, there are still a few sore points that we hope are ironed out in the coming months.
Lights, Camera, iPad
Going 'Pro' on iPad has been a divisive topic. Many have wondered if the tablet had lost its way, especially with the arrival of the buggy Stage Manager multitasking feature that debuted with iPadOS 16 in 2022.
Users had wanted to take some tasks that they had been doing on their Mac and simply carry them over to the tablet for so many years. But a lack of powerful features and slow software updates made it impossible, and it's resulted in a line of iPads that currently looks confused and unsure of itself.
However, after using Final Cut Pro, my first impressions made me remember what the iPad has always been about.
As soon as you open up Final Cut Pro, it feels like you're at home again, but there's been a few new welcome additions added across the board.
What surprised me the most in my time with Final Cut Pro, is how good it works with your hands. Every menu and every feature has been designed with touch-first in mind. When I switched to the Magic Keyboard and attempted to trim a video and add a transition to it on the timeline, it felt clunky, and far less fun as I tried to edit a movie of my dog.
It went against what I thought 'Pro' meant for an iPad, with exclusive features always seeming reliant on external tools — features such as Stage Manager work best with a trackpad and keyboard for instance. It turns out, Final Cut Pro showcases what the 'Pro' really means in an iPad. It's a touch-first app that does some things better than what an app can do on the Mac.
And this goes all the way back to how Steve Jobs pitched the iPad back in January 2010. He said himself that in order for the tablet to succeed, it has to do some tasks better than a laptop and a PC. This is the embodiment of what Final Cut Pro on iPad is all about. It's fun to use - it encourages novice videographers to go to the next level, and Apple's video team here has made sure that the transition with this is as easy as possible.
Using Final Cut on iPad is a pleasure, not a chore
For newcomers, Final Cut Pro on iPad gives you a sample movie to help speed up the tutorial process. The layout and most of the features have carried over from the Mac version (handy for veterans), but even if you're a new user who's using the free trial of one month, you'll be able to download movies and guides to help you along.
It's not just multi-touch that works well here, but features exclusive to this version really make Final Cut Pro shine on any compatible iPad. The jog wheel is a great example of this. Found to the right of the media browser, you can use this to go forward or backward in a video, and you can change the speed of this as you wish by simply turning it round like a dial with your finger and Apple Pencil.
There's also a 'Pro Camera' mode, by selecting the 'camera' icon at the top of the app. This is the Camera app but with more features, such as being able to change the white balance, the focus, and exposure. You can also change the resolution from 4K and lower if you want, and anything recorded will go into Final Cut Pro.
It's a very useful feature, and it feels like a prelude to what we may get with iOS 17 and iPhone 15 with its rumored camera features if it arrives in the fall.
If you have an Apple Pencil, certain features are enhanced when using the accessory. Take Live Drawing - exclusive to this version of Final Cut Pro. This allows you to write a title over a video, which will appear over it as you play it again. It's a small feature, but it's one that's simply fun to use. The Apple Pencil 2 hover function that's exclusive to the M2 iPad Pro also works here, so you can hover over a video and scrub its timeline to clip a certain point from it.
You'll be looking for ways to keep using Live Drawing in your projects, and that's what makes this app so good as a first step - it's fun, and it encourages you to keep going in your projects.
It's also important to mention that Accessibility features work across Final Cut on iPad - so Voice Control and the sticky keys feature for a keyboard all worked here with no issues.
If you're wanting to make a professional-looking video of a vacation or even something for your job, Final Cut Pro on iPad will help you achieve that with ease, thanks to the focus on its intuitive multi-touch interface. You may be tempted to work on the tablet more than you ever have on a Mac in some places.
However, for all the good points I've experienced, it's the small print that keeps it from being a home run, for now anyway.
But it's not all good news just yet
But there are some jarring disadvantages that hold it back from being as good as it can be. At the time of writing, Final Cut on Mac is still a one-off payment of $299.99 on the Mac App Store, and regardless of you signing up for the subscription model of this iPad version, you won't get access to the macOS version as well.
But it feels so obvious that this universal price parity will be made soon, so you'll sign up for a subscription and have access to Final Cut Pro on both Mac and iPad. I'd be more surprised if this didn't change in the near future. Perhaps at WWDC in June.
As a slight aside, if you're hoping to place some Final Cut Pro widgets on your home screen, you won't find any here. Nor will you be able to use it in split-view with other apps side by side, or even use it in Stage Manager mode. This app is meant to be used on its own. But perhaps most crucially, not being able to use Final Cut Pro for iPad on an external monitor takes advantage of the extra screen space. Instead, you're greeted with a 4:9 aspect ratio that feels like a swing and a miss here.
There's also the matter of continuing your project between versions of Final Cut Pro. You can start a new project on iPad and continue it on a Mac - but your workflow can't go in the opposite direction. Due to how Final Cut Pro has been coded on Mac and iPad, loading up a project on your iPad from a Mac will result in some errors, as I experienced on my MacBook Pro.
On one hand, it's almost understandable due to how long Final Cut Pro has been on the Mac, with its major updates and rewrites over the years. But on the other, this is Final Cut Pro, an app that's been long awaited by so many for so long. The fact that moving projects between devices with no issues is baffling. It could be forgiven if Final Cut on macOS was relatively new, but Final Cut Pro X was introduced in 2011.
The start of something
When you start using Final Cut Pro on iPad, you get the impression that this has been an experience the team at Apple has been desperate to bring to the tablet. It could have simply moved the app over as it exists on macOS and made the keyboard and trackpad a requirement to use it. But clearly having it as multitouch-first is an impressive feat, and, just like Freeform's touch-friendly nature, makes you wonder if this is a precursor to being able to use it in a VR headset in some way soon.
If you're a videographer and you've been waiting for Final Cut on iPad, it's been worth the eight-year wait. But it feels like there's already a need for a 1.5 update that's going to line up feature parity on the same level as what Logic Pro for iPad already manages Swapping between devices with projects and not experiencing any bugs when moving from a Mac to iPad and vice versa is critical.
Final Cut Pro brings out the best in iPad, from its multi-touch focus to the fun features of Live Drawing and the jog wheel. It gives some rare clarity to a confused device category, and buggy software features like Stage Manager that have bogged down the iPad for the past year. And for that alone, it's worth the subscription price.
Get more iMore in your inbox!
Our news, reviews, opinions, and easy to follow guides can turn any iPhone owner into an Apple aficionado
Daryl is iMore's Features Editor, overseeing long-form and in-depth articles and op-eds. Daryl loves using his experience as both a journalist and Apple fan to tell stories about Apple's products and its community, from the apps we use everyday to the products that have been long forgotten in the Cupertino archives.
Previously Software & Downloads Writer at TechRadar, and Deputy Editor at StealthOptional, he's also written a book, 'The Making of Tomb Raider', which tells the story of the beginnings of Lara Croft and the series' early development. He's also written for many other publications including WIRED, MacFormat, Bloody Disgusting, VGC, GamesRadar, Nintendo Life, VRV Blog, The Loop Magazine, SUPER JUMP, Gizmodo, Film Stories, TopTenReviews, Miketendo64 and Daily Star.