Using this macOS app finally lets me play the worst Sonic game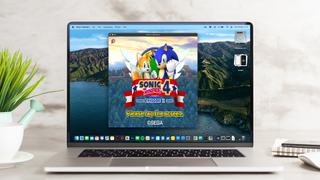 (Image credit: iMore)
It's no secret on the iMore team that I'm a Sonic fan. Thanks to PlayCover -- a community-developed app that lets you install iPhone and iPad games that haven't been adapted to Apple's silicon -- I can finally replay one of the blue blur's worst games ... is it still as bad as I remember?
While Catalyst allows you to use iOS apps on a Mac, Apple has a restriction in place where you can't use every app you've purchased - only those that the developer has allowed.
This is where PlayCover and Sonic both come in. No Sonic games on the App Store can be played on a Mac, unlike Rockstar's GTA Vice City, which is an iPad app that can be used on a Mac. With PlayCover I can replay Sonic 4 on my MacBook Pro, and the results surprised me – for better or worse.
Back to the Blur
Playing Sonic games on a Mac through official means has always been difficult. While the majority of the hedgehog's library is available on Steam, none of the games are playable on Apple software. Instead, you have to play some of them on the Mega Drive Classics Collection on Steam or run Boot Camp, an Apple app for Intel Macs that lets you boot Windows. For the latter, if you have an M-powered machine, you'll be completely out of luck.
Sonic 4 has a strange history, however: It's been available for Steam, many consoles, iPhone, and iPad, but it's never seen a Mac release.
For those unaware, Sonic 4 has two episodes. The first was announced back in 2009 and polarized fans, in part due to it being a poor remake of the original Sonic. It also featured floaty physics and a nails-on-a-chalkboard soundtrack, which accounts for the rest of the less-than-stellar mood on release.
The second episode from 2012 received a better reaction, but it was still nowhere close to being as good as what was released in 2017. Sonic Mania was a true return to form, pleasing fans more than most other modern Sonic releases.
Lately, curiosity's gotten the better of me. I wondered if it was possible to play Sonic 4 on my MacBook Pro, as you can still buy and download the much-maligned title for your iPad and iPhone.
Being disappointed all over again
PlayCover uses a 'wrapper', enabling you to play a game that's not usually allowed on macOS. You can also change its resolution or the type of device it thinks it's on, such as an iPad Pro or an iPhone 14 Pro.
It can be a challenge to get it working to start with, as you find yourself constantly changing the display sizes and the graphic options to make sure everything works as intended. In time though, you'll find yourself able to play Sonic 4 on Mac with the keyboard, similar to playing a game that's allowed on macOS, such as Max Payne or INKS. Press the space key to jump alongside the directional keys to move around, and you're running through the zones as normal.
The only issue I came across was having to use the mouse to skip ads or move on to the next level. This required me to jump between apps in order to gain control of the mouse so that I could go back and press the right button to continue.
While Sonic 4 played well, I found compatibility with PlayCover to be hit-and-miss when trying other games. Some, such as Sonic CD, would crash, while others like Infinity Blade would be displayed in a small window, with the game itself rendered too large, only allowing you to see a quarter of the game.
Updating to a more recent version of PlayCover also resulted in a crash, leading me to download an older version from December 2022.
So while it's possible to play games on your Mac with some success, it's entirely dependent on PlayCover fully working when needed. Playing Sonic 4 brought back disappointing memories though, from its odd design decisions to the terrible music. Playing Sonic Mania, however, brought back more pleasant memories, thanks to a community port. The bad taste of Sonic 4 was soon washed away.
Since a few people wanted it, here's a macOS build of Sonic Mania for both Intel and Apple Silicon (M1). You must buy/own the game on Steam and grab the Data.rsdk file, throw it into a folder with this app.https://t.co/qFlyOvTbpNThanks to the tweet below https://t.co/cBls3Uw5gd pic.twitter.com/XtQt1uTv3rAugust 22, 2022
It would be great to see more games arrive on macOS this way in an official capacity, but for now, we're dependent on apps like PlayCover to see if certain games can work on Mac.
It would be great to see more of a push from Apple and developers and to have more games made available on both Mac and iOS. Thanks to Catalyst, you can map some touch controls to your Mac's keyboard, while the trackpad can simulate swipes and drag gestures.
It's all here, it just needs to be given more of what seems to be an afterthought.
In the meantime, I've played Sonic 4 again so you don't have to – and while it works on my Mac, I still wouldn't recommend you to download it for free, let alone paying $1.99 / £1.99 to remove its ads.
Get more iMore in your inbox!
Our news, reviews, opinions, and easy to follow guides can turn any iPhone owner into an Apple aficionado
Daryl is iMore's Features Editor, overseeing long-form and in-depth articles and op-eds. Daryl loves using his experience as both a journalist and Apple fan to tell stories about Apple's products and its community, from the apps we use everyday to the products that have been long forgotten in the Cupertino archives.
Previously Software & Downloads Writer at TechRadar, and Deputy Editor at StealthOptional, he's also written a book, 'The Making of Tomb Raider', which tells the story of the beginnings of Lara Croft and the series' early development. He's also written for many other publications including WIRED, MacFormat, Bloody Disgusting, VGC, GamesRadar, Nintendo Life, VRV Blog, The Loop Magazine, SUPER JUMP, Gizmodo, Film Stories, TopTenReviews, Miketendo64 and Daily Star.