How to get started with Threads — Instagram's Twitter killer
Is it time to finally abandon Twitter for Threads?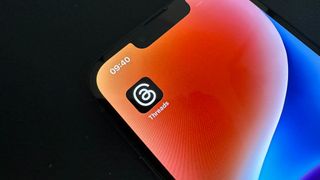 (Image credit: Future)
Threads is a text-based Twitter rival from Meta, the company that owns Facebook, WhatsApp, and Instagram. At its launch in July 2023, it became not just the fastest-growing social network ever but the fastest-growing app of all time.
Threads reached 100 million downloads in just five days, equivalent to 231 downloads a second during that entire time. There's no need to wallow in FOMO, though, because signing up and getting started only takes a couple of minutes. What's more, you might find you already have a fat stack of followers waiting for you.
Signing up for Threads is easy if you already have an Instagram account. You'll be asked if you want to import the list of accounts you follow into Threads. Others will have been asked this, too, and it's a great way to build up your follower count early on.
Here's how to get started with the newest social media platform, Threads.
How to post on Threads
Threads is, at present, a very simple app. There's not all that much to it, for better and worse. Here's how to get started with a post.
Tap the pen and paper icon
Type in your post
Tap the paper clip if you want to add a photo or video to your post
Select Anyone Can Reply if you want to limit responses to people you follow, or only people mentioned in the post
Tap Post
How to customize the Threads app experience
We expect to see more features added to the Threads app over the coming months, but there's one neat extra you should try already.
Tap the bottom right Profile nav bar shortcut
Tap the top-right Settings Icon
Select Account, then Take a Break
Select the reminder time, from 10 minutes to 30 minutes
This feature, called Take a Break, gives you a nudge whenever you spend a pre-selected amount of time on the app in one go. It's a sensible way to nudge yourself out of mindless scrolling, which is all too easy to do on Instagram.
You can also make your Threads feed a better place to be by blocking words. In Settings > Privacy > Hidden Words, you'll find the control that hides potentially offensive words and phrases. This is switched on by default, so be sure to turn it off if you like to see the odd swear.
The custom hidden word menu just below this is more useful. I tend to use tools like this when followers are going off about a subject in which I have no interest, perhaps a sports tournament, or when I want to avoid video game or movie spoilers.
Threads also lets you Mute, Restrict and Block entire accounts. To do so, head to their account and tap the three-pip Settings menu a the top right of the screen, which brings up all three of these options. Here's what they mean.
Mute - This account's posts will no longer appear in your feed
Restrict - You won't be able to see any comments or messages from this account, but they are still able to post them
Block - This account won't be able to see your content, and any comments and likes made on your posts will be removed
How to enable 2FA on Threads
Two-factor authentication (2FA) is one way to improve the security of your Threads account. You won't need to do this if you already have 2FA enabled on Instagram. But otherwise, you will.
Go to Settings > Account > Security
Select two-factor authentication
Select Authentication app or text message
Which should you use? Text message 2FA will send a code to your phone whenever you need to log in. Authenticator app uses either Apple Passwords or another app, such as Google Authenticator, to generate a login code.
This is considered more secure than the SMS method because texts can be redirected or intercepted by savvy scammers or forwarded on by installed malware. However, SMS verification is better than no 2FA at all.
Why do Instagram and Threads use the same login?
Meta calls Threads an "app from Instagram" that was built by the Instagram team. However, the use of a shared login also avoids certain potential future dramas about user privacy.
For example, people are likely to feel a certain "ick" factor on knowing your WhatsApp, Facebook, and Instagram accounts are almost inseparably linked. Meta uses data from each to build up your advertising ID, letting the company better target ads through its advertising platform and therefore make more cash.
By sharing the login details between Threads and Instagram, this becomes almost intuitive and, therefore, much less likely to cause a ruckus. On the positive side, it also makes setting up your first wave of followers and following folks much, much easier.
Where are Threads' DMs?
Several features you may take for granted on Twitter are yet to be implemented in Threads. Direct messages are one of these.
The Threads team has not announced a roadmap for DMs just yet, but you can rest assured this feature has simply not been forgotten.
"Soon, we'll be adding a number of new features to help you continue to discover threads and creators you're interested in," says Meta on its website.
Why did Meta make Threads?
Meta reportedly started working on Threads in January 2023. From inception to launch in six months: that is a pretty tight turnaround for an app that did not get a true soft launch or beta launch.
This timing points to one key reason for the creation of Threads: Elon Musk. He took over Twitter in October 2022, and the platform has been in a state of rolling chaos ever since.
Most notably, ad revenues have plummeted. Musk recently confirmed they were down by 50%. And as this was in large part down to the contentiousness of the platform and how "verified" accounts were able to spoof being big companies' accounts, Meta likely decided there was money left on the table.
Sure, maybe Meta is actually interested in recreating some of the appeal of earlier years of Twitter too.
Master your iPhone in minutes
iMore offers spot-on advice and guidance from our team of experts, with decades of Apple device experience to lean on. Learn more with iMore!